Andhra Pradesh government has released the AP YSR Vidyonnathi Scheme 2023 Notification (earlier NTR Vidyonnathi Scheme). Under this scheme, the state govt. would provide Free Civil Services Coaching to the students from Backward Classes. AP govt. has opened the registrations and interested BC students can fill the AP YSR Vidyonnathi 2023 Online Application Form at jnanabhumi.ap.gov.in
All the candidates belonging to Scheduled Caste (SC), Scheduled Tribe (ST), Backward Class (BC), Kapu, Brahmin, Minority and Extremely Backward Classes (EBC) students are eligible to apply. Govt. will sponsor all the selected candidates for 9 months coaching in reputed coaching centers for UPSC Civil Services Examination (Prelims & Mains).
This examination is free of cost and anyone fulfilling the eligibility conditions can apply online. NTR Vidyonnathi Scheme Entrance Exam will be conducted on 26 June 2023. Interested candidates can apply online before 2 June 2023.
AP YSR Vidyonnathi Scheme 2023 Online Application Form
Below is the the complete procedure to apply online for AP YSR Vidyonnathi Scheme 2023:-
STEP 1: Firstly visit the official website https://jnanabhumi.ap.gov.in/
STEP 2: On the homepage, click at the "YSR Vidyonnathi Application Form – Apply Now" link.
STEP 3: Here click at the "Application Form" link or directly click https://apgpcet.apcfss.in/NTRVidyonnathi.aprjdc to fill the YSR Vidyonnathi Scheme 2023 Application Form. The online application form will appear as follows:-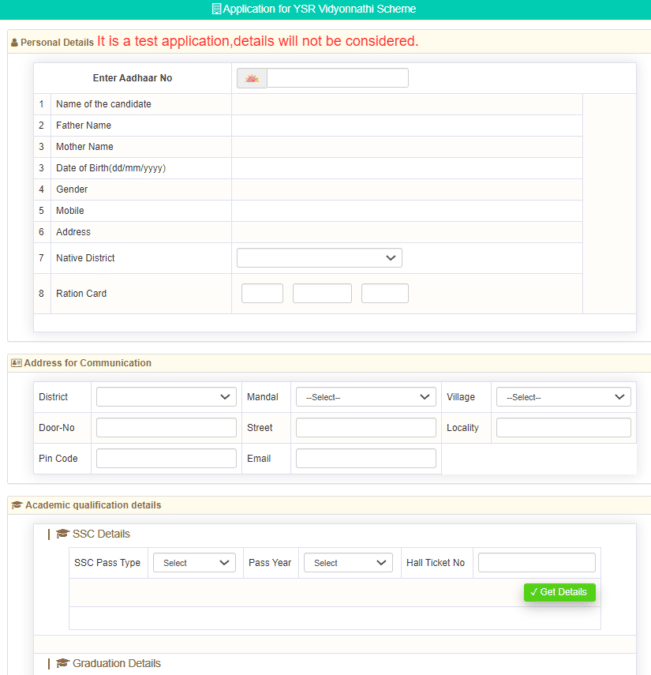 STEP 4: Fill the complete YSR Vidyonnathi Application Form and also upload the supporting Study Certificates and finally click at the "Submit" button to complete the application process.
Andhra Pradesh Govt Schemes 2023Popular Schemes in Andhra Pradesh:AP Transport Learner's Licence (LLR) Online Application FormAP Ration Card Application Forms PDF DownloadAP YSR Pension Kanuka Scheme
Steps to Apply Online for AP YSR Vidyonnathi Scheme
Apply online through the link provided on YSR Vidyonnathi tab.
Fill in all the mandatory details which is required to check the eligibility of the applicant.
Applicant should appear for an online exam which will be held by the department
Selected students will be informed through SMS.
The eligible student will be provided a link in which they have to enter UID, Date of Birth and mobile number and proceed forward to submit their preferences for the institutes.
How to Apply Process in Short for YSR Vidyonnathi
All the candidates can apply now as the lines are open to avoid the last minute rush. Hurry up and get a chance to avail Free Civil Services Coaching for UPSC Exams.
AP YSR Vidyonnathi Scheme 2023 – Complete Details
This newer version of NTR Vidyonnathi Scheme covers about 65,000 applications annually, on an average. The scheme, when operated without automation, had several issues like cumbersome paper submission, delays in announcement of results, lack of transparency in selection process etc. Now automated under Jnanabhumi, the key processes of submission of application, allotment of exam centers and nominal rolls, online examination, generation of hall tickets and announcement of results are all, online, improving the efficiency and transparency of the system.
Student attendance, academics, periodical inspections of coaching institutions by the welfare officers and other monitoring mechanism and releasing stipend / institutional fee to the students / coaching institutions will be taken care by Jnanabhumi system.
AP YSR Vidyonnathi Analytics
Total Admitted Students – 3330
Bank Details Confirmed – 3202
Verification Officer Confirmed – 2613
Amount Released – 2613
Who are Eligible for YSR Vidyonnathi Yojana
This scheme provides financial assistance to the SC, ST, BC, EBC (other than Kapu), Minority, Brahmin and Kapu students to meet the coaching fee and expenses for All India Civil Services and State Group Services
AP YSR Vidyonnathi Notification 2023
The important features and highlights of the scheme as per the official NTR Vidyonnathi 2023 Notification are as follows:-
Eligibility Criteria & Exam Details
| | |
| --- | --- |
| Age Limit (As on 1 August 2023) | For Kapu, Brahmin, Minority and EBC candidates, the permissible age group is between 21 to 32 years. For Backward Classes, the candidates must belong to 21 to 35 years. SC / ST Candidates in the age group of 21 to 37 years are eligible. For Differently Abled Candidates (PWDs), uper age limit is 42 years. |
| Resident | Applicant must be a resident of Andhra Pradesh. |
| Educational Qualifications | Applicants must possess a Bachelor's Degree from any Recognized Institution. Final Year candidates can also apply. |
| Income Limit | The annual income of the family of the applicant from all sources must not exceed Rs. 6 lakh. |
| Only First Time Candidates Allowed | Candidates who have received coaching in the previous years i.e 2015-16, 2016-17 and 2017-18, 2018-19, 2019-20 are NOT Eligible. |
| Seats | AP govt. will upload the number of seats (departments and corporation wise) on the Jnanabhumi Portal. |
| Syllabus | As of UPSC Civil Services Examination |
| Examination Fees | NIL |
| Examination Paper & Marks | Question Paper will be Bilingual i.e in Telugu and English Language. There will be 150 questions for 150 marks. |
| Duration of Exam | The total duration of examination is 150 minutes. |
AP YSR Vidyonnathi Notification
AP govt. will provide complete Institution Fees of the candidates directly to the institution along with monthly stipend to the candidates. Candidates will be sponsored on the basis of their merit and seats allotted to the Institutes. To download the complete notification, click at NTR Vidyonnathi Notification 2023 for BC students.
Important Dates – YSR Vidyonnathi 2023 Last Date
Applicants must remember the following dates while filling the online application form:-
| | |
| --- | --- |
| Starting Date of Online Applications | 24 May 2023 |
| Last Date for Online Applications | 2 June 2023 |
| NTR Vidyonnathi Admit Card 2023 Download | From 2 June 2023 Onward |
| Examination Date | 25 June 2023 & 26 June 2023 |
AP YSR Vidyonnathi Important Dates
All district headquarters of the AP govt. will be the Examination centres for the successful conduct of the examinations.
References
— For more details, candidates can visit the official website – jnanabhumi.ap.gov.in