Bihar government is inviting Mukhyamantri Alpsankhyak Udyami Yojana 2023 registration form & login at udyami.bihar.gov.in. MAUY scheme has been launched to promote industrial development and generate employment among unemployed minority youths.
The scheme will be implemented on almost similar lines of the existing Mukhyamantri SC/ST/EBC Udyami Yojana, Mukhyamantri Mahila Udyami Yojna (MMUY) and the Mukhyamantri Yuva Udyami Yojana (MYUY). In this article, we will provide you the complete details of the CM Alpsankhyak Udyami Yojana.
Alpsankhyak Udyami Yojana Online Registration 2023-24
Below is the complete process of making online registration for Mukhyamantri Alpsankhyak Udyami Yojana in Bihar:-
STEP 1: First of all, go to the official website at https://udyami.bihar.gov.in/
STEP 2: At the homepage, click at the "वित्तीय वर्ष 2023-24 के अंतर्गत मुख्यमंत्री अल्पसंख्यक योजना रजिस्ट्रेशन के लिए यहाँ क्लिक करें। तथा रजिस्ट्रेशन के पश्चात् फॉर्म भरने के लिए लॉग इन पे क्लिक करें। सिर्फ अल्पसंख्यक ही इस आवेदन को भरने के पात्र होंगे।"
STEP 3: When you click on the registration link, the alpsankhyak udyami yojana online registration form will open.
STEP 4: Enter details like name, email ID, occupation details, gender, mobile number, type of application, category and click at "ओटीपी प्राप्त करें" button.
STEP 5: Enter the OTP received on your registered mobile number to complete the Alpsankhyak Udyami Yojana online registration process.
Bihar Govt Schemes 2023Popular Schemes in Bihar:Vriddhjan Pension YojanaBihar Student Credit Card Scheme
STEP 6: Then candidates can make login using the link – https://udyamiuser.bihar.gov.in/login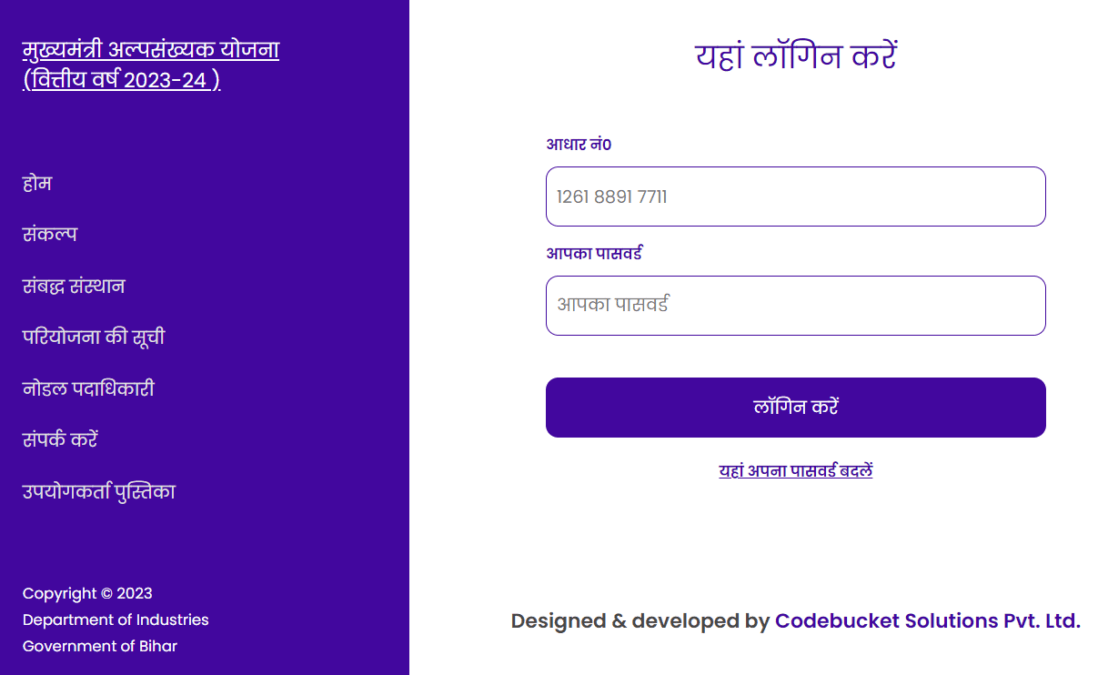 STEP 7: Enter the aadhar number, password and click at "लॉगिन करें" button to make login.
मुख्यमंत्री अल्पसंख्यक उद्यमी योजना प्रमुख बिंदु
सम्बंधित प्रक्षेत्र के युवा युवतियों को कुल परियोजना लागत (प्रति इकाई) का 50 प्रतिशत अधिकतम रूपया 5,00,000 (पाँच लाख) ब्याज मुक्त ऋण जिसे 7 वर्षों (84 समान क़िस्तों) में अदा करना है
स्वीकृत राशि का 50% अधिकतम 5,00,000 (पांच लाख) विशेष प्रोत्साहन योजनान्तर्गत अनुदान/सब्सिडी देय होगा
चयन के उपरांत लाभुकों के प्रशिक्षण के लिए प्रति इकाई रूपया 25,000 की व्यवस्था
इस योजना के अंतर्गत केवल नये उद्योंगों के स्थापना के लिए लाभ देय होगा I इन इकाइयों को बिहार औद्योगिक निवेश प्रोत्साहन निति 2016 का लाभ भी देय होगा
प्रोप्रिएटोरशिप के मामले में आवेदक के नाम से व्यक्तिगत चालू खता (Current Account) या फर्म के नाम से चालू खता (Current Account) मान्य होग। परन्तु आवेदक के ऋण एव अनुदान की स्वीकृति के उपरांत आवेदक द्वारा आपने व्यक्तिगत चालू खाते को फर्म के नाम से परिवर्तित कराकर पोर्टल पर अपलोड किये जाने के उपरांत ही स्वीकृत राशि का हस्तांतरण फर्म के नाम से चालू खाते में RTGS के माध्यम से किया जायेग।
Interest on Loans under Alpsankhyak Udyami Yojana
The beneficiaries of the Alpsankhyak Udyami Yojana would be charged token 1% interest on the loans provided.
Loan Repayment Time/Installment in Alpsankhyak Udyami Yojana
All the beneficiaries of Bihar CM Alpsankhyak Udyami Yojana 2023 are deemed to pay back the loan in 84 equal monthly instalments after one year of the cash transfer. It is proposed that the cash incentive will be doled out in 2 instalments in the current fiscal depending on the business needs and the old practice of releasing at least three instalments will be discontinued.