Goa government has launched a new Vidyalaxmi education scheme for girls from scheduled tribe (ST) community. All the ST girls can now download Goa Vidya Laxmi Scheme application form PDF from the official website tribalwelfare.goa.gov.in. Directorate of Tribal Welfare will implement Goa Vidyalakshmi Scheme to promote education among girl children from the ST communities and to assist the weaker section of the society. In this article, we will tell you about how to apply for Vidya Laxmi Yojana in the state.
Goa Vidya Laxmi Scheme 2022 Application Form PDF
Application form for Vidya Laxmi Scheme 2022 is available to download in PDF format from the official website of Tribal Welfare department in Goa. Below is the complete process to download Goa Vidya Laxmi Scheme application form PDF:-
STEP 1: Firstly visit the official website at http://tribalwelfare.goa.gov.in/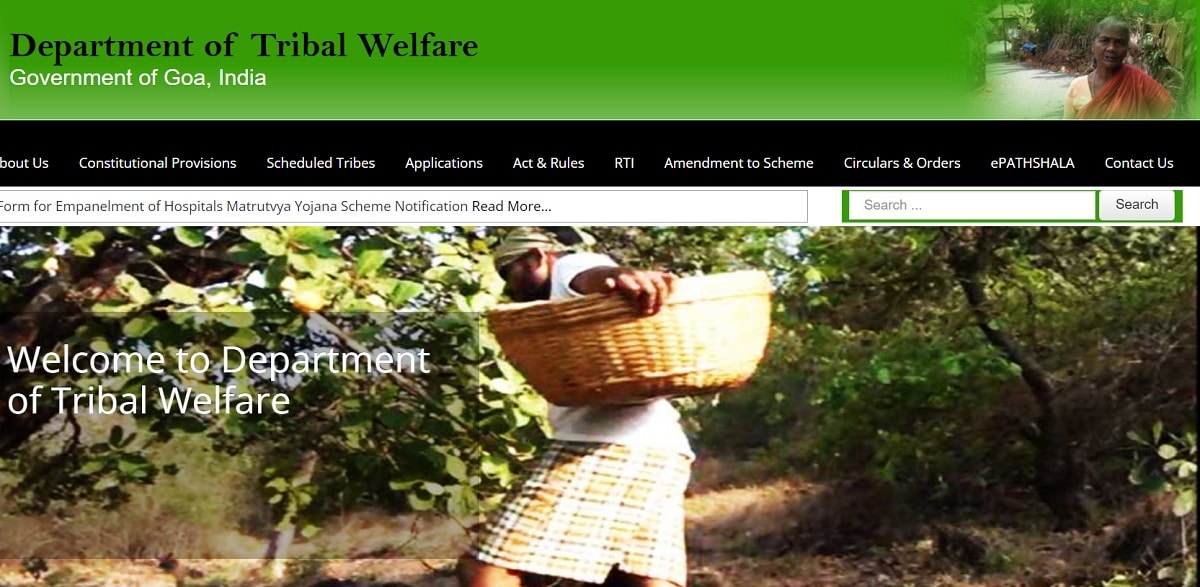 STEP 2: At the homepage, click at the "Applications" tab present in the main menu or directly click http://tribalwelfare.goa.gov.in/applications
STEP 3: Here click at the "Application Form of Vidya Laxmi Scheme" link or directly click http://tribalwelfare.goa.gov.in/applications/119-application-form-of-vidya-laxmi-scheme
STEP 4: At this page also, you will have to click at "Application form of Vidya Laxmi Scheme" link to open Goa Vidya Laxmi Scheme application form PDF.
STEP 5: Download this Vidya Laxmi registration form PDF, take a printout, fill it manually and then submit it to concerned officer to get your application approved.
Alternate Links to Download Goa Vidyalakshmi Scheme Apply Form
Goa Vidyalaxmi Scheme Amount
Under the Vidya Laxmi Scheme in Goa, Rs. 25,000 will be provided as a fixed deposit in the name of the girl child and the officer nominated by the state. This amount will be given to the beneficiary only after she clears her Class 12th board exams.
Goa Govt Schemes 2022Popular Schemes in Goa:Goa Employment Exchange PortalGoa Ration Card ListGoa Laadli Laxmi Scheme
Eligibility Criteria for Vidya Laxmi Yojana Goa
Any girl child who has passed the Class X examination and got admission to Class 11th of any stream (science / arts / commerce / vocational / ITI) is eligible for the benefits under the Vidya Laxmi Scheme. Similarly, girl children of families notified as ST under the Constitutional order and whose annual income does not exceed Rs 3 lakh per annum, as certified by the implementing agency, are eligible. The scheme involves a recurring expenditure incurred from the consolidated fund of the state.
Aadhar Mandatory for Goa Vidya Lakshmi Scheme Benefits
Any eligible girl child who wants to avail of the benefit has to furnish proof of possession of Aadhaar or undergo Aadhaar authentication. If she does not have an Aadhaar number, she has to make an application for Aadhaar enrolment. Arrangements have been made to ensure that any technical difficulties will not come in the way of disbursing the benefits.
For more details, visit the official website at http://tribalwelfare.goa.gov.in/
Source / Reference Link: https://timesofindia.indiatimes.com/city/goa/govt-launches-edu-scheme-for-girls-from-st-community/articleshow/88764724.cms