Since 1st October 2014, the Coconut Development Board of Kerala is implementing an insurance policy named Kera Suraksha Insurance scheme for coconut tree climbers. The objective of this scheme is to provide an insurance coverage to all the traditional coconut tree climbers and Friends of Coconut Tree (FoCT) trainees against any major or minor accidents.
The Kera Suraksha Insurance Scheme is being operated by the Coconut Board in the co-operation of M/s. Oriental Insurance Company Ltd, Trippunithura, Ernakulam district. The state government is providing an insurance coverage up to Rs. 2,00,000 for one year to all trainees under FoCT training programme and Neera Technician training programme.
Moreover, the government has increased the amount from the existing amount of Rs. 1 lakh to Rs. 2 lakh per year under Kera Suraksha Insurance scheme. Most part of the nominal insurance premium of Rs. 66 is borne by the coconut board.
Application Form of Kera Suraksha Insurance Scheme
Below given the steps of registration for the scheme:-
The candidate has to visit at official website or coconut development board at coconutboard.gov.in
Subsequently, click on "Application Forms" tab on homepage.
Now, scroll down the next page and click on Kera Suraksha Insurance Scheme – Application Form link.
This application is also be downloaded in Malayalam language by clicking on Kera Suraksha Insurance Scheme – Application Form – Malayalam
After downloading the form, the candidate has to fill all the required details in the form including Name (CTC/ Trainee), address, phone no., name of nominee etc…
After filling the form and attaching the required documents, it has to be submitted to the policy issuing Office of Oriental Insurance Co. Ltd / Coconut Development Board.
The address of office is mentioned in the application form itself.
Below is the snapshot of the application form

Benefits of Kera Suraksha Insurance Scheme
There are many benefits of insurance policy being provided under the scheme. The coconut tree climbers or trainees will get financial help at the time of hospitalization. The nominal charges of just Rs. 66 per year out of which Rs. 49 will be borne by the coconut board, hence no payment has to be made by the beneficiary. The beneficiary can avail the insurance policy against any accident. Below is the detailed illustration of the scheme benefits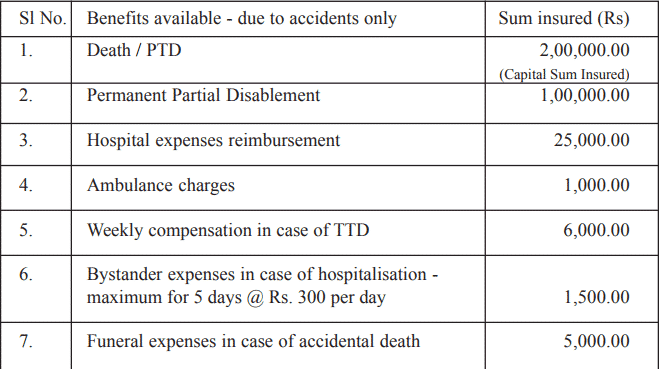 Premium under Kera Suraksha Insurance Scheme
The applicant has to make a Demand Draft (DD) for Rs. 17 that will be drawn in favor of M/s. Oriental
Insurance Company Ltd. The remaining balance of Rs. 49 will be paid by the coconut Board for renewing the policy.
Below given the image of Premium payable (including Tax):-

The candidate can also make a call on 0484-2377266/ 0484 – 2377265 to know more about the scheme.