Kaushalya Karnataka is an ambitious skill development scheme of state government of Karnataka under which unemployed youth would be provided skill training. The main objective of the scheme is to enhance the employability of youth by enhancing the skill through industry ready skill development programs. People can now fill Kaushalya Karnataka Online Registration / Application Form 2020 at www.kaushalkar.com official website
The government has launched a dedicated website www.kaushalkar.com where the detailed information can be found about the Karnataka Koushalya scheme. Through the Kaushalya Karnataka scheme, the interested youth can acquire necessary skills required for employment and earn their livelihood.
Kaushalya Karnataka Online Registration / Application Form 2020
Online registrations for Kaushalya Karnataka scheme can be done through the official portal at www.kaushalkar.com. Online registrations for both aspirant, training providers and employers are being invited through the same official website. Below is the detailed procedure of how to apply/register online for Kaushalya Karnataka scheme for skill, apprenticeship, employment or self employment opportunities.
Kaushalya Karnataka Scheme Aspirant Registration
STEP 1: The interested, unemployed candidates first need to visit the official website at www.kaushalkar.com.
STEP 2: Scroll over the "Registration" tab and then click the "Aspirant" link in the main menu.
STEP 3: Then the registration form type page for aspirant will appear for which applicant is making Kaushalya Karnataka Registration:-

Step 4: Candidates can select the type as skill, apprenticeship, employment or self employment opportunities. As reference, we have clicked "Employment" link. The Kaushalya Karnataka registration verification form will appear as shown below:-

STEP 5: Here candidates can enter their aadhaar number to proceed to fill Kaushalya Karnataka online application form similar to below image.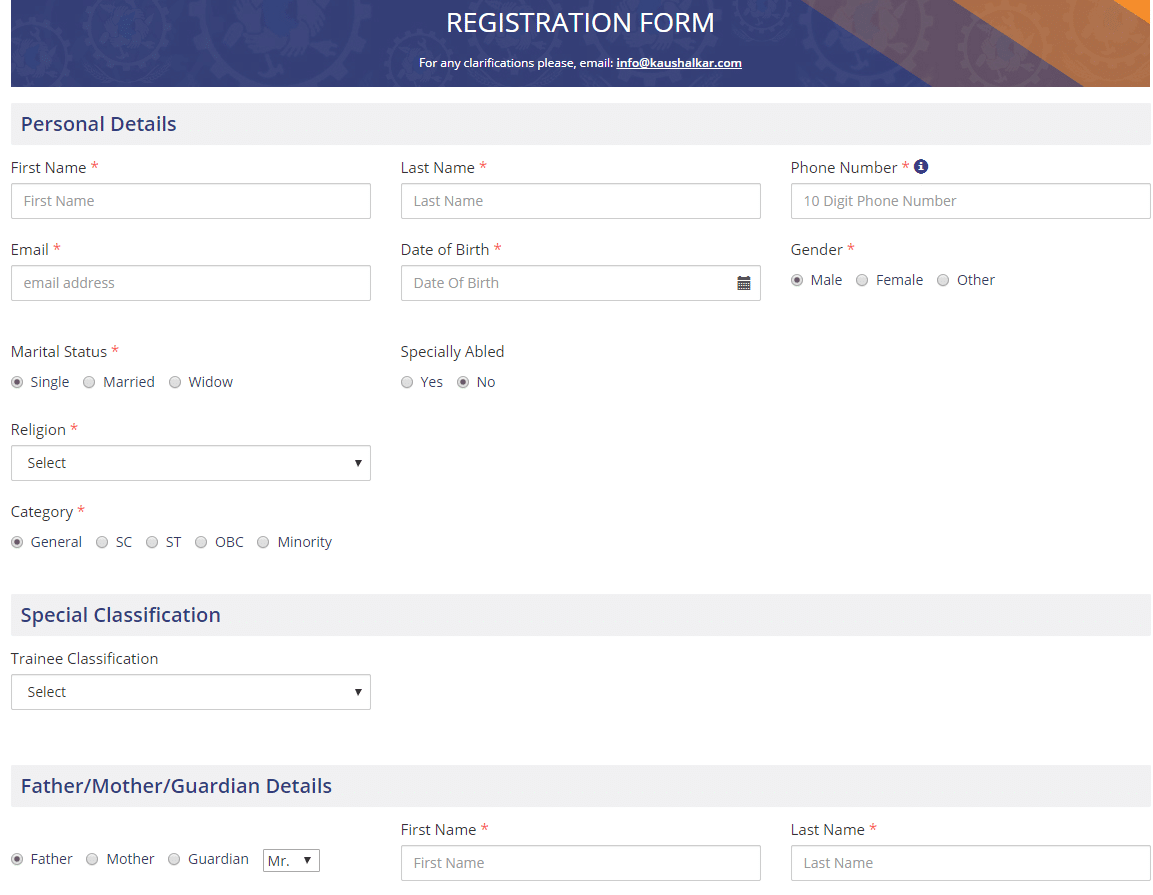 STEP 6: Fill all the required details in the application/registration form such as personal details, guardian details, address details, education details.
STEP 7: Click on the "Send/Resend OTP" button to receive the One Time Password for verification. You will receive OTP on your mobile numder given in the personal details.
STEP 6: Enter the received OTP and click the "Submit" button at the bottom right of the online application / registration form. Your application is now submitted.
Register through Kaushalya Karnataka Android App
The interested applicants can also register themselves through the android mobile app of Kaushalya Karnataka scheme which can be downloaded from Google Play Store using the following link.
Download Kaushalya Karnataka Mobile App
Kaushalya Karnataka Scheme – Who can Apply
The scheme is especially designed for unemployed youth between the age of 18 to 35 years. Unemployed youths, who have dropped out of their schools/colleges without completing their education can also enroll themselves for the skill training programs under the scheme.
There is 20% reservation for ST candidates, 7% for SCs and 15% for OBCs. All the applicants are required to have Aadhar Card and residence proof document such as ration card or voter ID card.
The government aims to provide employment to about 70% of the youth through this scheme.
Kaushalya Karnataka Scheme Training Provider Registration
The candidates/institutions who wish to open a training center under the Kaushalya Karnataka Scheme can also register their interest using the below registration link
https://www.kaushalkar.com/app/vtp
SAVE AS PDF