Meghalaya Voter List 2020 | List of Electoral Roll in Meghalaya | Meghalaya Electoral Roll 2019-2020 | CEO Meghalaya Electoral Roll Detail | Meghalaya Electoral Vote
Election Commission of India (ECI) has announced Lok Sabha election dates in the country. In the Meghalaya state, voting was held in Phase 1 i.e on 11 April 2019. Chief Electoral Officer has published and is continuously updating CEO Meghalaya Voter List 2020. Here people can perform name search in the New List of Electoral Roll 2019-20 in Meghalaya. People can find CEO Meghalaya Electoral Roll Detail at ceomeghalaya.nic.in and download electoral vote / Voter ID Card.
All the citizens can check their name in the district wise Meghalaya Voter List 2020 with Photo and download Voter ID Card. The updated Meghalaya Electoral Roll 2019-2020 is available in the PDF format where people can find their name in the Meghalaya Voters List 2020 and can Download Voter ID Card before casting their vote.
The entire PDF file of the Electoral Roll Meghalaya (Voter List) 2020 is now available. Here citizens can perform manual searching in the Meghalaya Voter List PDF 2020. Moreover, people can adopt a hassle free process and check their names online.
CEO Meghalaya Voter List 2020 (PDF Electoral Roll) Download
Below is the complete procedure to download the District wise Meghalaya CEO Voter List 2020 (Final Electoral Roll):-
Firstly visit the official website at ceomeghalaya.nic.in
At the homepage, click at the "Electoral Roll" link present on the right side of page or directly click this link

CEO Meghalaya Electoral Roll Detail

Here candidates can select the assembly constituency number, part number, captcha and then click at "Submit" button to open the PDF of Electoral Rolls of Meghalaya:-

Meghalaya Electoral Roll 2019-2020
Here candidates can find their manually in the downloaded Meghalaya CEO Voter List PDF.
List of Electoral Roll in Meghalaya
Alternatively, people can download list of electoral roll in Meghalaya through the link given below:-
Voter List of Meghalaya Download (E-Roll Details)
The constituency wise voter list download page for Meghalaya will appear as follows:-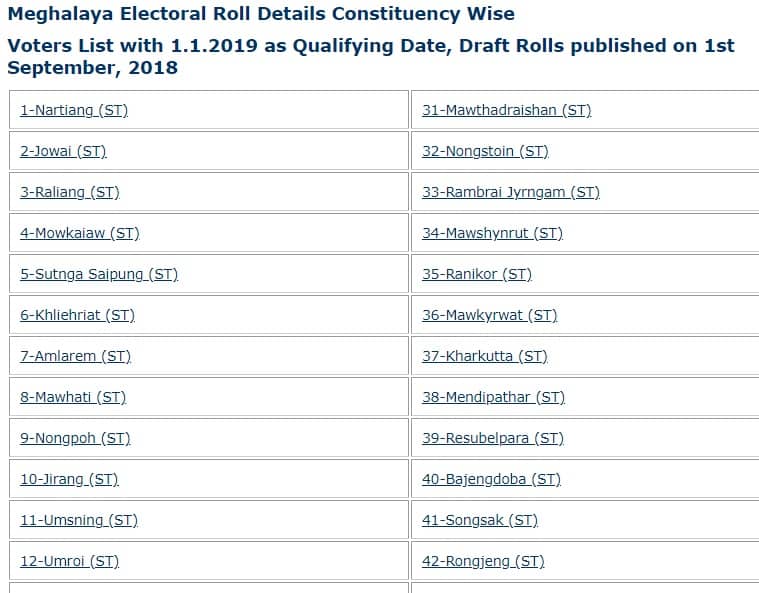 Meghalaya Government Schemes 2021
Meghalaya Voter ID Card Download – Find Name Online
All the candidates can find their name online in the CEO Voters List 2020 and download Meghalaya voter ID Card through the link below:-
https://electoralsearch.in/
Here candidates can enter the name, date of birth, father / husband name, gender, state, district, assembly constituency and then click at the "खोजें/Search" button to download the voter slip.