CEO Manipur Voter List 2020 | Manipur Voter List PDF 2020 | Manipur Voter List PDF | CEO Manipur Voter List 2019-2020 | Electoral Roll Manipur 2020 PDF | Electoral Roll Manipur 2020 Download | Manipur Voter List Name Search
Chief Electoral Officer Manipur has published CEO Manipur Voter List 2020. Here people can perform Manipur Voter List name search in the New PDF Electoral Roll 2020 and download Voter ID Card at ceomanipur.nic.in
All the citizens can check their name in the district wise Special Summary Revision 2020 Manipur Voter List with Photo. You can download electoral roll PDF from the official website of CEO Manipur. The updated Manipur Electoral Roll with Photo are available in the PDF format where people can find their name in the Manipur Voters List 2020 and can Download Voter ID Card before casting their vote.
The entire PDF file of the Electoral Roll Manipur (Voter List) 2020 is now available. Here citizens can perform manual searching in the Manipur Voter List PDF 2020. Moreover, people can adopt a hassle free process and check their names online.
CEO Manipur Voter List 2020 (PDF Electoral Roll) Download
Below is the complete procedure to download the District wise Manipur CEO Voter List 2020 (Final Electoral Roll):-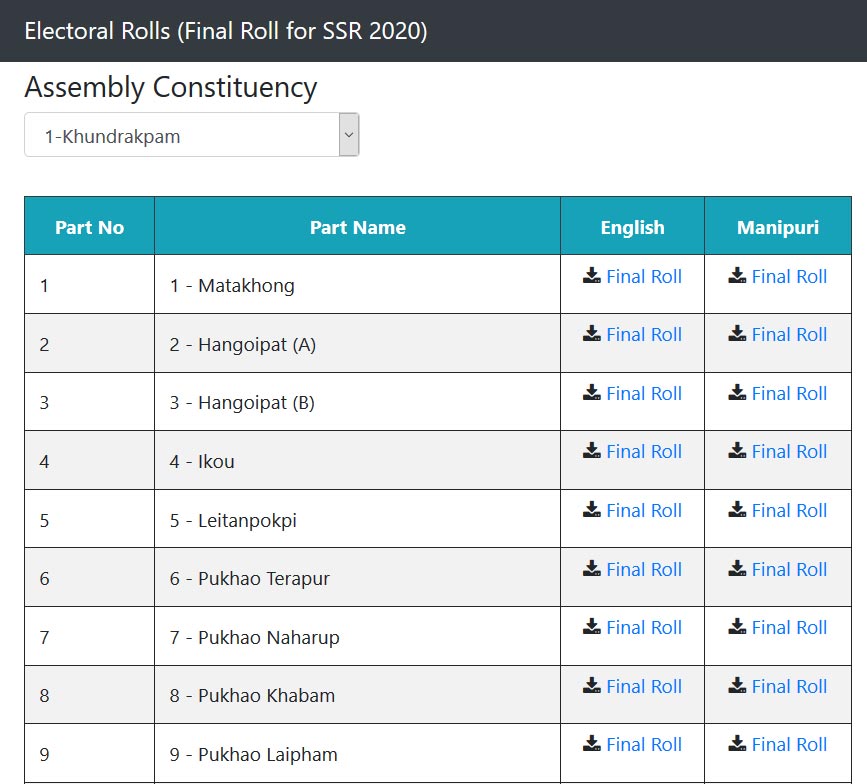 Here select the Assembly Constituency to open the Electoral Roll PDF download page as shown above.
Click at the "Download" button in the "English" or "Manipuri" language column to download the PDF file of Manipur final voters list 2020 of Manipur. The downloaded Manipur Voter List PDF file 2020 will appear as shown below:-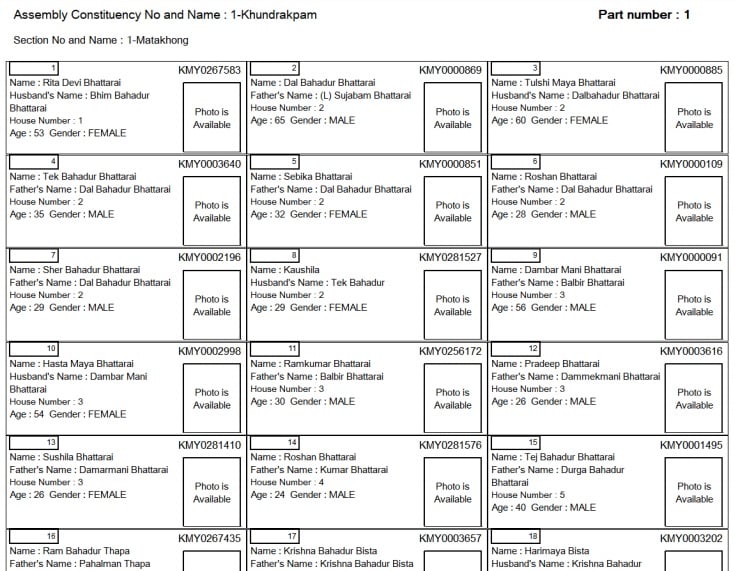 Here candidates can find their name manually in the downloaded Manipur CEO Voter List 2020 and take a printout of the voter slip to caste their vote.
Manipur Voter ID Download – Find Name Online in CEO Voters List
All the candidates can find their name online in the Manipur CEO Voters List through the official Electoral Roll search link below given below
Manipur Voter List Name Search
https://electoralsearch.in/
The search page to find name online in the CEO Manipur Voter List will appear as shown below

Here candidates have to enter the required personal details and select their state, district and assembly constituency and then click at "Search" button to find name online in the CEO Manipur voter list.
List of Polling Stations in Manipur
You can also check the complete list of all polling stations in Manipur by following the below procedure.
1. Go to the polling station link https://ceomanipur.nic.in/erms/ListOfPollingStations and you will be shown a page similar to below given.
2. Select Your District and Assembly Constituency in the selection boxes and click "Show Polling Stations" link and you will be shown the complete list of polling stations in your selected area.
Maps of Assembly Constituencies in Manipur
High resolution maps of all assembly constituencies in Manipur can also be downloaded in PDF format using the below given link and procedure.
https://ceomanipur.nic.in/acmaps
Procedure
Step 1. Click within the District boundary to see AC wise maps of the District you want.
Step 2. Click within the AC boundary to see the AC maps.
All those candidates whose name doesn't appears in the CEO voters list can apply online and register as new voter to caste their important vote in elections.
Content Source / Reference Link: ceomanipur.nic.in
SAVE AS PDF