Kerala Aswasakiranam Scheme 2023 application form is available to download in PDF format at socialsecuritymission.gov.in through online mode. In this scheme, the Kerala govt. is going to provide financial assistance to care givers of physically and mentally disabled bedridden patients, who are their family members or relatives. Aswasakiranam Yojana intends to provide a monthly assistance of Rs. 600 to those caregivers who are unable to take up employment for self employment. The official Social Security Mission website is now functional and people can know how to apply for Aswasakiranam Scheme at the official website.
This noble initiative "Aswasakiranam Scheme" envisages assisting the care givers of physically and mentally disabled bed-ridden patients, who are their family members or relatives. This scheme intends to provide a monthly assistance of Rs. 600 to those care givers who are unable to take up employment for self-sustenance. The scheme came into effect from 2 August 2010 and all those who have been providing care giving service to patients since 2 Aug 2010 will be paid monthly assistance with retrospective effect. This is apart from the pension given to the patient.
The state cabinet committee has also approved the implementation of Kerala Aswasakiranam Scheme. In this article, we will tell you about how to apply for Aswasakiranam Scheme, eligibility criteria, govt. orders, amount of assistance and complete details.
Kerala Aswasakiranam Scheme 2023 Form PDF
Below is complete process of how to download Kerala Aswasakiranam Scheme 2023 Application Form in PDF format through online mode:-
Step 1: Firstly visit the official Kerala Social Security Mission website at http://socialsecuritymission.gov.in/
Step 2: On homepage, click at the "Application Forms" tab present in the main menu or directly click http://www.socialsecuritymission.gov.in/appln_info.php
Step 3: At the opened page, click at the "View" tab in front of "Aswasakiranam" link present at 18th number in the list of schemes.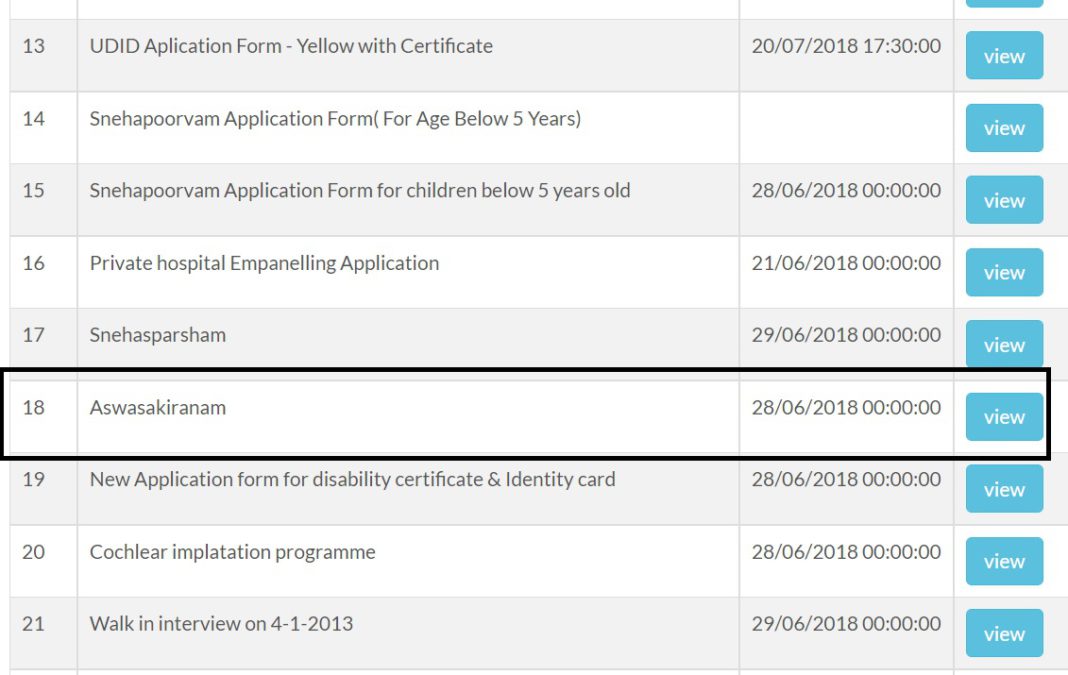 Step 4: Then Kerala Aswasakiranam Scheme Application Form PDF Download Page online will open as shown below which can even be obtained using this direct link:-
Kerala Govt Schemes 2023Popular Schemes in Kerala:Kerala Ration Card ListEducation Loan Repayment SchemeKerala Voter List / ID Card Download
Step 5: All the interested applicants can download this Kerala Aswasakiranam Scheme Form 2023 in PDF format. After downloading, applicants will have to enter necessary details accurately in the form and submit it to the concerned authorities. Kerala Social Security Mission is the implementing agency for Aswasakiranam scheme.
How to Apply for Aswasakiranam Scheme
Application duly filled to be submitted along with Doctor's Certificate at nearest Anganwadi or ICDS office. Upon subsequent verification of filled in application form along with documents, the concerned officer will approve your form and then care givers of physical and mental disabled bedridden patients who are their family members or relatives will start receiving financial assistance.
Eligibility Criteria for Kerala Aswasakiranam Scheme 2023
Only those applicants who fulfills the eligibility criteria mentioned below will become eligible for Kerala Aswasakiranam Scheme 2023:-
One who is totally bed-ridden and at home with debilitating disability (physical, functional or mental)
One who cannot take care of himself / herself for any day to day activity without a support of another person
One who belongs to a family, Below Poverty Line as per BPL list and as per ration card
List of Documents Required for Aswasakiranam Scheme
Medical certificate attested by Govt./ Vayomithram / NRHM doctors
Attested copy of BPL ration card / BPL certificate issued by Panchayat or Municipality or Corporation / Income certificate issued by village officer as a proof for patient income
Attested copy of Aadhar card / confirmation slip received
Coverage of Diseases in Aswasakiranam Scheme
All bed-ridden patients who need a full-time caregiver.
Mentally challenged (Autism, Cerebral Palsy, Mental retardation, Mental illness).
100 % blind, bed-ridden cancer patients, old-aged bed-ridden.
Brittle bone disease.
Need for Implementation of Aswasakiranam Scheme
Kerala is a state well known for the efficient and effective health care system. Despite these advancements, much headway could not be made in home care. Most of the lowest income group always opt for the homely treatment as they cannot afford the charges levied by the well-known hospitals. They are bedridden causing a heavy social burden on their family members who are forced to stay back at home to look after these bedridden patients. While the upper income group can possibly afford to engage paid caregivers or home nurses for looking after such bedridden family members, the lower income group usually take it upon themselves to care for their bedridden brethren. These family members in fact function as informal care-givers, without due recognition or economic gain.
These results in loss of gainful employment or productive income for those informal caregivers who are forced to stay back home and look after their bedridden family members. This in turn results in economic loss for the entire family as one or more members cannot seek gainful employment outside their homes. Hence Aswasakiranam scheme provides a source of income or a monthly assistance of Rs. 600/- for these informal caregivers.
Check Scheme details at http://www.socialsecuritymission.gov.in/scheme_info.php?id=NQ==
For more details, visit the official website of Kerala Social Security Mission at http://www.socialsecuritymission.gov.in/schemes.php