West Bengal Career Guidance Portal at wbcareerportal.in has been launched by the state government for secondary and higher secondary students. This WB Career Portal IN website has been launched by the School Education Department of West Bengal government in collaboration with UNICEF. The WB Career Guidance Portal will provide easy access to information on different careers. Moreover, West Bengal Career Portal will also provide students an opportunity to interact with teachers.
West Bengal Career Guidance Portal Launch
The students would be able to access career guidance services through West Bengal Career Portal as well as a mobile friendly app created specifically for this purpose. www.wbcareerportal.in is an initiative launched by West Bengal School Education Department Authority. The technical partner for the career portal for West Bengal is Aasman Foundation.
West Bengal Career Portal Login
Class 9th to 12th students can login to their career dashboard by entering Student ID and password (123456). Here is the direct link to access West Bengal Career Portal – https://wbcareerportal.in/. The page where a candidate can make login by entering the Student ID and password will appear as shown below:-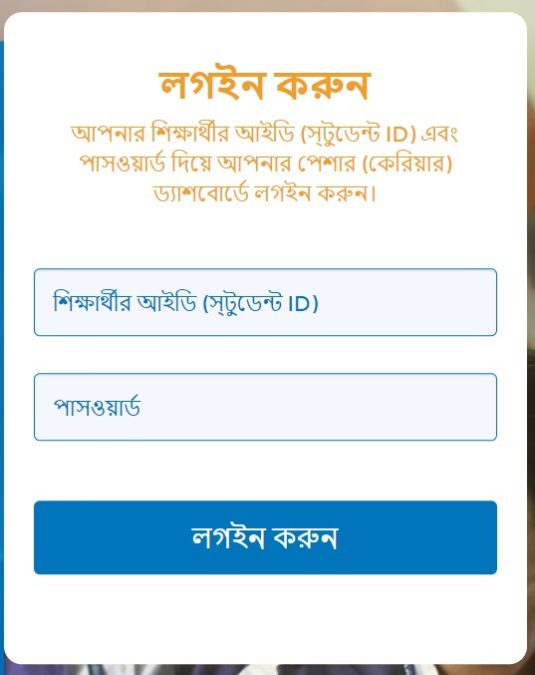 This West Bengal Career Portal is also available in the local Bengali language. It is a unique platform that aggregates information on careers, colleges, professional courses, vocational courses, entrance exams and scholarship opportunities.
Information on WB Career Guidance Portal
The West Bengal government has launched a unique career portal for students of Classes IX to XII to help them get the right guidance. The career guidance portal has been launched in association with UNICEF, Webel and Schoolnet India. West Bengal state government has launched WB career portal for students which will be a big step towards guiding our students to get to the career of their choice. The WB Career Portal site will have several interesting career news, information and ways to get in touch with several national and international institutions.
The WB Career Portal will have information on about 400+ careers offered by several national and international colleges, institutes, universities and scholarships. Students can also find out about scholarship provisions, speak to institute representatives and teachers or connect with career counsellors.
Localized Content on WB Career Portal In Website
West Bengal career guidance portal had come at a very pertinent time as it is the need of the hour to ensure all children acquire knowledge on wide-ranging career options. Moreover, children must make informed choices during the unprecedented education emergency because of the COVID-19 pandemic. The most impressive aspect about this career portal is that its content is localized. Contextualized students would be able to login to the dashboard through a unique ID created to access information, post queries and apply.
Benefits of West Bengal Career Guidance Portal
The West Bengal career portal reaches all secondary and higher secondary students with its services and information. The career guidance portal in WB state will enable adolescents to choose a career path in alignment with their aspirations and aptitudes and help to connect them with work opportunities.
West Bengal Govt Schemes 2023Popular Schemes in West Bengal:Karma Sathi Prakalpa SchemeYuvasree SchemeManabik Prakalpa Scheme
This wbcareerportal.in website would also provide opportunities to interact with great personalities, mentors from reputed professional and vocational institutes. It would enable students to further understand potential learning and career opportunities.
West Bengal Career portal is a significant medium for equipping adolescent students of secondary and higher secondary in the state. This would help in navigating a smooth transition from school to work through higher education as UNICEF is committed to support quality learning interventions.
For more details, visit the official website at wbcareerportal.in