Central government has launched National Youth Parliament Scheme (NYPS) on occasion of anniversary of adoption of the Constitution of India i.e SamvidhanDiwas. With this launch, National Youth Parliament Scheme Portal is now functional at nyps.mpa.gov.in. Candidates can now apply online and make National Youth Parliament Scheme online registration at official website. NYPS web portal contains various e-training resources in the form of tutorials, literature, training videos for e-training and self-learning of the participants.
NYPS portal will strengthen the roots of democracy, inculcate healthy habits of discipline, tolerance of the view of others. Moreover, this portal will also enable the student community to know about practices and procedures of the Parliament. All recognized educational institutions of the country are eligible to participate in the "Portal Based Youth Parliament Programme".
As per the NYPS schedule, the start date to apply online for National Youth Parliament Scheme is 26 November 2019 (11 a.m) and last date is 30 June 2022 (5 p.m).
National Youth Parliament Scheme Online Registration 2022
Here is the complete process to make online registration for NYPS:-
STEP 1: Firstly visit the official National Youth Parliament Scheme portal at nyps.mpa.gov.in
STEP 2: At the homepage, click at the "Login" tab present in the header or directly click https://nyps.mpa.gov.in/Login.aspx to open login page as shown below (*Last date for registration extended till 30 June 2022):-
STEP 3: At this page, click at the "New Registration" section to make National Youth Parliament Scheme online registration as shown below:-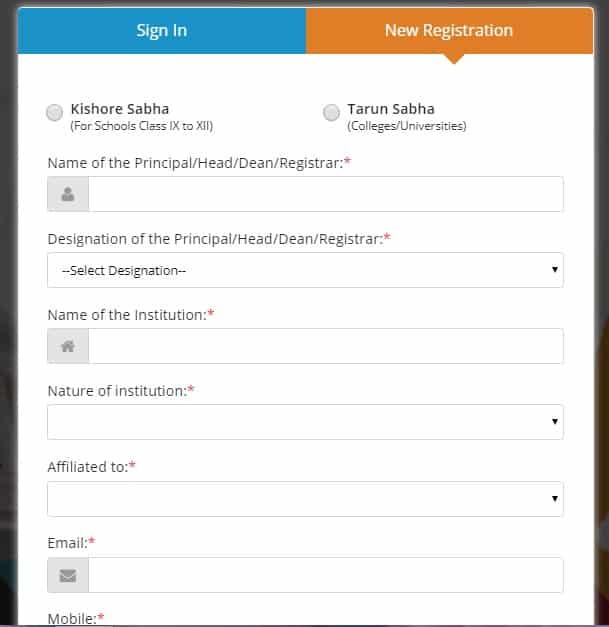 STEP 4: Here participants can apply either for "Kishore Sabha (for schools 9th to 12th)" and "Tarun Sabha (for colleges / universities)".
Central Government Govt Schemes 2022Popular Schemes in Central Government:Pradhan Mantri Awas YojanaPM Awas Yojana Gramin (PMAY-G)SECC-2011 BPL List | नयी Final BPL लिस्ट
STEP 5: Enter necessary details accurately and click at "Submit" button to complete NYPS online registration.
Read NYPS Guidelines at https://nyps.mpa.gov.in/Guidlines.aspx to know about eligibility, participation, sitting duration, language, venue, number of participants and their selection criteria. Download NYPS Portal Application User Manual for complete information on registration process.
National Youth Parliament Scheme Portal – Features
Here the important features and highlights of NYPS Scheme portal:-
All recognized educational organizations in India are eligible to take part in the National Youth Parliament Scheme.
This NYPS web-portal (nyps.mpa.gov.in) will be the only medium for applying for participation and registration by the educational institutions.
NYPS Portal will provide photographs, videos, scripts and e-training modules for self-learning through online mode.
On making successful registration, each eligible educational institution can take part in youth parliament sittings in their respective institutions.
All the participant students of NYPS will get "certificate of participation". Accordingly, each head of the institution and teacher-in-charge will be given a "certificate of appreciation" through the web-portal.
NYPS Portal will help in realizing PM Modi's vision of organizing youth parliament sessions across the country.
NYPS User Guide – https://nyps.mpa.gov.in/UserGuide.aspx