Tamil Nadu government has released Makkalai Thedi Maruthuvam Scheme 2023 PDF. The doorstep healthcare scheme in Tamilnadu was launched simultaneously across 7 districts, including Chennai and Coimbatore in August 2021. Chief minister MK Stalin on 23 February 2022 distributed medicine kits to the 50th lakh beneficiary of the Makkal Thedi Maruthuvam scheme at Chitlapakkam in Chengalpattu district. In this article, we will tell you about the complete details of the Makkalai Thedi Maruthuvam Scheme.
Makkalai Thedi Maruthuvam Scheme in Tamil Nadu Budget 2023-24
On 20 March 2023, Finance Minister Palanivel Thiaga Rajan delivered Tamil Nadu Budget Speech 2023-24. While presenting the Tamilnadu Budget 2023-24, FM says "Makkalai Thedi Maruthuvam scheme will be extended to industrial workers, which will also benefit migrant workers".
Launch of Makkalai Thedi Maruthuvam Scheme
The ambitious scheme was launched in August 2021 at a cost of Rs. 258 crore to ensure access to medicine and healthcare, at the doorstep, for persons with comorbidties, the disabled and elderly. Till 23 Feb 2022, the progress report is as under:-
1,90,932 people have received palliative care,
3,71,938 people have received physiotherapy
1,259 people received self-dialysis facility
The chief minister also launched 118 new ambulances, to be used for the Innuyir Kaappom and Nammai Kaakkum 48 schemes under which the State government bears the expenses for emergency care of accident victims in the first 48 hours. According to official data, 21,762 victims of road accidents have been admitted to hospitals under the scheme till 23 Feb 2022. The government has spent Rs 19.77 crore for their treatment. As many as 218 private and 422 government hospitals are part of the scheme.
About Tamil Nadu Makkalai Thedi Maruthuvam Scheme 2023
TN Chief Minister MK Stalin has inaugurated Makkalai Thedi Maruthuvam, doorstep health care scheme through video conferencing. This scheme aims to eliminate need for patients to visit hospitals for treating non-communicable diseases. Tamilnadu Doorstep healthcare scheme is launched simultaneously across seven districts which includes Chennai and Coimbatore.
Objectives of TN Makkalai Thedi Maruthuvam Scheme
According to a government order, the ambitious Makkalai Thedi Maruthuvam Scheme aims to cover 1,172 health sub-centres, 189 primary health centres and 50 community health centres across 50 universal health coverage blocks in the state. Makkalai Thedi Maruthuvam or the doorstep healthcare scheme aims to not only provide required medications at the doorsteps of the citizens but also take medical services right to their homes.
Management of Stock of Medical Supplies in Tamilnadu
After launch the doorstep healthcare scheme, chief minister MK Stalin is personally taking stock of the medical supplies that will be sent to the residences of those patients diagnosed with hypertension and diabetes. In addition to this, special focus will also remain on those patients and senior citizens in the state who require physiotherapy.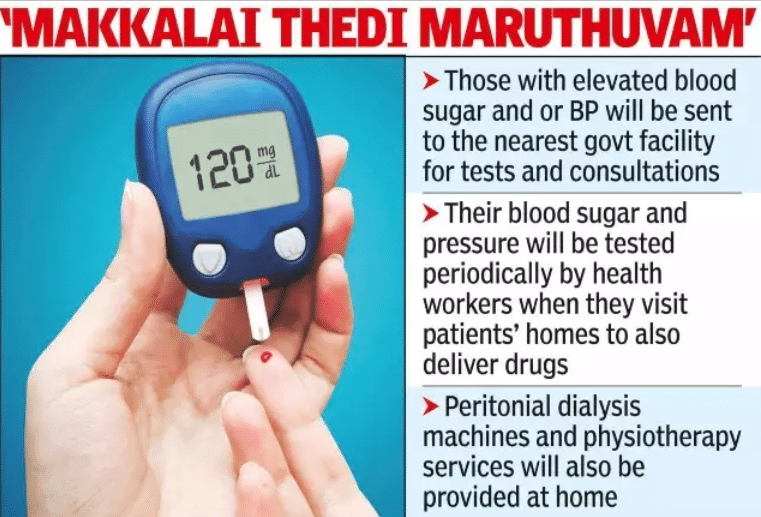 Stalin took charge as the chief minister of Tamil Nadu earlier on 7 May 2021, after his party "Dravida Munnetra Kazhagam (DMK)" came to power after ousting the erstwhile All India Anna Dravida Munnetra Kazhagam (AIADMK)-led government in the latest state assembly elections. Assuming his charges amid the raging second wave of the coronavirus disease (Covid-19) pandemic, MK Stalin had instructed his team to focus on containing the virus spread and augmenting the health infrastructure in the state on priority.
Tamil Nadu Govt Schemes 2023Popular Schemes in Tamil Nadu:Check TNPDS Tamilnadu Smart Ration Card Status Online at tnpds.gov.inTNSAND Online Sand Booking StatusTNPDS Smart Ration Card Online Application Form
Download Makkalai Thedi Maruthuvam Scheme PDF – http://cms.tn.gov.in/sites/default/files/go/hfw_e_340_2021.pdf
Source / Reference Link: https://www.newindianexpress.com/states/tamil-nadu/2022/feb/24/healthcare-schemes-get-boost-in-tn-118-new-ambulances-launched-2423079.html