West Bengal govt. has launched Yuvashree Arpan Scheme 2019 to generate employment opportunities for youths. Under this new scheme, every youth interested in starting their own business will get financial assistance from the state govt. to setup an enterprise. Micro, Small and Medium Enterprises (MSME) department is going to provide funding for this Yuva Shree Arpan Scheme.
CM Mamata Banerjee has announced Yuvashree Arpan Scheme for unemployed youths on 6 March 2019. Around 50,000 youths in the West Bengal state would be benefited from this self employment scheme. The main motto of this scheme to promote entrepreneurship.
WB Yuvashree Arpan Scheme is going to create jobs which will lead to economic growth of the state. As per the official sources, it is expected that the scheme implementation will start from 1st April 2019.
West Bengal Yuvashree Arpan Scheme 2019
West Bengal govt. announces to launch WB Yuvashree Arpan Scheme 2019 to provide jobs to youths. Under this scheme, around 50,000 youths will get Rs. 1 lakh assistance to start enterprise and MSME department will fund the scheme. The need for such an employment generation scheme was felt during demonetization. CM Mamata Banerjee has tagged demonetisation as a disaster and said that more than 2 crore have already lost their jobs since then. The state govt. has already reduced unemployment by 40%. Bangla is no. 1 in generating employment under MGNREGA and the state govt. is also no. 1 in providing skill development training through Utkarsh Bangla.
WB Yuvashree Arpan Scheme Application Form
The new scheme namely Yuvashree Arpan has just been announced by the CM Mamata Banerjee. The guidelines, eligibility criteria, application process, selection criteria are yet to be finalized. The state govt. of West Bengal may invite Yuvashree Arpan application forms through the official govt's website or through a dedicated portal. As soon as the application forms becomes available, we will update it here.
WB Yuvashree Arpan Scheme Eligibility Criteria
The general eligibility criteria which may be laid down to avail the Yuvashree Arpan benefits are described below:-
A candidate must be a permanent resident of West Bengal state
Only those youths who are further interested in opening a new business and have new ideas to create self employment for themselves and also employment opportunities for others.
All those youths who are possessing technical degrees from recognized institutes are eligible.
All the ITI pass-outs / diploma holders in the state may also remain eligible.
WB Yuvashree Arpan Scheme Details
The important features and highlights of WB Yuvashree Arpan Scheme are as follows:-
| | |
| --- | --- |
| State | West Bengal |
| Scheme Type | Employment Generation Scheme |
| Number of Beneficiaries | 50,000 youths |
| Assistance Amount | Rs. 1 lakh |
| Announced By | CM Mamata Banerjee |
WB Yuvashree Arpan Scheme 2019 is expected to promote entrepreneurship of the West Bengal. Empowering entrepreneurs is going to create jobs which will led to economic growth.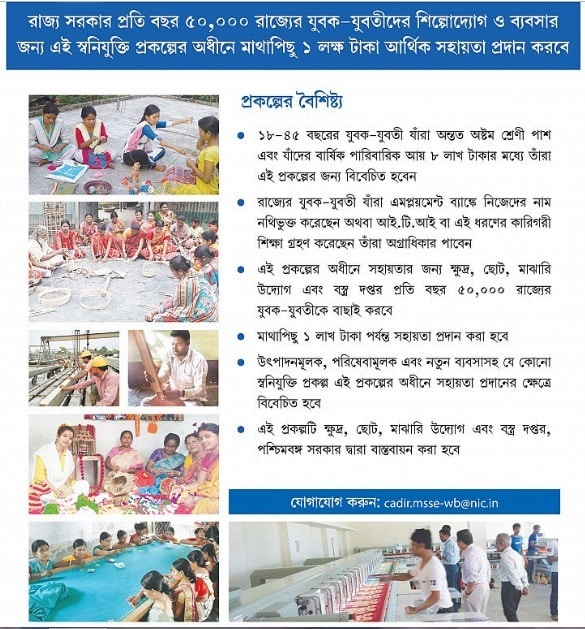 WB govt. has already allocated Rs. 500 crore for the project and the implementation of scheme will start from 1st April 2019. All the beneficiaries can start small and medium scale business units and the state MSME & Textile dept. is going to provide assistance.