पेयजल एवं सीवर संयोजन के ऑनलाईन आवेदन करने हेतु: Uttarakhand Jal Sansthan is inviting Rupees 1 Tap Water Connection Scheme 2021 online application form at ujsbill.uk.gov.in under Jal Jeevan Mission. In this scheme, the state govt. will provide water connection in all households across the state at a nominal Rs. 1 per house. The announcement to start "Ek Rupaiye Mai Paani Ka Connection" Scheme was earlier made by the chief minister Trivendra Singh Rawat. In this article, we will tell you about the complete apply online process for new water connection in UK state.
CM had announced Rs. 1 Tap Water Connection Scheme in Uttarakhand on 6 July 2020. CM inaugurated the Mukhyamantri Swarojgar Yojana in dairy development at Dudhli in Dehradun district on the same day. Uttarakhand becomes 1st state in the country where a scheme such as Mukhyamantri Swarojgar Yojana has been launched.
Uttarakhand Rupees 1 Tap Water Connection Scheme Apply Online
On 6 July 2020, CM Rawat had announced Rupees 1 Tap Water Connection Scheme in Uttarakhand under the Jal Jeevan Mission. In this new scheme, tap water is to be supplied to every household at a nominal cost of Rs 1. The state govt. is trying to provide clean drinking water to all people living in the Uttarakhand state. Currently, the cost of drinking water connection is Rs. 2,350 but not every villager can afford this amount. So, people can now apply online for Rs. 1 Tap Water Connection Scheme at https://ujsbill.uk.gov.in/
Under the Jal Jeevan Mission scheme, water connection will be given to each household in the state for only Re 1. Along with this, the state govt. also launched Mukhyamantri Swarojgar Yojana in dairy development through which the govt. aims to increase the production of milk in the state. Under the CM Self Employment scheme, milch animals will be brought from outside the state.
Jal Sansthan New Water Connection Online Application Form 2021
STEP 1: Firstly visit the official website at https://ujsbill.uk.gov.in/
STEP 2: At the homepage, click at the "Apply for New Connection link" as shown in the image below:-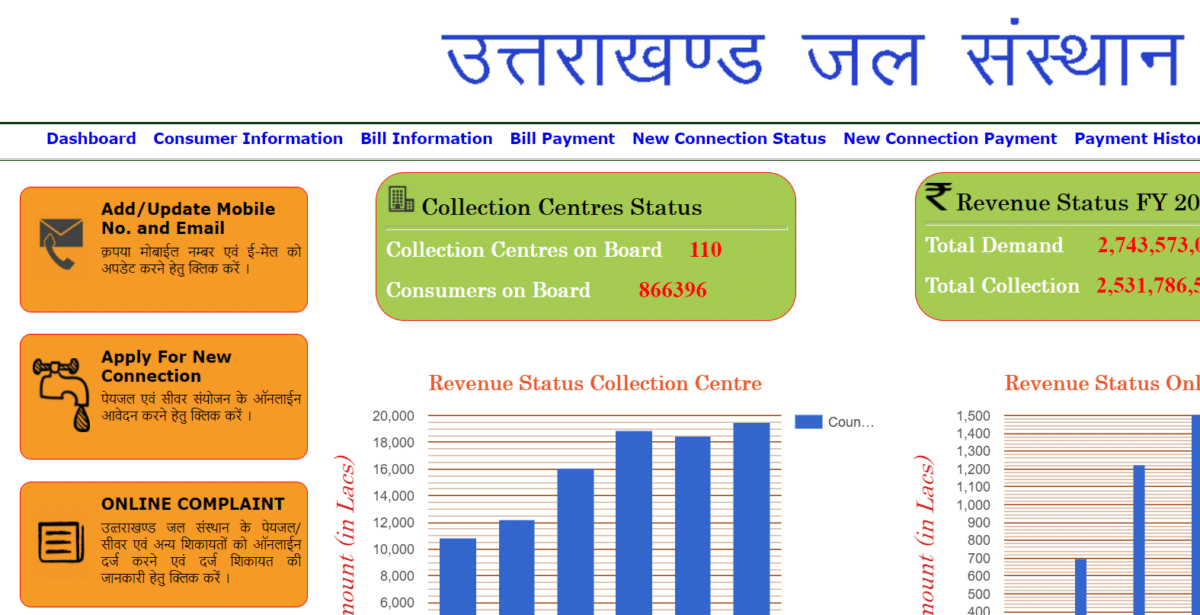 STEP 3: Direct Link – https://ujsbill.uk.gov.in/auth/onlineform/new_reg.aspx
Uttarakhand Government Schemes 2021उत्तराखंड सरकारी योजना हिन्दीPopular Schemes in Uttarakhand:Uttarakhand Ration Card Listउत्तराखंड नया राशन कार्ड एप्लीकेशन फॉर्म PDFUttarakhand Mukhyamantri Swarozgar Yojana
STEP 4: Upon clicking this link, the Online Water Connection Registration page will appear as shown below:-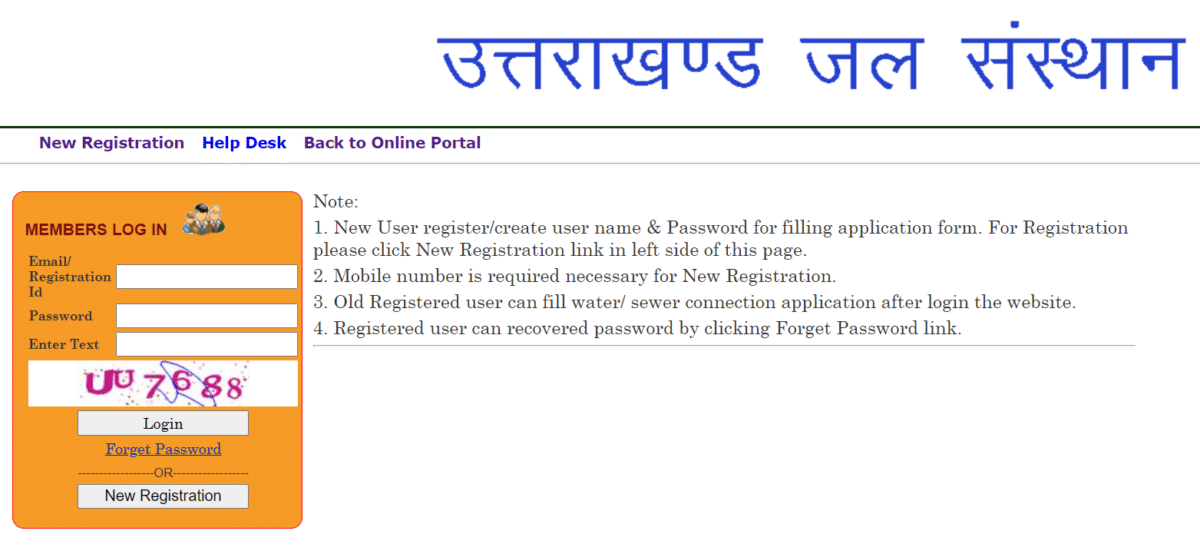 STEP 5: At this page, click at the "New Registration" tab to register. Mobile number is necessary for New Registration. Old Registered user can fill water/ sewer connection application after login the website. Registered user can recovered password by clicking Forget Password link.
STEP 6: After successful registration, login using username and password for making login. Accordingly on next opened page, click at "Apply New Application" link to open the New Water Connection Application Form as shown below:-
STEP 7: Here fill in all the details accurately in the new water connection online application form. Upon submission, the form will automatically go to the concerned authorities for verification and subsequent approval.
Important Note While Applying for Tap Water Connection Scheme
1) ऑनलाईन माध्‍यम से नये पेयजल / सीवर संयोजन के आवेदन प्रपत्र पर समस्‍त सूचनायें हिन्‍दी / अंग्रेजी भाषा में अंकित की जा सकती है।
2) ऑनलाईन आवेदन के साथ निम्‍न प्रपत्र स्‍कैन कर अपलोड किये जाने आवश्‍यक हैं। आवेदक की फोटो इमेज फार्मेंट में तथा इसके अतिरिक्‍त अन्‍य दस्‍तावेज इमेज अथवा पी0डी0एफ0 के रूप में अपलोड किये जा सकते हैं। अपलोड किये जाने वाले प्रपत्रों हेतु JPEG/ PNG/ BMP/ PDF फार्मेट मान्‍य हैं।

आवेदक की पहचान हेतु पासपोर्ट साईज का स्‍पष्‍ट फोटो (फोटो का अधिकतम साईज 50 KB)

भवन निर्माण हेतु जल संयोजन लिये जाने के लिये सम्‍बन्धित विकास प्राधिकरण / स्‍थानीय निकाय / ग्राम सभा द्वारा स्‍वीकृत मानचित्र (अधिकतम साईज 5 MB)

रू0 100 के नॉनज्‍यूडिशियल स्‍टाम्‍प पेपर, जो कि आवेदक के नाम पर हो (अधिकतम साईज 1 MB)

आवेदक की पहचान हेतु फोटो आईडी पहचान प्रपत्र(अधिकतम साईज 1 MB)

जहां पर पेयजल/ सीवर संयोजन दिया जाना है, उस स्‍थान के स्‍वामित्‍व/ अध्‍यासन का प्रमाण पत्र (अधिकतम साईज 2 MB)

विभागीय रजिस्‍टर्ड पलम्‍बर, जिसके माध्‍यम से कार्य कराया जाना है, का सहमति पत्र (अधिकतम साईज 1 MB)

समान्‍य श्रेणी के अतिरिक्‍त एस0सी0/ एस0टी0 / बी0पी0एल0 / सैनिक विधवायें / निराश्रित / भूमिहिन श्रमिक / विभागीय कार्मिक हेतु सम्‍बन्धित प्राधिकारी द्वारा जारी प्रमाण पत्र (अधिकतम साईज 1 MB)
3) ऑनलाईन आवेदन प्रपत्र पर मांगी गई समस्‍त सूचनाओं को सही भरें। आवेदक द्वारा गलत सूचना देने अथवा गलत प्रमाण पत्र जमा करने की स्थिति में आवेदन प्रपत्र निरस्‍त कर दिया जायेगा। संयोजन उपरान्‍त यदि उपभोक्‍ता द्वारा आवेदन के समय जमा किये गये प्रमाणपत्र गलत पाये जाते हैं तो रू0 1000 का जुर्माना या संयोजन काटा जा सकता है।
4) आवेदन प्रपत्र की धनराशि एवं संयोजन की धनराशि ऑनलाईन अथवा कलैक्‍शन सेंटर पर जमा की जा सकती है। आवेदन/ संयोजन की धनराशि जमा न करने पर आवेदन निरस्‍त किया जा सकता है।
ऑनलाईन आवेदन के समय अपलोड किये गये रू0 100 के नॉनज्‍यूडिशियल स्‍टाम्‍प पेपर को मूल रूप में आवेदन पत्र के प्रिंट के साथ विभागीय कॉल सेंटर अथवा सम्‍बन्धित कलैक्‍शन सेंटर पर जमा करना अनिवार्य है।
रोड कटिंग की स्थिति में आवेदक को सम्‍बन्धित विभाग के अनापत्ति प्रमाणपत्र की छायाप्रति विभागीय कार्यादेश / संयोजन से पूर्व विभागीय कॉल सेंटर अथवा सम्‍बन्धित कलैक्‍शन सेंटर पर जमा करानी होगी।
Tap Water Connection Important Points
Other decisions by Uttarakhand Govt. in Cabinet Meeting
Uttarakhand govt. is also planning to conserve the Badri cow breed. Now the state govt. is making efforts to increase Badri cows milk production as there is a great demand for ghee made from Badri cows milk. CM has announced that district supply officer would be held responsible for any mismanagement for distribution of ration under PM Garib Kalyan Yojana.
The state govt. aims to provide benefits of Pradhan Mantri Garib Kalyan Anna Yojana to all eligible beneficiaries. The Uttarakhand govt. will take strict action on any irregularity or misconduct in the implementation of PMGKAY Scheme. The secretary for food will regularly review work done under the scheme to ensure that no poor person in the state goes hungry.
Free ration has been made available to every person for the past 3 months amid the Coronavirus (Covid-19) pandemic outbreak. Moreover, the state govt. has also arranged free ration for stranded migrants who returned to their native state amid the easing of lockdown restrictions.
According to the state food and civil supplies department, 61.94 lakh people in Uttarakhand have been given food grains for free between April and June under PMGKAY. Each person is entitled to get 5 Kg of rice or wheat and 1 Kg of pulse per family for free in one month.