Himachal Pradesh government led by CM Jai Ram Thakur starts शिखर की ओर हिमाचल मोबाइल ऐप which can now be downloaded from google play store and apple app store. All the android phone users as well as Iphone users (IoS) can download Shikhar Ki Aur Himachal mobile application on their smartphones. This app will contain all the latest information about the CM programs, cabinet ministers programs, activities and govt. related services. The state govt. had launched a new Shikhar Ki Or Himachal App earlier on 7 January 2020.
Information about activities related to Chief Minister Shri Jairam Thakur Ji and the State Government is available in the Shikhar Ki Or Himachal" app. The programs about the Chief Minister and members of the state cabinet are also shown in the शिखर की ओर हिमाचल मोबाइल ऐप. People can now easily download the app on their mobile phones to avail its benefits. Apart from this, you can also see articles, videos and photos related to the government in the app.
Shikhar Ki Or Himachal Mobile App APK Download
The direct links to download the Shikhar Ki Or Himachal Mobile App APK on any mobile phone are given below:-
From Google Play Store
शिखर की ओर हिमाचल'' ऐप में मुख्यमंत्री श्री जयराम ठाकुर जी एवं प्रदेश सरकार से संबंधित गतिविधियों व कार्यों की जानकारी उपलब्ध है। मुख्यमंत्री तथा प्रदेश मंत्रिमंडल के सदस्यों के कार्यक्रमों के बारे में भी ऐप में दर्शाया गया है। इसके अतिरिक्त आप सरकार से जुड़े लेख, वीडियो व फोटो इत्यादि भी ऐप में देखे जा सकते हैं।
This app is updated on 22 March 2021 with 16 MB size and is installed 10000+ times till date. The current version of Shikhar Ki or Himachal Mobile App (android version) is 4.0 and requires android 5.0 and up for installation in smartphones.
From Apple App Store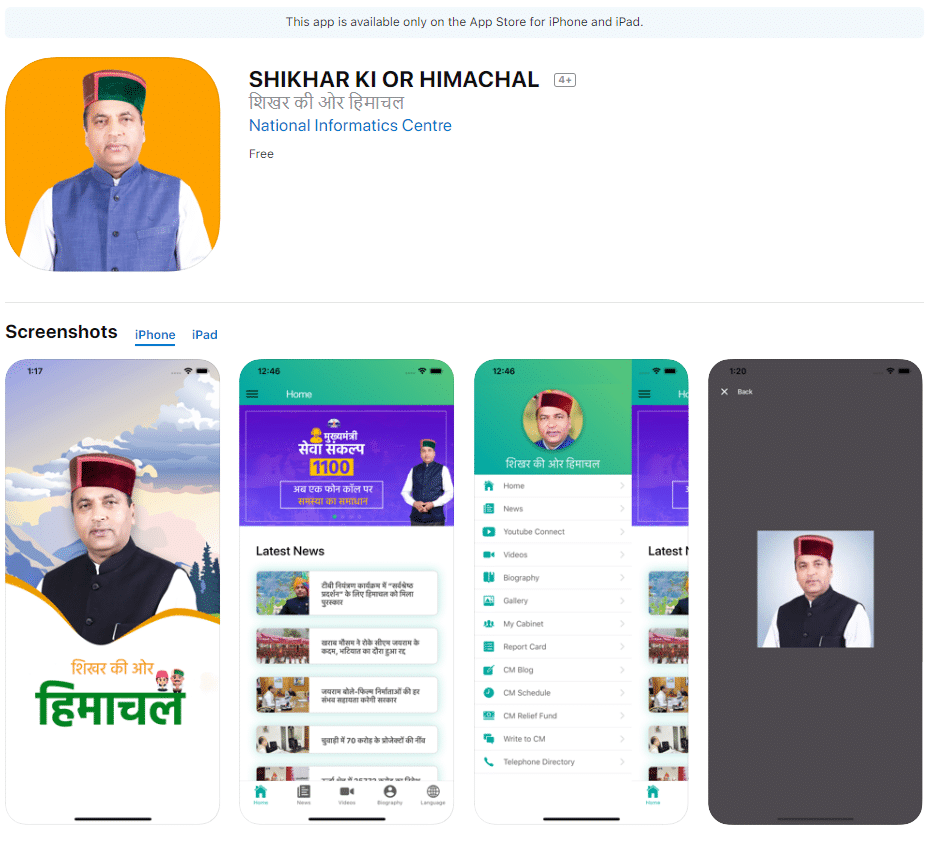 National Informatics Centre, Himachal Pradesh provides Shikhar Ki Aur Himachal App with size of 91.2 MB. The app category is utilities and for compatibility, it requires iOS 11.0 or later. The app is compatible with iPhone, iPad and iPod touch and is available in English language. This app has age rating of 4+ and is free of cost for Iphone users. The copyright of this app is with © National Informatics Centre, Himachal Pradesh
Shikhar Ki Or Himachal Pradesh mobile app is developed by Deptt. of Information Technology, Himachal Pradesh News & Magazines. The state govt. of Himachal Pradesh has launched this app to minimize the gap b/w citizens and the HP state government.
People can easily download this app and keep a track of the govt. activities, schemes launched for them and take benefits on a daily basis.
Himachal Pradesh Government Schemes 2022हिमाचल प्रदेश सरकारी योजना हिन्दीPopular Schemes in Himachal Pradesh:Himcare SchemeHimachal Grihini Suvidha YojanaMukhyamantri Seva Sankalp Yojana