Central govt. will provide training to 4 lakh people under Samarth Scheme 2019 to skill the youth for gainful and sustainable employment in the textile sector. This Textile Ministry Scheme for Capacity Building in Textile Sector (SCBTS) will cover people from 18 states. The central and state governments has signed part of agreements for this purpose.
Around 18 states including Union Government of India have resolved to skill 4 lakh people. This is the first such big step in the history of our country. Samarth scheme aims to promote skilling and skill upgradation in the traditional sectors of handlooms, handicrafts, sericulture and jute.
Samarth Scheme will enable provision of sustainable livelihood either by wage or self employment to all sections of the society.
Samarth Scheme Training for Capacity Building in Textile Sector
Samarth Scheme of Textile Ministry will provide demand driven, placement oriented National Skills Qualifications Framework (NSQF) compliant skilling programmes to people. This scheme aims to incentivize and supplement the efforts of the industry in creating jobs in the organized textile and related sectors. The important features and highlights of decision taken on Samarth Scheme are as follows:-
States Covered – Arunachal Pradesh, Jammu & Kashmir, Kerala, Mizoram, Tamil Nadu, Telangana, Uttar Pradesh, Andhra Pradesh, Assam, Madhya Pradesh, Tripura, Karnataka, Odisha, Manipur, Haryana, Meghalaya, Jharkhand and Uttarakhand.
Skill Development to be provided for sectors – Apparel and garmenting, knitting, metal handicraft, textile and handloom, handicraft and carpet etc.
Samarth Scheme will cover the entire value chain of textile excluding spinning and weaving. The central govt. main focus is on each and every citizen who seeks resources for sustenance and to make them skilled.
As 75% people working in textile sector are women, so state representatives must look at district-wise tailoring opportunities for women as part of the outreach for skilling across states.
The SAMARTH scheme targets to provide training to 10 lakh people for FY 2017-20 with an outlay of Rs 1,300 crore. Click at https://samarth-textiles.gov.in/about_us for more details on Samarth Scheme.
Central Government Schemes 2020केंद्र सरकारी योजना हिन्दीPopular Schemes in Central:Narendra Modi Schemes ListNREGA Job Card Listसरकारी योजनाओं की सूची हिंदी में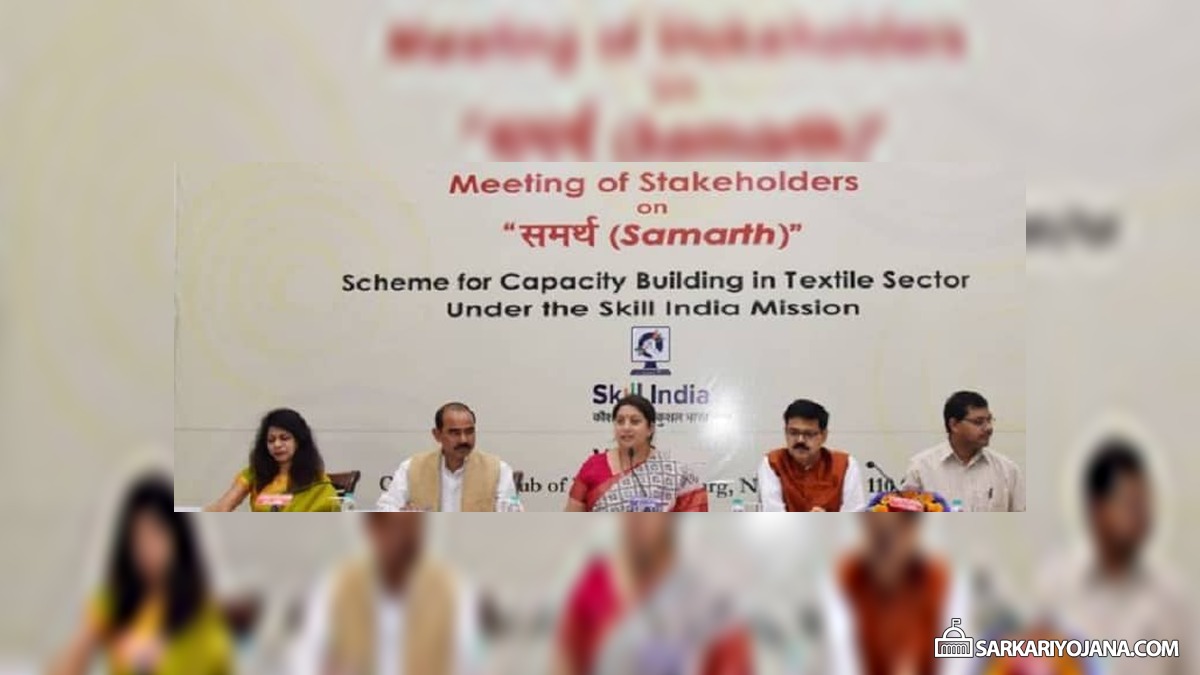 Content Source / Reference Link: https://www.business-standard.com/article/pti-stories/textile-ministry-inks-pacts-with-18-states-to-skill-4-lakh-people-119081400831_1.html
SAVE AS PDF