RTE Tamil Nadu School List 2020-21 School List & TN RTE Admission Intake Capacity can be checked at rte.tnschools.gov.in. Directorate of Government Examinations, TN has now started accepting RTE Tamilnadu Admission 2020-21 online application form from 27 August 2020. School Education Department is inviting RTE Online Application Form 2020 Tamilnadu for 25% reservation of admission seats for poor students in private schools. Interested candidates can fill RTE Tamil Nadu 2020-2021 online application at official website rte.tnschools.gov.in. Even candidates can see District & School Wise Intake Capacity / Number of Seats as per RTE TN Schools List 2020 for 25% Reservation for the current academic year.
RTE Act is applicable for all states to provide free and compulsory education to the children of poor families. All the applicants can fill RTE application form 2020-21 Tamilnadu. Under Right to Education Act, 2009 students from weaker sections are entitled for 25% reservation in all schools.
Online Application Forms for RTE 25 Admission in Tamil Nadu are out yesterday (27 August 2020). All the candidates can directly fill the RTE Tamil nadu online application through the link – RTE Tamil Nadu Admission 2020 Online Application Form
RTE Tamil Nadu School List 2020 – District & School Wise Vacancy
The complete procedure to see the number of seats in a specific school in Tamilnadu before making RTE Tamil Nadu 2020-21 online application, candidates must follow the procedure given below:-
Check intake Capacity at www.rte.tnschools.gov.in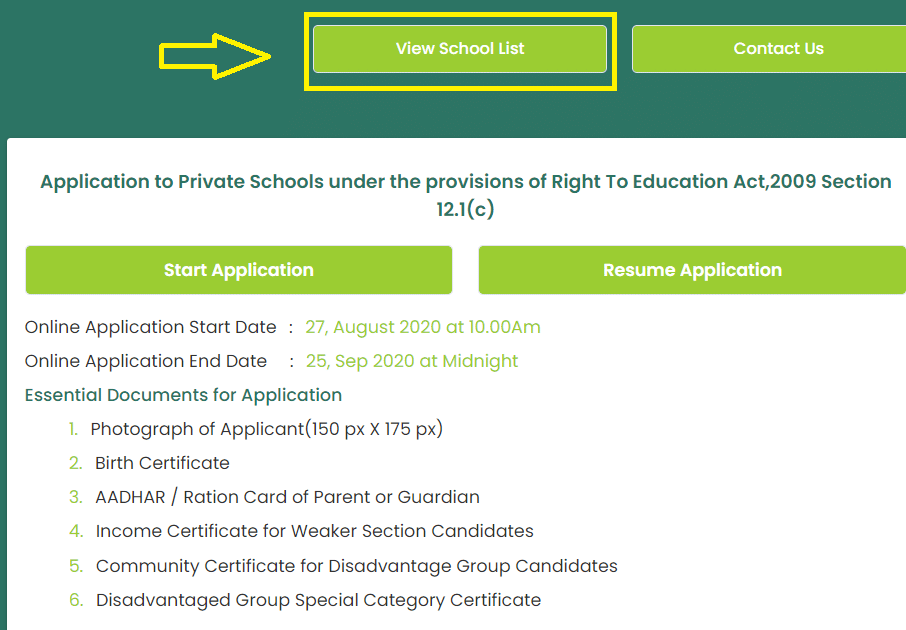 Step 3: Upon clicking the link, the Tamilnadu RTE Intake Capacity page will open containing the name of districts, total schools, RTE Seats.
Step 4: Then applicants will have to select the "Name of their District" to open the RTE Tamilnadu School List for admissions 2020.
Step 5: This RTE Tamil Nadu School List 2020 will comprise of the name of the "Education District", "UDISE Code", "School Name", "RTE Seats", "School Type", "Entry Class".
Step 6: All the candidates can then fill the online application form against the number of vacancies in a specific school through the link – https://rte.tnschools.gov.in/home
School Education Department will give preference to the children residing within 1 km radius of the school for RTE Tamilnadu 2020-21 admission.
References
For more details on the RTE Admission 2020-21 Online in Tamilnadu, please visit the official website given here –http://www.dge.tn.gov.in/
Read More – RTE Chhattisgarh Admissions
Tamil Nadu Government Schemes 2020
SAVE AS PDF