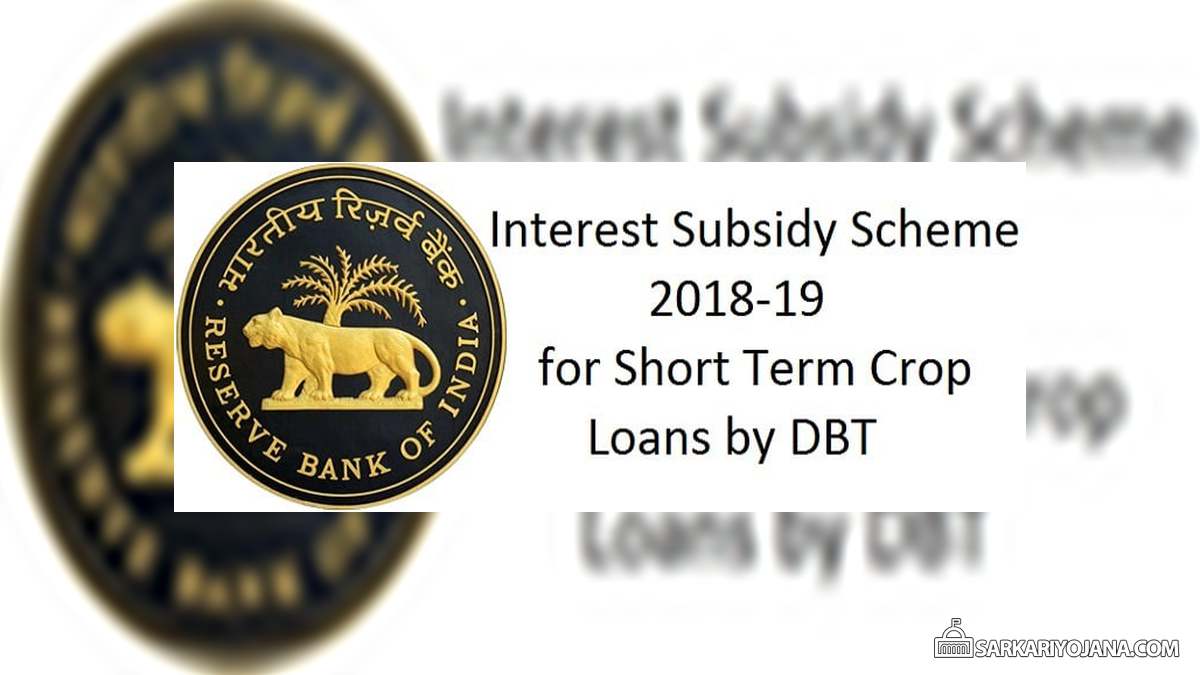 Reserve Bank of India (RBI) will implement Interest Subvention Scheme 2018-19 for Short Term Crop Loans. Under this scheme, farmers can avail loans upto 3 lakhs at subsidized interest rate of 7% which could go down to 4% on prompt repayment. Govt. will implement this Interest Subsidy Scheme through Direct Benefit Transfer (DBT). Central government has allocated a provision of Rs. 15,000 crore for this scheme in FY 2018-19.
RBI in its notification reveals that the Interest Subvention Scheme (ISS) 2018-19 will be settled under Plan Scheme. Plan Scheme is for Scheduled Caste (SC), Scheduled Tribe (ST) and North East Region (NER) etc.
Under ISS Scheme, govt. provides Interest Subsidy to NABARD, Regional Rural Banks (RRBs), Co-operative Banks, Public Sector Banks & Private Banks. These authorities are responsible to provide Short Term Credit to farmers with a subsidized Rate of Interest.
RBI Interest Subvention Scheme (ISS) 2018-19 – Short Term Crop Loans by DBT
The important features and highlights of this Interest Subsidy Scheme on Crop Loans for farmers are as follows:-
All the farmers can now take short term crop loans upto 3 lakhs with an interest subsidy of 7%. This interest will lower down to 4% if the farmers make repayment on time.
Govt. will implement ISS 2018-19 on DBT mode on 'In Kind / Services' basis and not on 'In Cash' basis. For this reason, govt. will launch a new ISS Portal / DBT Platform to process all loans.
Terms and Conditions as approved in FY 2017-18 will remain same for Interest Subvention Scheme this year also.
On taking loans, govt. will calculate 2% interest subsidy on the total amount of crop loan taken.
The duration will be calculated in accordance with the date of disbursement of loan amount to farmers upto the due date or date of actual repayment by farmers, whichever is earlier upto a maximum of 1 year.
RBI is going to launch a new DBT Portal very soon but till then, the banks will have to work as mentioned in the notification. In RBI notification, it is clearly stated that the banks needs to capture Category Wise (General, SC, ST) data of beneficiaries. Banks will then have to upload that report on ISS portal to settle the claims in FY 2018-19.
RBI is currently working on the details for successful implementation of loans categorization. Till the time, the new guidelines are out, banks may obtain the category-wise data on self-declaration basis. Furthermore, RBI does not put any restriction on loans given by the banks to farmers of each category.
SAVE AS PDF
Sarkari Yojana App - Download Now
Karan Chhabra
at
Sarkari Yojana
Related Content
Disclaimer and Notice: This is not the official website for any government scheme nor associated with any Govt. body. Please do not treat this as official website and do not leave your contact / personal such as Aadhar Number or Mobile No. information in the comment below. It is not possible for us to reply to each comment/query, neither we can address the complaints regarding any scheme. We request all our visitors to visit the official website of the concerned department / authority for any complaint, query about the scheme / information published on this website.