Bhamashah Digital Parivar Yojana for NFSA beneficiaries was launched by Rajasthan government back in the year 2018 which now stands closed. Under this free smartphone scheme, all the beneficiaries of National Food Security Act (NFSA) particularly women belonging to BPL families got financial assistance for buying smartphones with internet connectivity. Govt. provided smart mobile phones and internet connectivity to more than 1 crore Below Poverty Line (BPL) families. This scheme resulted in transfer of financial and non-financial benefits of govt. schemes in an efficient manner.
Rajasthan Bhamashah Digital Parivar Yojana 2021 Closed
While launching the Bhamashah Digital Parivar Yojana, Former CM Vasundhra Raje said that govt. made efforts to launch new mobile apps to provide benefits of govt. schemes by simply pushing single click on mobile phones. Various other facilities like Free Wi-Fi, Bhamashah wallet were also launched by the state govt. to empower poor people.
The state govt. focused on making people digitally literate and to encourage digital modes of payment through Bhamashah Digital Parivar Yojana. Free Mobile Phone Scheme to BPL people will provide a boost to "Digital India" campaign of Narendra Modi government.
Smartphones & Internet Connectivity under BDPY Scheme
The important features and highlights of Free Mobile Internet Scheme in Rajasthan for BPL people were as follows:-
Under Bhamashah Digital Parivar Yojana, all the poor people of BPL category got free internet and mobile phones.
In the first installment, people were getting Rs. 500 to buy a phone and in next installment, again Rs. 500 were provided for Internet Connectivity / Recharge.
These free mobile phones enabled women to take benefits of financial and non-financial government scheme.
Digital India campaign got a boost and this BDPY scheme also promote transparency, speed and convenience. This resulted in efficient delivery of govt. services and benefits to the residents of state.
Various new apps were launched to ease down the process of getting govt. scheme benefits only through a single click.
Installments under Rajasthan Bhamashah Digital Parivar Yojana
The cash assistance was transferred into 2 installments of Rs. 500 each directly into the Bhamashah linked bank accounts.
First Installment –

The 1st installment of Rs. 500 was transferred directly into the bank account of the lady of house (head of the family under Bhamashah).
No application form was required to filled in by the beneficiaries to avail Rajasthan Bhamashah Digital Parivar Yojana benefits.
Bhamashah Digital Parivar Yojana camps were organized by district administration across the state.
In these camps, several mobile phone companies manufacturers and dealers and telecom companies participated to sell their smart-phones and internet packages.
Beneficiaries were able to buy mobile hand sets and voice data connections from any of these companies.

Second Installment –

To avail 2nd installment, people had to download any one of these apps of state govt. – Bhamashah Wallet, Rajasthan Sampark, Raj-Mail in their smartphone.
All the newly installed app had the feature of Smartphone Registration. After successful registration, 2nd installment of Rs. 500 was transferred directly into the bank account of the beneficiary.
Registered mobile no. was to be in the name of one of family members.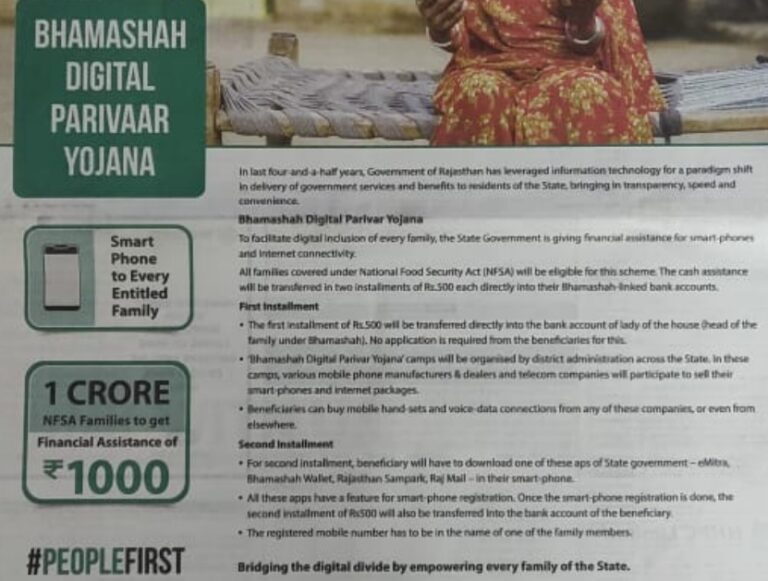 The state govt. aims to provide free Wi-fi facilities in 5000 gram panchayats to ensure that the state is well connected with the outside world. Previously on 29 August 2018, Bhamashah Wallet Mobile was launched by the state government in order to increase the digital payments. Earlier CM has also launched Abhay Command Centers at Dausa, Sriganganagar, Baker, Bhilwara, Karauli and Dhaulpur. Govt. has equipped these centers with latest facilities like Dial 100, Traffic management, Video Surveillance and Cyber Forensics.
The state govt. also organized "Jio Bhamashah Program" camps and had issued notification in this regard. To promote Digital Rajasthan Campaign, govt. provided all scheme benefits under Bhamashah Yojana.
Rajasthan Government Schemes 2021राजस्थान सरकारी योजना हिन्दीPopular Schemes in Rajasthan:जन सूचना पोर्टलRajasthan Ration Card ListRajasthan Ration Card Application Form
For more details, visit the link – https://navbharattimes.indiatimes.com/state/rajasthan/jaipur/bhamashah-digital-family-scheme-launched-mobile-and-internet-will-get-help-of-one-thousand-rupees/articleshow/65674547.cms