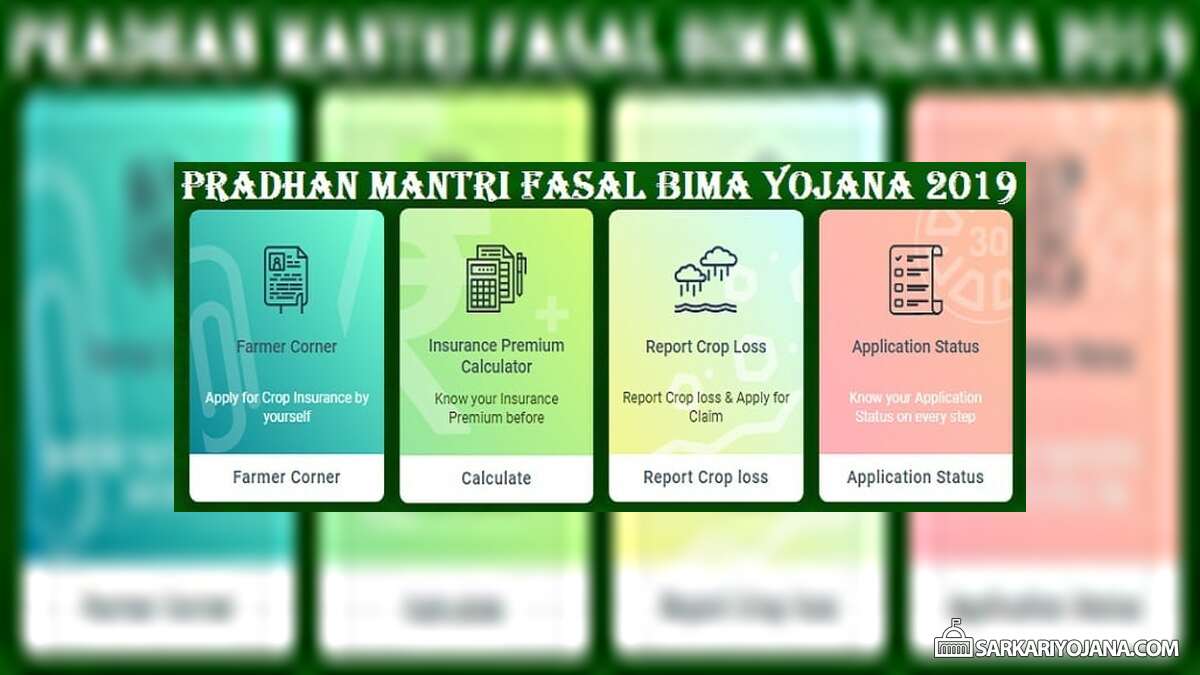 Prime Minister Narendra Modi had started Pradhan Mantri Fasal Bima Yojana to provide crop insurance to farmers. Under this PMFBY Scheme, govt. provides insurance coverage and financial assistance to farmers in case their crops get damaged due to heavy rain, hailstorms, natural calamities, pests and diseases. People can calculate premium amount, report crop loss, apply online and track application status for PM Fasal Bima Yojana at the official website pmfby.gov.in. Central govt. is currently implementing this scheme across the country for the welfare of farmers.
PMFBY scheme premium amount was set to 2% for Kharif food & Oilseeds crops, 1.5% for Rabi food & Oilseeds crops and 5% for annual commercial / horticultural crops which is lower in comparison to the previous crop insurance schemes. This agricultural insurance scheme was launched on 18 February 2016 by the Department of Agriculture & Cooperation and Farmers Welfare under the Ministry of Agriculture and Farmers Welfare.
PM Fasal Bima Yojana aims to support sustainable production in agriculture sector to provide financial support to farmers suffering crop loss and damage arising out of unforeseen events. PMFBY Scheme will stabilize the income of farmers to ensure their continuance in farming.
Pradhan Mantri Fasal Bima Yojana
PM Fasal Bima Yojana will encourage farmers to adopt innovative and modern agricultural practices. Moreover, PMFBY Scheme will ensure flow of credit to the agriculture sector and will contribute to food security, crop diversification, enhance growth and competitiveness and will also protect farmers from production risks.
All the farmers who wish to avail the PMFBY scheme benefits can click the links given below:-
Apply Online for PM Fasal Bima Yojana
PMFBY Scheme Insurance Premium Calculator
Track PMFBY Farmer Application Status Online
New Operational Guidelines for Pradhan Mantri Fasal Bima Yojna
All the farmers which also includes sharecroppers and tenant farmers who grows the notified crops in notified areas are eligible for coverage. However, farmers must have insurable interest for the notified and insured crops. PMFBY Scheme would be optional for the non-loanee farmers.
Premium rates are very low in order to ensure that maximum farmers gets crop insurance cover. The difference between premium and the rate of insurance charges payable by farmers would be shared equally by the central and the state government. PMFBY Scheme will cover oilseeds, food crops like cereals, millets, pulses and annual commercial / horticultural crops.
Various stages of crops and risks leading to crop loss including prevented sowing / plantation risk, standing crops, post harvest losses and localized calamities are covered. People can even download PMFBY Android Mobile App to get updated information about PMFBY scheme.
PMFBY Scheme removes the premium capping on the premium so that farmers gets full sum insured. Farmers contribution to premium has been reduced significantly. In this scheme, multiple localized risks and post harvest losses taken into account to ensure that no farmer is alone in time of distress. Under this scheme, govt. will make use of simple and smart technology through phones and remote sensing for quick estimation and early settlement of claims.
Pradhan Mantri Fasal Bima Yojana is being implemented through the multi-agency framework selected by the insurance companies under the overall guidance & control of the Department of Agriculture, Cooperation & Farmers Welfare (DAC&FW), Ministry of Agriculture & Farmers Welfare (MoA&FW), Government of India (GOI).
SAVE AS PDF
Sarkari Yojana App - Download Now
Karan Chhabra
at
Sarkari Yojana
Related Content
Disclaimer and Notice: This is not the official website for any government scheme nor associated with any Govt. body. Please do not treat this as official website and do not leave your contact / personal such as Aadhar Number or Mobile No. information in the comment below. It is not possible for us to reply to each comment/query, neither we can address the complaints regarding any scheme. We request all our visitors to visit the official website of the concerned department / authority for any complaint, query about the scheme / information published on this website.