Central Govt. has approved Pradhan Mantri Garib Kalyan Yojana (PMGKY) for the assistance of poor who have lost their jobs / work due to covid. In this rainbow Garib Kalyan Yojana, Finance Minister Nirmala Sitharaman announced a Rs. 1.7 lakh crore package. This scheme is going to benefit 80 crore Indians including urban and rural poor, migrant workers and women in the bottom rung of the socio-economic strata. This scheme will ensure that people stay at their home and maintain social distancing to fight Coronavirus.
FM said on 26 March 2020 that package under PM Garib Kalyan Yojana is ready which would ensure that no one will be hungry during lockdown. This Pradhan Mantri Gareeb Kalyan Scheme will have 2 components – cash transfer through DBT and food security measures – for those who need immediate help. These includes migrant workers and urban and rural poor. The FM also announced 8 separate measures for farmers, MNREGA, poor widows, pensioners, Jan Dhan Yojana accounts held by women, Ujjwala scheme holders, SHGs for women, organised sector workers through EPFO and construction workers.
The inclusion of extra Anna in the existing Pradhan Mantri Garib Kalyan Yojana keeping in view the regional preferences and the essential nutrition intake is highly appreciated. This scheme will serve a long way in maintaining the nutrition of the poor and also restrain a situation of panic in the current times. Now lets check the complete Coronavirus relief package details and how this scheme would benefit poor people.
Pradhan Mantri Garib Kalyan Yojana (PMGKY)
It is a multi pronged approach to fight Coronavirus (COVID) and its main features are as follows:-
PM Garib Kalyan Ann Yojana 2020-21 – 10 Kg Ration + 1 Kg Pulses Free
In the PM Garib Kalyan Ann Yojana, govt. will cover 80 crore poor people which is about two-thirds of the country's population. Now each of such persons will get 5 kg rice or wheat each month for the next three months free of charge, in addition to the 5 kg they already get. This means that each family will now get 10 Kg Ration along with 1 kg of dal of their choice for next 3 months absolutely free of cost. The FM has also assured that there would be no shortage of food products and essential goods during lock-down.
Medical Insurance to Paramedic / Nurses / Asha Workers & Others fighting COVID 19
FM Nirmala Sitharaman also announced medical insurance of Rs. 50 lakh each for those people fighting on front-line with COVID 19. This component includes paramedics, nurses, ASHA workers and others who are serving people in fight against Coronavirus. This PMGKY Scheme will benefit of medical insurance of Rs. 50 lakh to about 22 lakh people.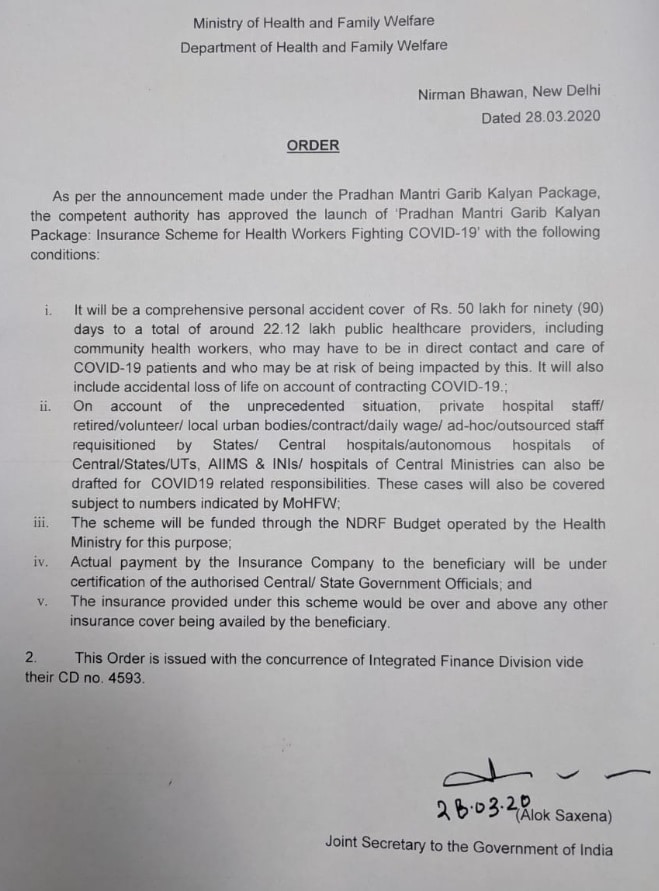 The insurance scheme has been extended for 3 more Months, i.e. August, September and October 2020.
Families / dependents of healthcare workers who dies due to corona will get additional 25 Lakh making it to a total of Rs. 75 Lakh as per the new scheme by Jammu and Kashmir Government, read here.
Central Government Schemes 2021केंद्र सरकारी योजना हिन्दीPopular Schemes in Central:प्रधानमंत्री आवास योजना 2021 के लिए ऑनलाइन आवेदन कैसे करें – पूरी जानकारीPM Awas Yojana Gramin (PMAY-G)Pradhan Mantri Awas Yojana
Rs. 2,000 DBT for Farmers under PM-KISAN Scheme
The central govt. is going to deposit first installment of Rs. 2,000 to bank accounts of each of 8.69 crore farmers through Direct Benefit Transfer (DBT) mode. This initiative under Pradhan Mantri Kisan Samman Nidhi Yojana is going to start from 1 April 2020.
MGNREGA Workers Wage Raised
The central govt. approves Rs. 20 wage increase for workers (Rs. 202 from Rs. 182) under Mahatma Gandhi Rural Employment Guarantee Act (MGNREGA). The center will start this MGNREGA Workers wage raised initiative by providing Rs. 2,000 additional income to daily wage workers. The MNREGA wage increase will benefit 5 crore families. People who are unsure about their wages can check the official website of NREGA at nrega.nic.in or check their name in NREGA job card list or download the job cards.
Ex-Gratia to Old Age / Widow / Disabled
For senior citizens above 60 years, widows and disabled, govt. will provide ex gratia of Rs. 1,000 in two installments. This initiative will benefit around 3 crore poor people.
Women Jan Dhan Account Holders
In this initiative, govt. will provide Rs. 500 ex-gratia per month for 3 months to 20 crore women Jan Dhan Account holders.
Free Cylinders to PM Ujjwala Yojana Beneficiaries
Under the Pradhan Mantri Ujjwala Yojana, govt. will provide 3 free cylinders (14.2 Kg) for three months to 8.3 crore below poverty line (BPL) families. This scheme will be implemented for the next 3 months i.e April, May, June 2020 with an outlay of Rs. 13,000 crore.
Collateral Free Loans upto Rs. 20 Lakh to Women SHGs
The women self help groups (SHGs) will be able to take collateral free loans upto Rs. 20 lakh (previously Rs. 10 lakh) with immediate effect. This initiative to provide Collateral Free Loans to Women SHGs will impact 7 crore households.
Home Delivery of Medicines
CCEA on 26 March 2020 has also approved the scheme for home delivery of medicines to ensure that people gets essential medicines at their homes. To ensure social distancing and prevent buyers lines in front of medical shops during lockdown, govt. has approved this scheme.
Govt. to Pay EPF Contribution for Employer & Employee (Organized Sector)
The central govt. wants to ensure money in hand and money in Provident Fund Accounts for the organized sector. Accordingly, the central govt. will now pay EPF contribution for both employer and employee. This would be around 24% for next 3 months in establishments in which upto 100 people are employed. Moreover, around 90% of the employee earns less than Rs. 15,000 a month. EPFO Scheme regulation is also going to be amended to allow non-refundable advance of 75% of the amount or 3 months wages (whichever is lower).
Full Salary to Contractual Workers of Government
Another major announcement stated the centre and state tax subsidy will continue for apparel export. All the contractual workers of the government will be paid full salary, irrespective of the disruption caused by the coronavirus scare.
Recapitalization of Regional Rural Banks (RRBs)
Cabinet Committee on Economic Affairs (CCEA) has approved the recapitalization of regional rural banks with Rs. 1340 crores. This recapitalization of banks will improve their capital adequacy ratio (CAR). As Rs. 670 crores would be given by the central government, Rs. 670 crore would be collected from different banks.
The proposal to permit non-refundable advance to employees out of their PF balances will help employees to tide over their liquidity issues. At present, non refundable advances are permitted only for specified purposes such as housing, marriage etc. Even these are permitted where the employee has put in a minimum services period.
The central govt. has also given directions to state governments to utilize construction workers fund of Rs. 31,000 crore. This scheme will protect 3.5 crore registered workers against economic disruption as many building and construction has been stopped. The state govt. can also use District Minerals Fund for medical testing, screening activities and other requirement to prevent the spread of the Coronavirus.
3 Months Advance Pension to Old Age / Widow / Differently Abled
Central govt. has decided to provide 3 months advance pension for senior citizens (old age pension scheme), vidhwa (widow pension scheme) as well as differently abled (pension scheme for persons with disabilities). The details of this can be accessed using the link:-
3 Months Advance Pension to Old Age / Widow / Disabled
This amount would be transferred under the flagship National Social Assistance Programme (NSAP). The amount would be received in the same pension account in banks through direct benefit transfer mode.
Garib Kalyan Yojana FAQ's
Who is Covered Under the Pradhan Mantri Garib Kalyan Yojana
About 80 Crore people who belongs to the lower income group or the BPL might be covered under the Pradhan Mantri Garib Kalyan Yojana. However there is no such clear notification from the government.
How to Apply for Garib Kalyan Yojana
There is no procedure to apply online or offline for Garib Kalyan Yojana as of now. The government has said that there is no need to apply / register anywhere for the scheme benefits.
Where can I check the Garib Kalyan Yojana beneficiary list
As of now, there is no government website / portal where you can check the beneficiary list of PM Garib Kalyan Yojana. It seems the selection of beneficiaries will be done on the basis of SECC-2011 data or beneficiaries of other central govt. schemes such as Ujjwala Yojana / PM Awas Yojana, Jan Dhan Yojana etc. can be included under the Garib Kalyan Yojana.
Will I get the Wheat and Pulses Completely Free
Yes, but No, the government will provide free 5 KG wheat and 1 kg of preferred pulses for the next 3 months (Till June 20202) and thereafter at nominal rates.
What is there for MGNREGA workers under Garib Kalyan Yojana
The central government has decided to increase the wage of MGNREGA workers by Rs. 20 to Rs. 202 per day instead of Rs. 182.
Is there any benefit specially for women
Yes, 20 Crore women Jan Dhan account holders will get Rs. 500 per month for the next three months in their bank accounts.
Who is covered under the Insurance scheme under PM Garib Kalyan Yojana
All the health workers who are working to fight the COVID-19 will be provided a life insurance coverage of Rs. 50 Lakh each.
Can We Check Pradhan Mantri Garib Kalyan Yojana Notification
https://www.mohfw.gov.in/pdf/FAQPradhanMantriGaribKalyanPackageInsuranceSchemeforHealthWorkersFightingCOVID19.pdf
Content Source / Reference Link: https://economictimes.indiatimes.com/news/economy/policy/pm-garib-kalyan-yojna-india-begins-virus-battle-with-rs-1-70-lakh-crore-plan/articleshow/74827960.cms
SAVE AS PDF