Views:
107111 |
Dated:
January 31, 2019
|
Updated On:
April 26, 2019
| By: |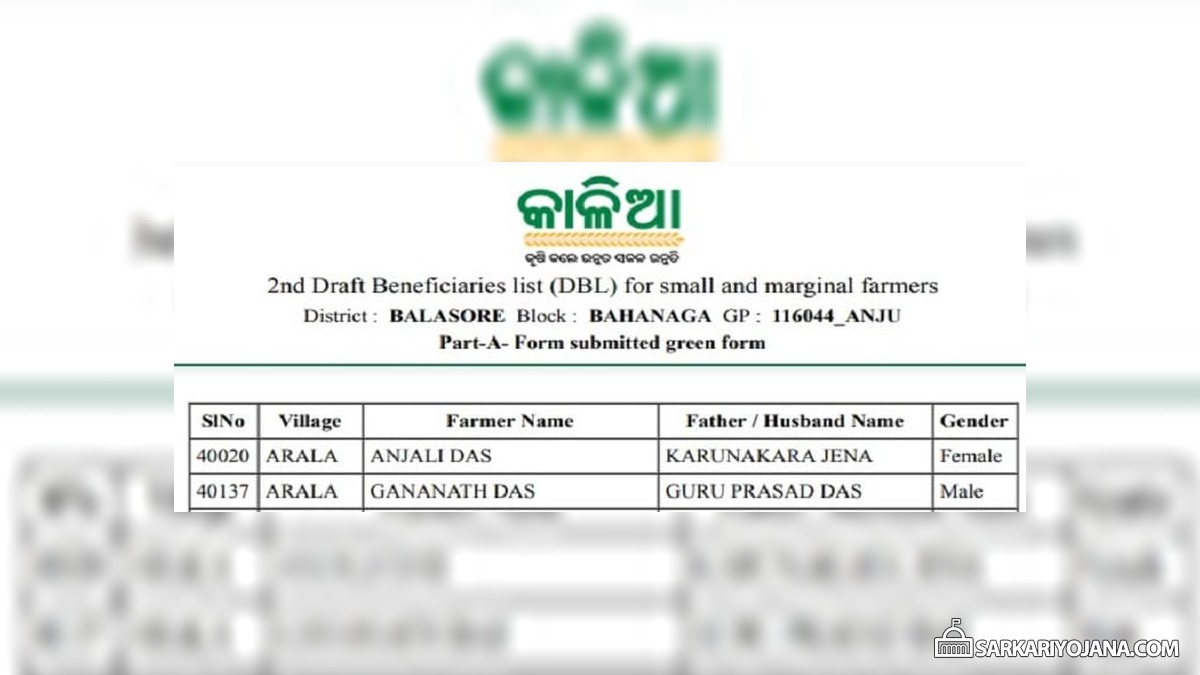 Kalia Yojana Odisha Name List Phase 2 | Odisha Kalia Yojana Green List | Odisha Kalia Yojana 2019 list | Kalia Scheme List | Kalia Yojana Odisha Name List | Kalia Yojana Second list 2019 | 2nd Phase List Kalia Scheme 2019 | Kalia Yojana Phase 2 Beneficiary List
Odisha govt. has released the 2nd Draft Beneficiaries List (DBL) or green list under Krushak Assistance for Livelihood and Income Augmentation (KALIA) scheme. The complete name wise Kalia Yojana Phase 2 beneficiary list is available online for download at the official website kalia.co.in. All those farmers who have previously filled Part A green form for inclusion of name in Kalia Scheme can now check their name in the Kalia Yojana Second Phase Green List 2019.
Kalia Yojana Second List of Beneficiaries (Kalia Scheme Green List) is released online on 31 January 2019. Kalia Yojana Odisha Name List is available for downloading in PDF format by just selecting district name and gram panchayat (block).
Latest Update – Odisha Kalia Yojana 3rd Phase Beneficiary List
In the new Kalia Scheme list of beneficiaries, the state govt. has included all the eligible farmers who were left out in the 1st phase Kalia Yojana 2019 beneficiary list and have filled green form.
Odisha Kalia Yojana Green List of Beneficiaries (Second Phase List 2019)
Below is the complete procedure to find download the Kalia Yojana Green list of beneficiaries and find name online in Kalia Scheme 2nd phase beneficiary list:-
Firstly visit the official website at kalia.co.in
At the homepage, click at the "ହିତାଧିକାରୀ (Beneficiary List)" option in the header.
Direct Link – http://green.kalia.co.in/BeneficiaryGreen.aspx
Afterwards, Kalia Yojana 2nd Phase Beneficiaries List (Green List) will appear as follows:-
In this Kalia Scheme Green List of Beneficiaries for second phase, farmers can select the name of district and block / urban local bodies (ULBs) and then click at the "View" option.
Afterwards the district wise or gram panchayat wise list having PDF files which contains the name of eligible farmers will be available to download online. This Kalia Scheme 2nd phase beneficiary list is both for small and marginal farmers as well as landless agricultural labourers as shown below:-
Here candidates can click at the PDF files under 'Download option' to download the 2nd Phase Kalia Yojana Green List 2019. As a further step, Kalia Scheme Proceed to "PDF View option" will appear where beneficiaries can enter captcha as shown below:-
Afterwards, the Kalia Yojana 2nd Phase Beneficiary List will appear as shown below:-
This 2nd Phase Kalia Scheme Green list contains the name of village, name of farmers, husband / father name and gender along with the district, block and gram panchayat names.
For more details on Kalia Yojana, visit the official website http://kalia.co.in/index1.html
SAVE AS PDF
Source / Reference Link: kalia.co.in
Related Content