Central government has launched National Mission on Interdisciplinary Cyber-Physical Systems in the cabinet meeting chaired by PM Narendra Modi. NM-ICPS mission will address the ever increasing technological requirements of society and will follow the international trends and road maps to create next generation technologies. Dept. of Science & Technology will implement this mission with an outlay of Rs. 3660 crore for a period of five years.
Under this National Mission on Interdisciplinary Cyber-Physical Systems, govt. will setup 15 technology innovation hubs (TIH), 6 application innovation hubs (AIH) and 4 technology translation research hubs (TTRP). These hubs will connect to academics, industry, central ministries and state govt. to develop solutions at academic, R&D and other organizations in hub and spoke model.
The NM-ICPS is a comprehensive mission to address technology development, application development, human resource development & skill enhancement, entrepreneurship and start-up development in CPS and associated technologies.
National Mission on Interdisciplinary Cyber-Physical Systems
NM-ICPS mission implementation is going to develop and bring the following measures:-
To bring Cyber Physical Systems (CPS) and other technologies in the ambit of our country.
To adopt CPS technologies to address national and regional issues of India.
Production of next gen. skilled manpower in CPS.
To catalyze translational research.
Acceleration of entrepreneurship and start-up ecosystem development in CPS.
To place India with other advanced countries and to get direct and indirect benefits.
Govt. will provide boost to advanced research in CPS, technology development and higher education in science, technology and engineering disciplines. NM-ICPS is a Pan India Mission and will cover entire country of India which includes central ministries, state government, industry and academia.
1. NM-ICPS Implementation Strategy & Benefits
The Hubs & TTRPs will focus on the following areas for mission implementation. This includes:-
Technology Development
HRD & Skill Development
Innovation, Entrepreneurship & Start-ups Ecosystem Development
International Collaborations
This mission will feed the central ministries / departments and state govt. and also the Industry to use CPS technologies in their projects and schemes.
2. NM-ICPS Impact
CPS technologies plays a major role in nation's scientific, engineering, and technological innovative capabilities. This supports various govt. missions, provide industrial and economic competitiveness and is now a strategic resource. This mission is an engine of growth which benefits initiatives in health, education, environment, agriculture, energy, strategic cum security, industrial sectors. CPS is an integrated next generation system taken up by countries for developmental purposes and will bring in entire skill sets requirement.
Central Government Schemes 2020केंद्र सरकारी योजना हिन्दीPopular Schemes in Central:Narendra Modi Schemes ListNREGA Job Card Listसरकारी योजनाओं की सूची हिंदी में
Advanced skills and skilled manpower would be generated which in turn would create job opportunities. Innovation, Entrepreneurship and Start-up ecosystem is an integral part of the proposed NM-ICPS. Start-ups are going to create a number of technology driven job opportunities in CPS and allied areas. Around 40,000 jobs would be created in short term and approx. 2 lakh jobs would be created in long term.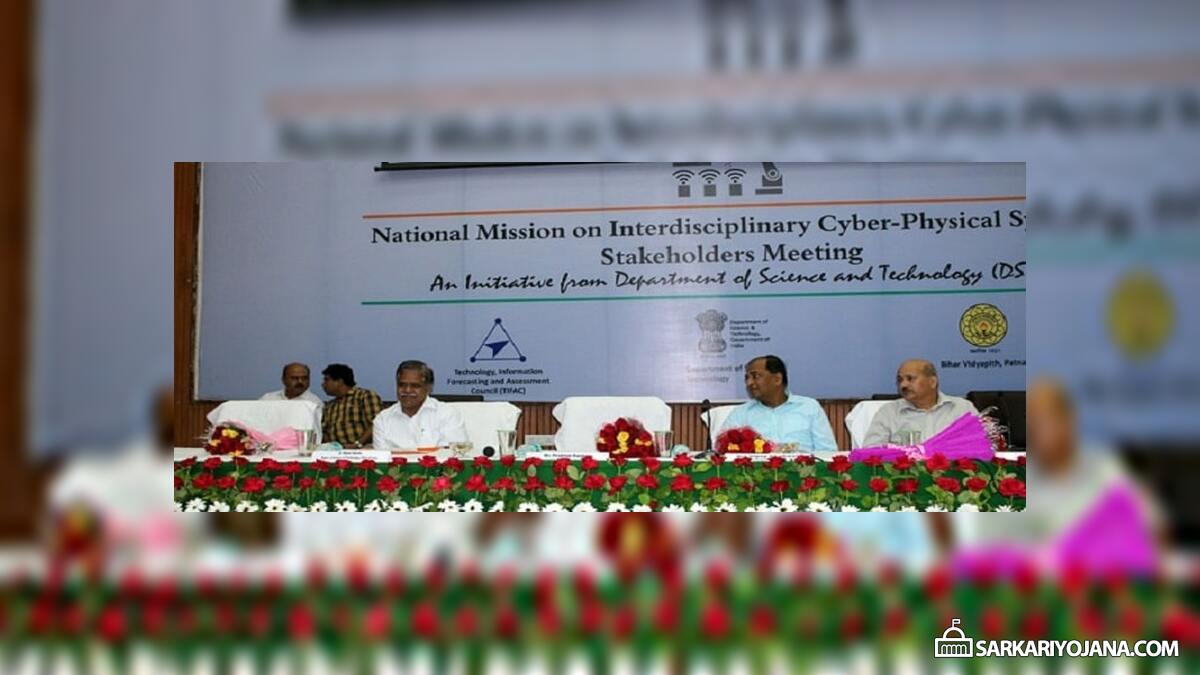 SAVE AS PDF