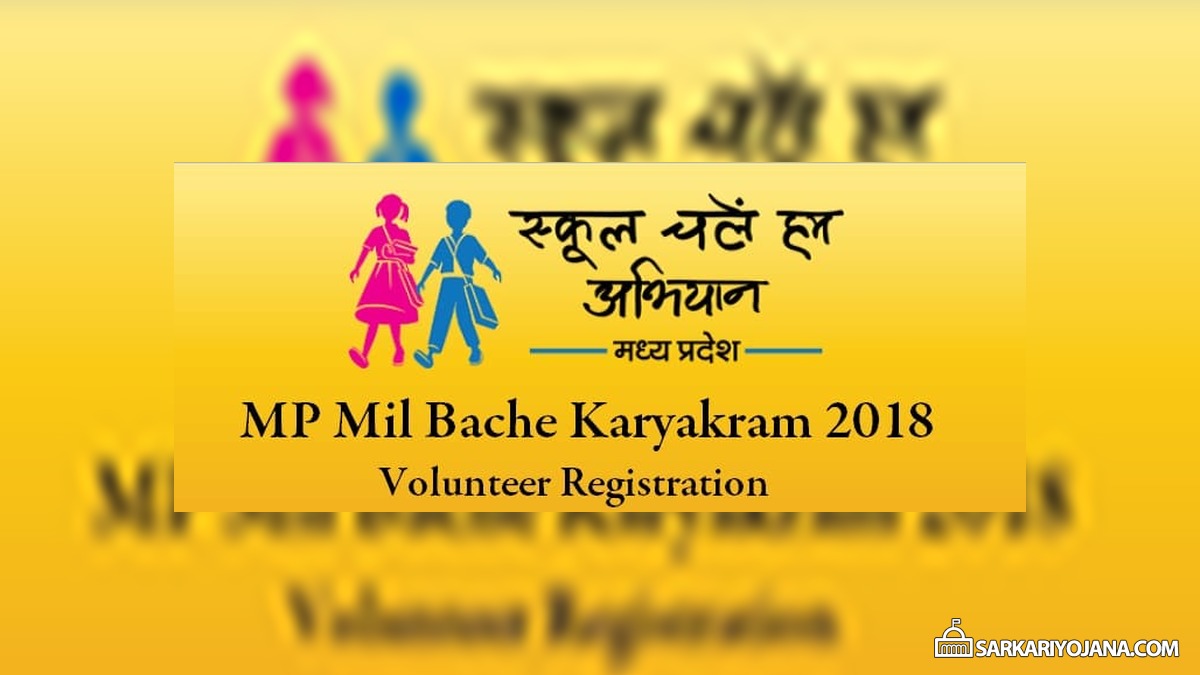 Madhya Pradesh govt. is inviting Mil Banche Volunteer Registration 2018-19. The state govt. will launch first phase of Mil Banche Programme on Gurudev Rabindranath Tagore's death anniversary (17 August 2018). Mill Banche Karyakram will be held in all the primary and secondary schools of the state. Interested volunteers can make online registrations and join School Chale Hum Abhiyan at schoolchalehum.mp.gov.in
The primary objective of Mil-Banche Programme in Madhya Pradesh is to raise awareness about the importance of education. People can various sections of society (people' representative, motivators etc.) can participate as volunteers and read knowledgeable books of curriculum to motivate students.
MP govt. is inviting School Chale Hum Registration to ensure that every student must study with joy upto class 12th. All the registration lines for participation in Mil Banche Abhiyan are open now. Volunteers can fill Online Registration Form to participate in Mil Banche Abhiyan.
MP Mil Banche Volunteer Registration 2018-19 – School Chale Hum Abhiyan
MP Mil Banche Programme aims to provide language knowledge to the children at their initial level of studies. So that the children can easily express their point of view and expressions. Below is the complete procedure to apply online for Mill Banche Karyakram:-
Visit the official website – http://www.schoolchalehum.mp.gov.in/
At homepage, scroll on "मिल-बाँचे मध्यप्रदेश" and click on "पंजीयन करें" link
Direct link for Mil Banche Registration – Volunteers can directly click at Mill Banche Online Registration Form.
Accordingly, the Mil Banche MP Registration Form will appear as shown below:-
Here candidates can fill all the necessary details and then click at the "रजिस्टर करें" button to complete the registration process for Mil Banche Karyakram.
Furthermore, candidates can give their feedback using the link – MP Mil Banche Karyakram Feeback
The tagline of this Mil Banche Abhiyan is "Khoob Khele, Khoob Padhe Hum, Chalo, School Chale Hum". All the new volunteers and existing volunteers can participate and join School Chale Hum Abhiyan. For more details, click at:- Mil Banche Programme Details
MP Mil Banche Programme Eligibility Criteria
Under the Mil Banche Karyakram, volunteers will have to make visit at the schools for one day i.e on 17 August 2018. They will read the contents / text of any book in Hindi and children will be introduced to interesting questions, group discussions, dialogue and the art of reading. Candidates must fulfill the eligibility i.e he / she must belong to the following field to become eligible for Mill Banche Abhiyan:-
People's Representatives.
Retired government officials / servants / teachers.
Registered motivators of School Chale Hum Abhiyan.
People working in private sector working in the field of Doctor / Engineer / Advocate / Financial and other professional services, Students of N.C.C./ Scout / Guide, Chairman and members of School Management Committee / Shala Vikas Managing Committee (SMC / SMDC) are eligible.
Members / guardian who were from the same educational institution can also make MP Mil Banche Karyakram Registration.
For more details, visit the official website http://www.schoolchalehum.mp.gov.in
SAVE AS PDF
Sarkari Yojana App - Download Now
Karan Chhabra
at
Sarkari Yojana
Related Content
Disclaimer and Notice: This is not the official website for any government scheme nor associated with any Govt. body. Please do not treat this as official website and do not leave your contact / personal such as Aadhar Number or Mobile No. information in the comment below. It is not possible for us to reply to each comment/query, neither we can address the complaints regarding any scheme. We request all our visitors to visit the official website of the concerned department / authority for any complaint, query about the scheme / information published on this website.