Maharashtra government is going to organize Magnetic Maharashtra Convergence 2018. Subsequently, govt. will distribute Startup Awards to various start ups under 30. Convergence 2018 Start-Up Awards will provide recognition to the young entrepreneurs and also accelerate economic activities in the state. Interested start-ups can make online registration at the official website midcindia.org
Each participating startup must be registered in Maharashtra and annual turnover should be less than Rs. 25 crore in previous FY. Accordingly, selected start-ups will receive a cash prize of Rs. 50 lakh (1st), 30 lakh (2nd), 20 lakh (3rd). Accordingly, this will provide a great boost to the Maharashtra state level start-ups.
Maharashtra govt. will organize Global investors Summit from 18 February 2018 to 20 February 2018. Accordingly, interested and eligible startups can apply online through the official website before 7 February 2018.
Magnetic Maharashtra Convergence 2018 – Startup Awards Registration Procedure
Below is the complete procedure to make online registration:-
Firstly visit the official website midcindia.org
Subsequently on the homepage, click the "Start-Up Awards" which will elaborate it and then click the "Register" link.
Afterwards, candidates can click the "Register / Login" option in the header to open the Registration Form.
Henceforth, "Magnetic Start-up Award Registration Form" will appear as shown below:-

Magnetic Maharashtra Convergence 2018 Startup Awards Registration

Finally start-ups will have to fill all the necessary details accurately and submit the registration form to complete the registration process.
Furthermore, candidates can take a printout of the completed application form and keep it for any future reference.
Accordingly, candidates can also directly click Magnetic Startup Awards 2018 to see details of Magnetic Maharashtra Convergence 2018 for Start-ups.
Eligibility Criteria for Magnetic Startup Awards 2018
Each startup must fulfill the following conditions to become eligible to participate in these startup awards 2018:-
Every participating startup must be incorporated or registered in India.
Maximum age of start-up must not exceed 7 years and 10 years for biotechnology.
Annual turnover of the Startup must not exceed Rs. 25 crore for the previous FY.
Each start-up must have their registered office in Maharashtra.
Moreover, each participating start-up registered after 1 Sept. 2017 are NOT eligible.
Age of the founder or Head of the Start-up must be below 30 years (as on 1 Jan 2018).
Prize Money & Last Date for Magnetic Start-Up Awards
Maharashtra govt. will provide these awards in order to boost the progress of startups in the state. The Last date to apply is 7 February 2018 and prize money is as follows:-
| Position | Prize Money |
| --- | --- |
| First | Rs. 50 lakh |
| Second | Rs. 30 lakh |
| Third | Rs. 20 lakh |
Maharashtra Global Investors Summit – Convergence 2018
Investors can also make online registration for Maharashtra Magnetic Convergence 2018 (Global investors Summit) using the link given below:-
Maharashtra Convergence 2018 – Investors Registration
The official notification for exhibition and event details are shown in the figure:-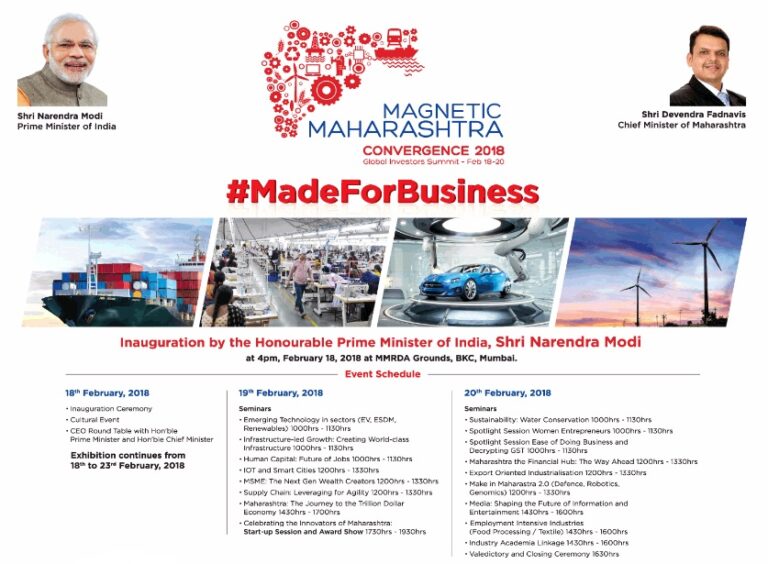 Furthermore, candidates can also see the exhibition schedule for the Global Investors Summit through this link. This is a 3 day long event from 18 Feb to 20 Feb 2018.