CM Hemant Soren has launched a new Jharkhand Bazar App on 21 April 2020 aimed at linking buyers and merchants. Jharkhand Bazaar App is a digital platform for ease of sale and home delivery of items of daily needs and other essentials through mobile application. All the android users can now download Jharkhand Bazar mobile app from google play store. Previously, the Jharkhand state govt. had launched Corona Sahayata App for stranded migrant workers to send them financial grant of Rs. 1,000 and Rs. 2,000.
The new Jharkhand Bazar App will use geo-location of customers and accordingly provide information of all nearby shops which are open. These shops are those which provide essential items like ration, fruits, vegetables, milk and medicines. This initiative primarily aimed at helping both stakeholders in times of Coronavirus (COVID-19) lockdown to ensure smooth flow of items and business.
Food and Civil Supplies Department has conceptualized this Jharkhand Bazaar mobile app. Check how buyers can get M-PASS, colour code of m-pass (green, orange, red) as well as timelines at this app.
Jharkhand Bazar Mobile App Download (Android)
Here are the direct links to download Jharkhand Bazar Mobile App from google play store for android smartphone users:-
Direct Link: https://play.google.com/store/apps/details?id=com.encoders.saharashop
Alternate Link: http://bit.ly/34Lm5cC
The Jharkhand Bazar app download page at google playstore will appear as shown below:-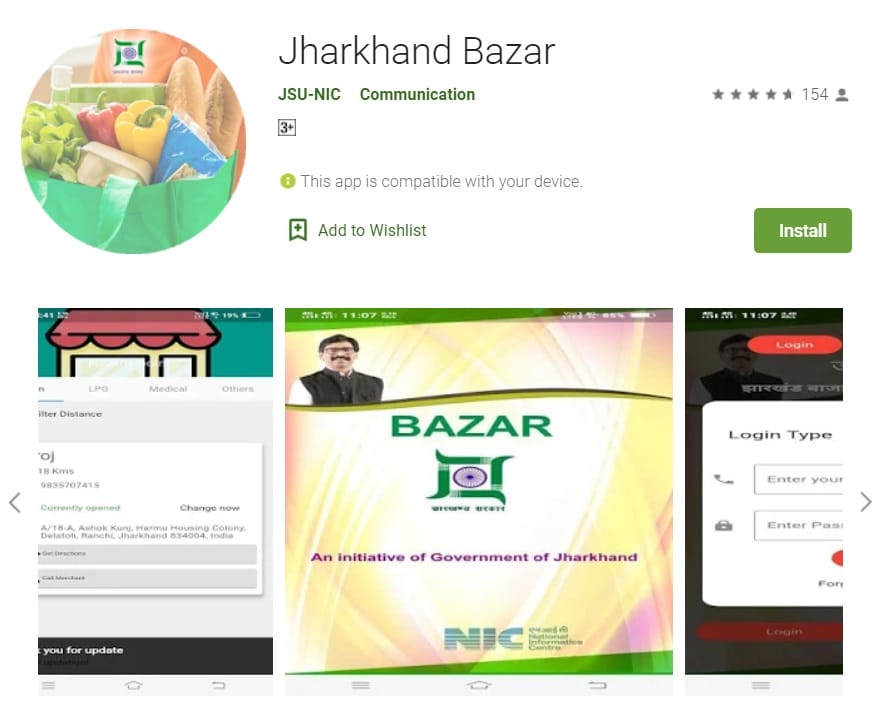 Just click the Install link and then the app will automatically start downloading. This app is 14.11 MB in size, current version 5.1.0, required android version of 4.1 and up and is offered by JSU-NIC.
This app is to be used by buyer and shopkeeper. In this app shopkeeper registered with his details and this can be visible to all the buyer register in this system within 2 km. This app generate M-pass to delivery boy for that day and M-pass for buyer in selected time slot.
Who Can Apply Online for Jharkhand Bazaar Mobile App
There are 2 types of users of the newly launched Jharkhand Bazaar mobile app:-
1) Buyers
2) Merchants
Jharkhand Bazar use by shop to register them in system that will use by Jharkhand Bazar app by public to find the shop. Shop can add two delivery staff and can generate pass for them. Buyer who wants to buy any thing with registered shop can get pass for two hr only for that shop.
Jharkhand Bazar App Buyers Online Registration Form
Here is the complete procedure to make buyers registration online at this app:-
After downloading this app on smartphones, buyers can install this Jharkhand Bazar app to open it.
Read instructions and then go to "Sign Up" section, next select the "Buyer" option to open the Jharkhand Bazar App buyer registration form:-


Jharkhand Bazar App Buyer Registration Form

After filling the buyers registration form, click at the "Get me M-Pass" button
Then select the time slot and finally, the buyer M-Pass will be available at the registered mobile phone number.
Buyers M-Pass Information
To use this mobile app, buyers needs to switch on their GPS location. Through this app, buyers can contact with all the registered shops within 2 Km of range. The complete buyers m-pass information page at the Jharkhand Bazar App is as shown below:-

Jharkhand Government Schemes 2021झारखण्ड सरकारी योजना हिन्दीPopular Schemes in Jharkhand:Jharkhand Ration Card List 2021 | झारखण्ड नयी राशन कार्ड लिस्टJharkhand Ration Card Application Form / Green Card Apply OnlineFree Mobile Phone Scheme Jharkhand
Buyers can get M-Pass through this Jharkhand Bazaar mobile app and can select time slot of upto 2 hours. Then the colour of the M-pass will change within 2 hours and after 2 hours the pass will become invalid.
Jharkhand Bazar App Merchant Online Registration Form
Follow the similar process as buyer registration at the app, download and install the app. Then read all the information and select the "Merchant" option in the 'Sign Up' page. Then the Merchant Registration Form at the Jharkhand Bazar App will appear as shown below:-

After filling the Merchant registration form, click at the "Sign Up" button to complete the registration process.
Merchant M-Pass Information
All the merchants can make m-pass for 2 hours duration for delivery staff. Accordingly, the colour of the M-Pass will change with the passage of time. The important information about Merchant M-Pass is given below:-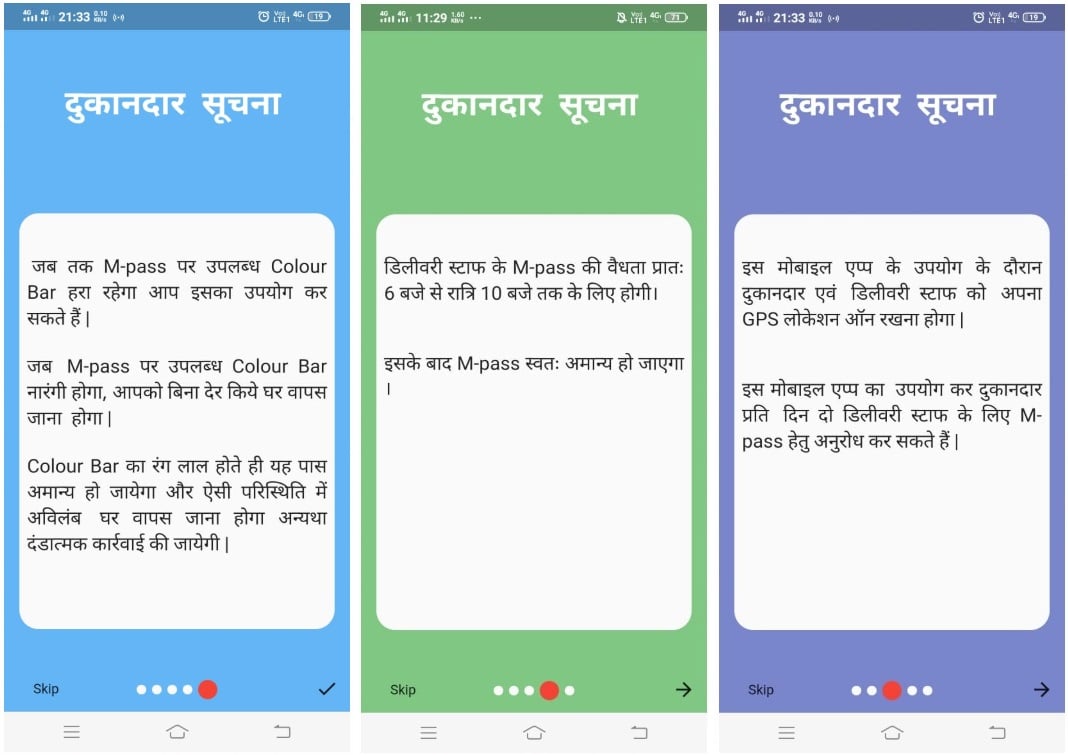 Colour Code – Timelines for M-Pass
The following is the colour code for M-Pass available at the Jharkhand Bazar App:-
— Green M-Pass (2 hours)
— Orange M-Pass (1 hour)
— Red M-Pass (Time Over)
This pass will remain valid for 2 hours and can be obtained within 6 a.m to 10 p.m after which it automatically becomes invalid.
Official Launch of Jharkhand Bazaar App
COVID-19 Control Room of Jharkhand has tweeted the app on its official twitter handler and thus marks its official launch:-
अब Jharkhand Bazar ऐप के माध्यम से राज्य के नगर क्षेत्र के लोग लॉकडाउन के दौरान कर सकेंगे जरुरी वस्तुओं की ख़रीदारी। #StayHomeStaySafe @HemantSorenJMM pic.twitter.com/LxrvT6JgbN

— Covid-19 Control Room Jharkhand (@jharkhand181) April 22, 2020
All the users must keep in mind that people residing in hotspot areas or areas quarantine by the govt. or containment areas, then this app will not work. Moreover, no merchant will deliver any kind of commodities in those areas.