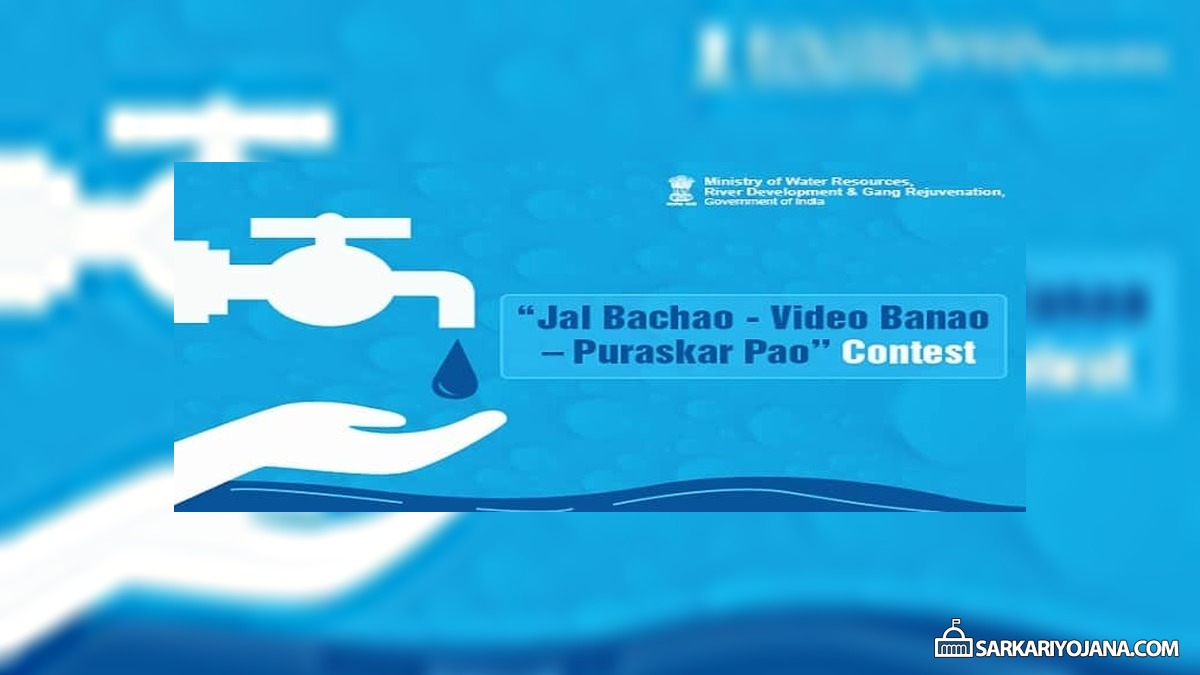 Ministry of Water Resources, River Development and Ganga Rejuvenation is going to organize "Jal Bachao Video Banao Puraskar Pao" Contest. This video contest will create mass awareness on water conservation. In this contest, any Indian Citizen can Make a Video, Upload it to participate and first 3 winners will Win Prizes upto Rs. 25000. Any Indian citizen can upload their video entries on YouTube and enter the publicly accessible link on the video link section of contest page at mygov.in
MyGov Portal of Central govt and Ministry of Water Resources has joined hands to run contest. This fortnightly contest will run till 4 November 2018 and winners will be chosen every fortnight.
This is a major attempt to engage with Indian people on water management and conservation.
Jal Bachao, Video Banao, Puraskar Pao Contest – How to Submit Video & Win Prizes
Candidate must upload their Video on Youtube and at mygov contest page, they will have to submit the link of that video on Youtbe. Below is the complete procedure to participate in the contest online and make video submission:-
Firstly visit the official website www.mygov.in
At the homepage, click on "Jal Bachao, Video Banao, Puraskar Pao Contest" image under 'In focus' section or directly click this link
Then in the new window, click at see details to get information about the contest and then click at "Login to submit task".
Afterwards, a login Page will appear as shown below :-
If you are an existing user at gov.in or nic.in, you can directly Log In with your Email/Password or you can login with your e-mail and Mobile number (Login with OTP) or also with your social account.
New users can click on "Register Now" link, fill in all their details and enter the OTP sent on the mobile number to get themselves registered and make login. After logging in, click on "Do this task now"
Thereupon, your task will be accepted and "Do this Task Now" will change to "Do".
Now click on "Submit task". After that, Submit Task button will look as shown below:-
Here candidates can write about their video in about 500 words and also submit the video link same as that is uploaded on Youtube.
Finally save and submit the task to see your submission in "My Submissions" section.
This contest is open only for Indian Citizens and is absolutely free i.e there is no registration fees. Ministry of Water Resources appeals the citizens to make and upload videos capturing the efforts, significant contributions, best practices in the field of Water Conservation, Optimum Water Utilization and Water Resource Development and Management.
Jal Bachao Video Banao Puraskar Pao Contest – Fortnight Timelines
There will be 3 winners for every fortnight who can win upto Rs. 25,000. People can make video submission as mentioned above and any innovative advertisement / commercial on Water Conservation are also welcome. Video should be b/w 2 to 10 minutes duration in Hindi, English or any other regional language. Before uploading video, check the fortnight schedule:-
List of Fortnight for Competition
| | |
| --- | --- |
| 1st Fortnight | 10 July 2018 to 24th July 2018 |
| 2nd Fortnight | 25 July 2018 to 8 August 2018 |
| 3rd Fortnight | 9 August 2018 to 23 August 2018 |
| 4th Fortnight | 24 August 2018 to 7 September 2018 |
| 5th Fortnight | 8 September 2018 to 22 September 2018 |
| 6th Fortnight | 23 September 2018 to 6 October 2018 |
| 7th Fortnight | 7 October 2018 to 21 October 2018 |
| 8th Fortnight | 22 October 2018 to 4 November 2018 |
Upload video within the timelines to showcase your contribution in water conservation.
Selection procedure & Award Money
Govt. will judge all the participants on the basis of their creativity, originality, composition, technical excellence, artistic merit, quality of video, content and visual impact. For every fortnight of the competition, there will be 3 winners who can win prize money upto Rs. 25,000. The distribution of prize money is given as follows:-
1st Prize – Rs. 25,000
2nd Prize – Rs. 15,000
3rd Prize – Rs. 10,000
For Terms and Conditions, click at – Jal Bachao Video Banao Puraskar Pao Contest Notification
References
— In case of any query, candidates can send an email to the following:-
Shri Girraj Goyal, Director (IEC) at [email protected]
— For more details, visit the official website https://www.mygov.in/hi/
SAVE AS PDF
Related Content