Department of Personnel and Training (DoPT) of Central government has launched Integrated Govt. Online Training portal at igot.gov.in. This iGOT online learning e-platform will train doctors, nurses, paramedics, govt. officers, police officers etc. to combat COVID-19. By giving COVID-19 training to other potential second line workforce, India will be better prepared for the emergent situations.
The online iGOT learning resource is expected to equip all front-line workers with training and updates in coping the Coronavirus pandemic. Appropriate training will also prepare them for subsequent stages of pandemic. Indian govt. has launched training module named iGOT portal on MHRD Diksha Platform for capacity building of frontline workers to handle COVID-19 pandemic efficiently.
Integrated Govt. Online Training (iGOT) E-Platform for Covid Warriors
All the personnels (mentioned in next section) can take training at iGOT platform to become frontline COVID-19 warriors. Now check the entire course list, need for development of iGOT portal, roles & responsibilities of COVID warriors at the official website. People can access the official website through the link here – https://igot.gov.in/igot/
Who Can Take Courses on iGOT Training E-Platform?
The courses on iGOT training e-platform are available for COVID warriors, who are fighting on front-line with Coronavirus (COVID-19) pandemic. These COVID warriors includes the following personnels:-
Doctors
Nurses
Paramedics
Hygiene workers
Technicians
Auxiliary Nursing Midwives (ANMs)
Central and state government officers
Civil defense staff
Police organizations
National Cadet Corps (NCC)
Nehru Yuva Kendra Sangathan (NYKS)
National Service Scheme (NSS)
Indian Red Cross Society (IRCS)
Bharat Scouts & Guides (BGS)
Other Volunteers
Explore Courses at iGOT Training e-Platform
Visit the same official website at igot.gov.in and then on the homepage, click at the "View Courses" tab. The direct link to explore courses at iGOT Training e-platform is given here – https://igot.gov.in/igot/explore-course
To begin with, 9 courses have been launched on iGOT Training e-platform on topics such as quarantine and isolation, psychological care of patients with COVID-19, infection prevention through PPE, ICU care and ventilation management, basics of COVID-19, clinical management, infection prevention & control, laboratory sample collection and testing, management of COVID-19 cases.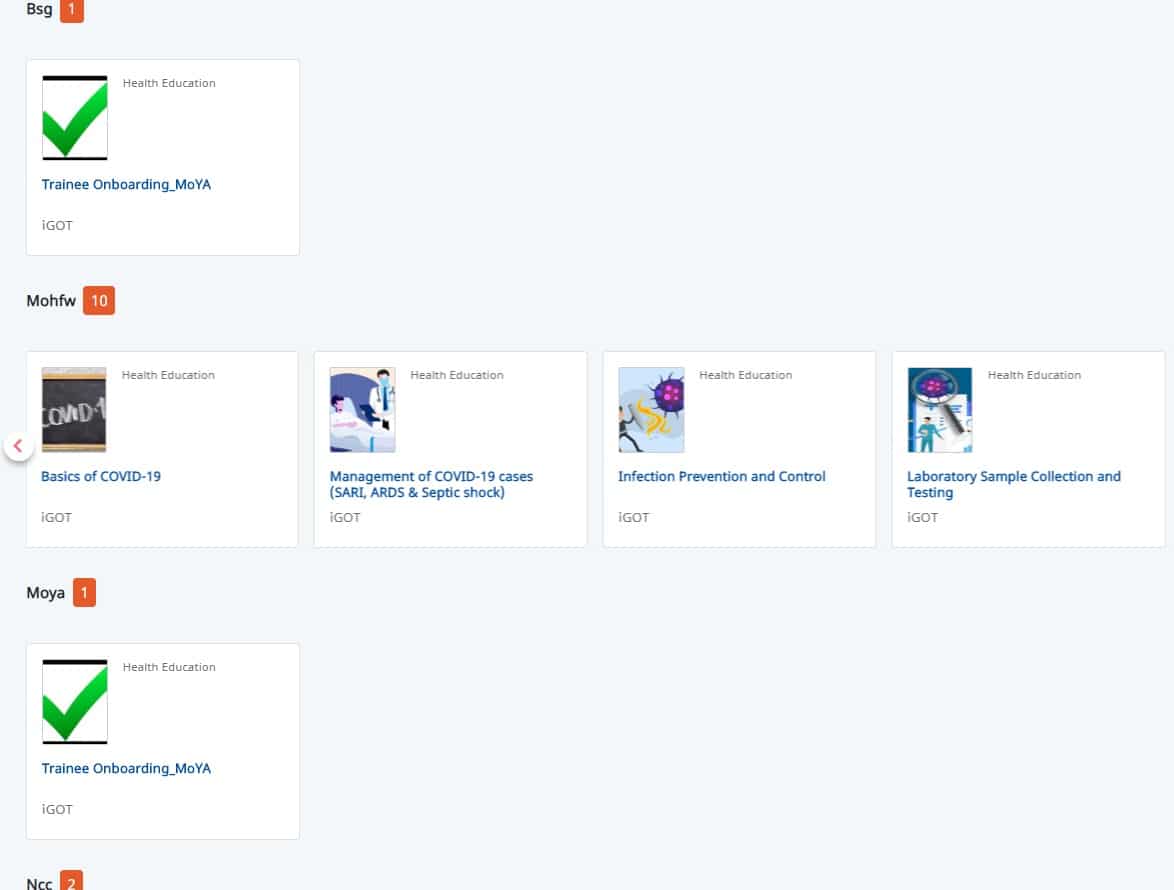 The iGOT e-learning platform can easily be accessed using an easy to use manual for desktop and mobile versions, thereby making it accessible to all.
Central Government Schemes 2021केंद्र सरकारी योजना हिन्दीPopular Schemes in Central:प्रधानमंत्री आवास योजना 2021PM Awas Yojana Gramin (PMAY-G)Pradhan Mantri Awas Yojana
Need For Integrated Government Online Training (iGOT) e-Platform
The need for Integrated Government Online Training (iGOT) e-Platform comes up as India is currently battling COVID-19 pandemic. The country's first line of workers is already doing a commendable work in tackling it. But a larger force is required to replace the first line and to tackle the exponential and geometric increase in positive COVID-19 cases. In the subsequent stages, a new workforce will be necessary to preserve each and every citizen' lives. So, the central govt. has come up with iGOT platform to create replacement frontline workforce.
Roles & Responsibilities of Frontline COVID-19 Warriors
Each frontline COVID Warrior who completes training on iGOT portal must fulfill the following roles and responsibilities:-
Proactive and Polite
Imaginative and Innovative
Creative and Constructive
Professional and Progressive
Energetic and Enabling
Transparent and Tech enabled
How iGOT Portal will Help COVID Warriors
The platform will provide training module on flexitime and on site basis so that COVID-19 response can be delivered at scale for workforce needed to tackle coronavirus. The iGOT portal will deliver curated, role specific content to each COVID warrior at his place of work or home and to any device of his choice. iGOT will provide training to around 1.5 crore workers and volunteers in the coming weeks.
#IGOTPARTNERS to help build capabilities to fight against Covid-19. For queries, contact at [email protected]