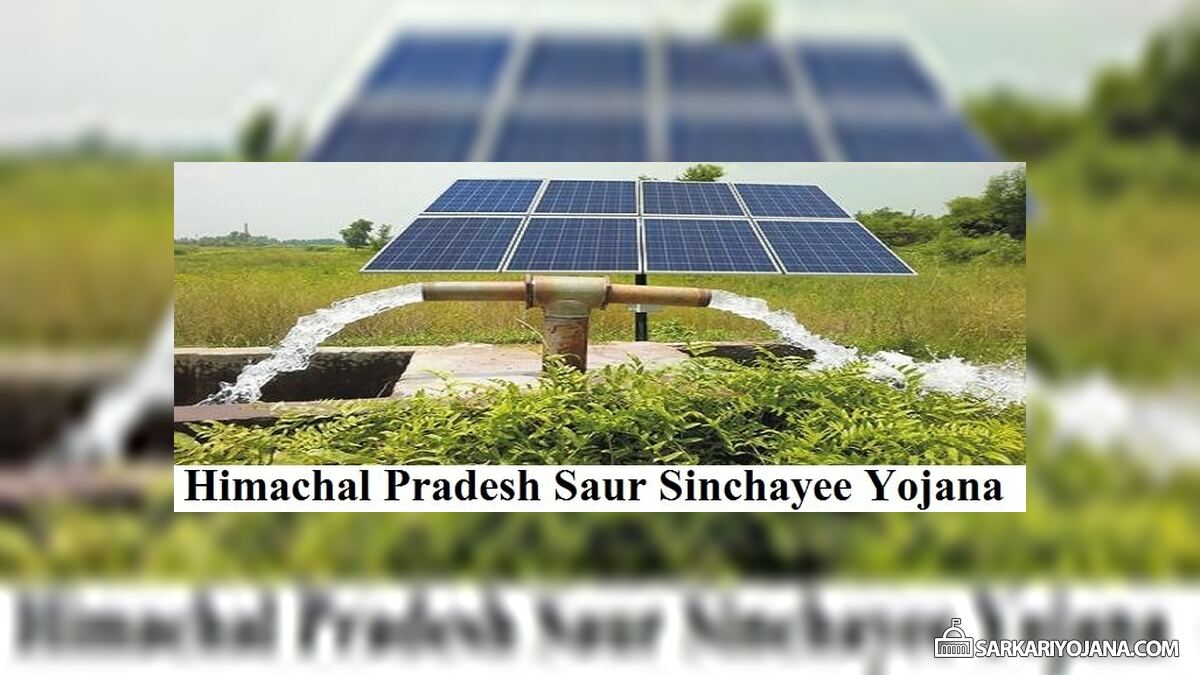 Cabinet Committee of Himachal Pradesh has decided to implement Saur Sinchayee Yojana. The state govt. will provide Solar Agricultural Pump Sets to farmers with a total outlay of Rs. 224 crore. Under this scheme, govt. will provide 90% financial assistance to small and marginal farmers for purchase of pumpsets. Govt. will provide 80% subsidy to all individual medium and big farmers. This scheme will benefit 9,580 farmers. HP govt. will also launch Vidyarthi Van Mitra Yojana 2018.
100% financial assistance will be given to a group of farmers of small and marginal category / Kisan Vikas Sanghs / Registered Body of farmers. Under this scheme, 5850 agricultural pumps will be made available to the farmers. The state govt. will also start Flow Irrigation Scheme with an outlay of 174 crore.
HP Saur Sinchai Scheme will ensure irrigation in 7152.30 hectares of farming land. This primary objective of this scheme is "Doubling Farmers Income by 2022".
HP Saur Sinchayee Yojana – Subsidy on Solar Agriculture Pumpsets
The important features and highlights of this Solar Agriculture Pumps Scheme are as follows:-
HP govt. will provide 5,850 agricultural pumpsets to farmers.
On the purchase of new agriculture pump sets, each small and marginal farmer will get financial assistance of around 90% of the total cost.
Moreover, all the medium and big farmers will get subsidy of 80% on the purchase of new agricultural pumpsets.
The state govt. will implement this scheme with an outlay of Rs. 224 crore.
Around 7152.30 hectares of land would be brought under assured irrigation.
Cabinet Committee of Himachal Pradesh has taken various decisions for the welfare of farmers on 9 August 2018 which are stated in the section below.
HP Vidyarthi Van Mitra Yojana 2018
The state govt. would also start Vidyarthi Van Mitra Yojana to make students understand the value of forests and their role in protection of environment. They will have to perform an important task of participating in plantation of trees and to increase the forest cover.
Govt. will also start HP State Agriculture Mechanization Scheme with an outlay of Rs. 20 crore. Govt. will provide 50% subsidy on purchase of agricultural equipments. 190 vacancies were also announced in this cabinet meeting.
SAVE AS PDF
Sarkari Yojana App - Download Now
Karan Chhabra
at
Sarkari Yojana
Related Content
Disclaimer and Notice: This is not the official website for any government scheme nor associated with any Govt. body. Please do not treat this as official website and do not leave your contact / personal such as Aadhar Number or Mobile No. information in the comment below. It is not possible for us to reply to each comment/query, neither we can address the complaints regarding any scheme. We request all our visitors to visit the official website of the concerned department / authority for any complaint, query about the scheme / information published on this website.