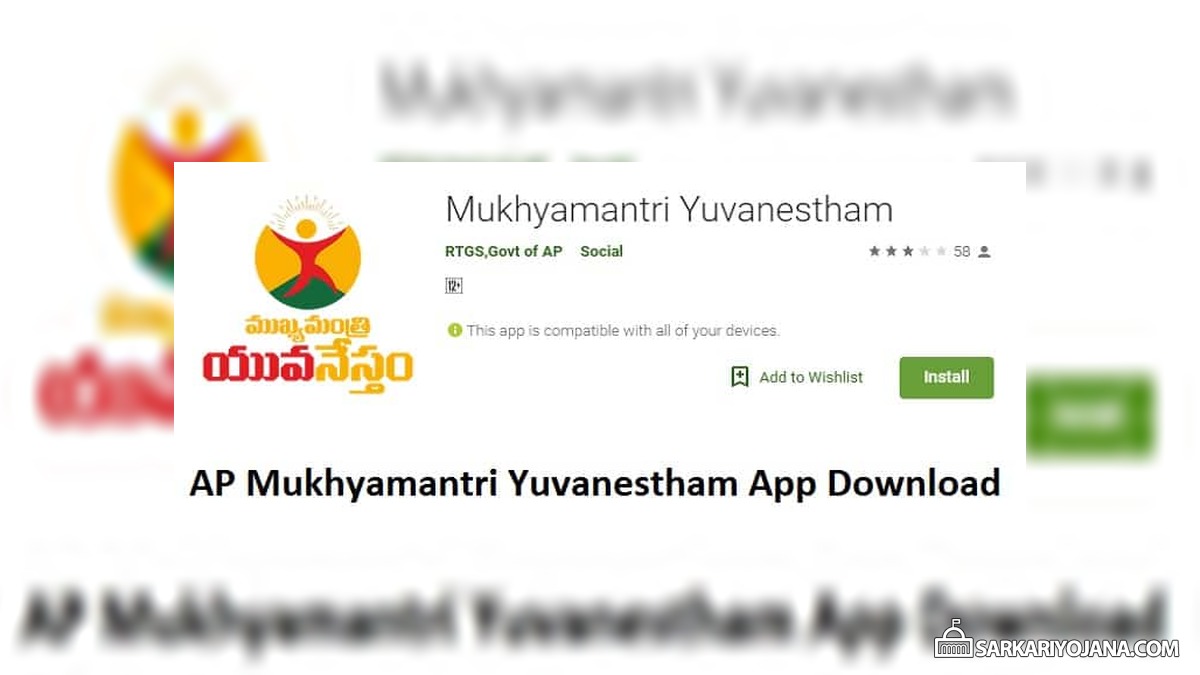 Andhra Pradesh govt. has launched AP Mukhyamantri Yuvanestham Scheme Mobile Application for android phone users. All the jobless youths can make registration to get Rs. 1000 monthly unemployment allowance. Under nirudyoga bruthi scheme, applicants will get financial assistance to pursue skill development courses and to reduce burden on families of such jobless candidates. Here we are going to tell you that how you can Download AP Mukhyamantri Yuvanestham Scheme Mobile App Online.
Two options are available for making registration, one is to apply online for AP Mukhyamantri Yuvanestham Scheme at yuvanestham.ap.gov.in. Second is to Download AP Mukhyamantri Yuvanestham Scheme Mobile App Online and make registration at own smartphones. This app is available on the Google Playstore with the name of "Mukhyamantri Yuvanestham" and is of 4.3 MB.
Latest Update – Youth Special Training Program under AP Nirudyoga Bruthi Scheme / Mukhyamantri Yuvanestham Scheme to start from 10 December 2018 at 555 centers across the state. Apply online at yuvanestham.ap.gov.in.
Yuva Nestham Scheme will provide unemployment dole to around 12 lakh jobless candidates. AP govt. has allocated a budget of Rs. 600 crore for this unemployment pension scheme.
Download AP Mukhyamantri Yuvanestham Scheme Mobile App
All the applicants who wants to make AP Mukhyamantri Yuvanestham Registration through Mobile App (Android App) can download this app directly through the link below:-
This app is of 4.3 MB and is developed by RTGS, Govt. of AP. Applicants must download and install this app in their smartphones to make registration for unemployment allowance of Rs. 1000 per month.
On Installation of Mobile App, this Mukhyamantri Yuvanestham App will appear as follows:-
After entering the Aadhaar Number, candidates can make Nirudyoga Bruthi Registration at the mobile app.
AP Mukhyamantri Yuvanestham Scheme Registration Form for Android App will appear as follows:-
Here candidates can enter the Areas of Interest, Educational Details, Year Passed and click at the "Agree" button to complete the application process.
To understand the complete application process, check the complete AP Mukhyamantri Yuvanestham Registration Process (Mobile App) to download and make registration for unemployment allowance at your phone.
Complete Details – People can also make AP Mukhyamantri Yuvanestham Online Registration at the official website yuvanestham.ap.gov.in to get monthly allowance of Rs 1000 p.m.
SAVE AS PDF
Sarkari Yojana App - Download Now
Karan Chhabra
at
Sarkari Yojana
Related Content
Disclaimer and Notice: This is not the official website for any government scheme nor associated with any Govt. body. Please do not treat this as official website and do not leave your contact / personal such as Aadhar Number or Mobile No. information in the comment below. It is not possible for us to reply to each comment/query, neither we can address the complaints regarding any scheme. We request all our visitors to visit the official website of the concerned department / authority for any complaint, query about the scheme / information published on this website.