Views:
707 |
Dated:
March 11, 2019
|
Updated On:
March 11, 2019
| By: | | Beneficiaries:
Everyone
|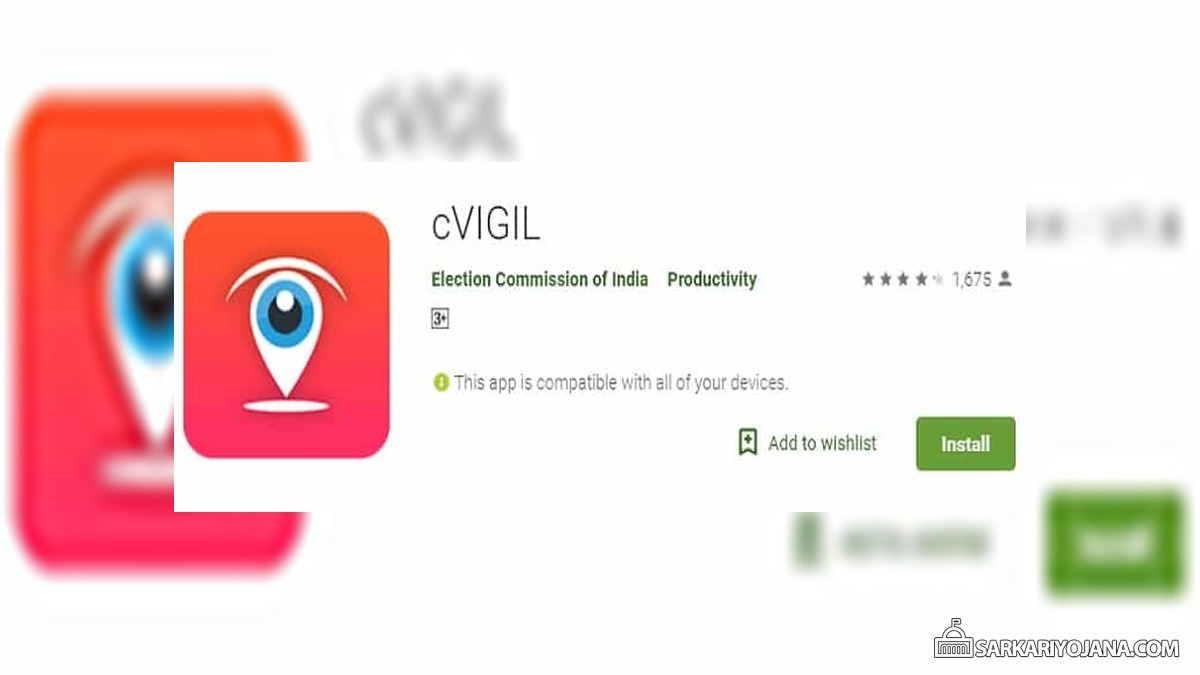 Election Commission of India has now introduced the cVigil App to empower citizens in the Lok Sabha 2019 polls. This cVIGIL mobile app for android or iphone users is launched at pan India level. Here citizens can record any illegal activity or violation of Model Code of Conduct (MCC) on their mobile phones and send it to election authorities for suitable action. People can download cVigil Mobile App and send complaint against any malpractice in general elections of India.
As it is the sole responsibility of EC of India to eliminate any malpractices in elections and to ensure free and fair elections across the country. So, EC is duty bound to take strict actions against such illegal activities. This cVigil mobile app is available to download at the google play store for which link is given below.
Previously on 10th March 2019, EC has announced Lok Sabha Chunav Voting Dates (State-Wise) to make people know about the date of voting in their respective states.
Election Commission cVigil Mobile App Download
In order to empower every Indian citizens to remain alert about the proceedings of Lok Sabha elections 2019 in India, EC has launched cVigil Mobile App. All the citizens can now record any activity of MCC violation, incident of intimidation or inducement within minutes of having witnessed them on their smartphones and report it to election authorities. The direct link to download the cVIGIL app is given below:-
cVIGIL Mobile App Download
cVIGIL Mobile App Working
Now people would not have to go to the office of the returning officer to file complaints. cVIGIL App is a simple, android based mobile app which is user-friendly and easy to operate. Below is the complete procedure to access the app:-
First Phase – Account Verification
Second Phase – Photo & Video
Third Phase – Auto Location Captured
Fourth Phase – Check Status
People have to simply click a picture or take a video and briefly describe the activity before uploading it on the cVIGIL mobile application. In case the complainant desires to remain anonymous, then citizen has the option to do so. The District Control Room allocates cVIGIL cases to the flying squads through GIS-based platform. The authorities and officials are duty bound to take action on it within 100 minutes.
To facilitate the electors in identification of the candidates, EC of India has adopted another measure and made another provision of printing photograph of candidate on the ballot paper to be displayed on the EVM (Ballot unit) and on Postal Ballot papers. This move will help in reducing any confusion which arises in some cases where candidates with same or similar names contest from the same constituencies.
17th Lok Sabha Chunav in India would be held in 7 phases starting from 11 April 2019 and the final phase of general elections would take place on 19 May 2019. The counting of votes and result declaration would be done on 23 May 2019.
SAVE AS PDF
Related Content