Ministry of Housing & Urban Affairs (MoHUA) sanctions 3.10 lakh more affordable houses under Pradhan Mantri Awas Yojana Urban (PMAY-U). Central govt. will provide affordable houses under PM Awas Yojana housing scheme to the urban poor who does not have their own homes. Central sanctioning & monitoring committee has taken this decision in CSMC 41st meeting held on 27 December 2018.
In CSMC 41st meeting, a total number of 864 projects in 5 states under BLC, AHP & ISSR verticals have been approved. The project cost of Rs. 14,662 crore and central assistance of Rs. 4,658 crore has been approved. The approvals under the Beneficiary led construction (BLC) vertical is 1,91,556 while it is 1,18,941 under Affordable Housing in Partnership (AHP)vertical.
The total number of pucca houses sanctioned by the govt. now reaches over 68.5 Lakh under PMAY urban housing scheme. Central govt. will construct these new houses in 5 states namely Uttar Pradesh, Karnataka, Andhra pradesh, Odisha & Gujarat.
CSMC 41st Meeting – 3.10 Lakh More Houses under PMAY Urban Housing Scheme
To boost PMAY urban housing scheme, central govt. has recently reduced the GST from 12% to 8% GST under CLSS Component of PM Awas Yojana – Urban. The important features and highlights of decisions taken in 41st CSMC meeting held on 27 December 2018 are as follows:-
| Name of State | Number of Houses under PMAY Urban (U) |
| --- | --- |
| Uttar Pradesh | 1,08,135 |
| Karnataka | 1,05,502 |
| Andhra Pradesh | 57,433 |
| Odisha | 21,894 |
| Gujarat | 17,633 |
Poor people belonging to various sections of the society can now apply online and fill PMAY Urban housing scheme online application form – Pradhan Mantri Awas Yojana Online Application Form. Central govt. has sanctioned 3,10,597 more affordable houses in 41st CSMC meeting held on 27 December 2018.
All the poor people belonging to economically weaker sections (EWS), lower income group (LIG), medium income group (MIG) and higher income groups (HIG) can fill PMAY online application form. This would enable them to avail a new house or get subsidy for house construction. PMAY – Housing for All (PMAY-HFA) is a flagship scheme of Narendra Modi govt. to provide affordable houses to poor people.
The cumulative number of projects approved under PMAY U so far is 14,424. Investment of Rs. 14,662.16 crore approved for 5 states and total investment approved under PMAY U so far is Rs. 3,83,453.14 crore. Central assistance of Rs. 4658.46 crore sanctioned for projects across 5 states and total central assistance sanctioned under PMAY U so far is Rs. 1,04,979 crore.
More than 3.10 lakh houses involving project cost of ₹14,662 crore were approved during the 41st CSMC meeting.
With this, the total number of approved houses under #PMAYUrban have become 68.54 lakh. pic.twitter.com/SvKDa8jkRW

Central Government Schemes 2020केंद्र सरकारी योजना हिन्दीPopular Schemes in Central:Narendra Modi Schemes ListNREGA Job Card Listसरकारी योजनाओं की सूची हिंदी में

— Housing For All (@PMAYUrban) December 27, 2018
After subsuming projects of Rajiv Awas Yojana (RAY) Scheme, the cumulative number of houses sanctioned under PM Awas Yojana Urban (PMAY-U) is now more than 68,54,126.
Approved Houses in Previous CSMC Meetings – PM Awas Yojana Urban Housing Scheme
The complete details of the total number of affordable houses sanctioned under PMAY-U in the previous meetings of central sanctioning and monitoring committee (CSMC) can be checked through the links below:-
Visit the official website https://pmaymis.gov.in/ to get complete details on Pradhan Mantri Awas Yojana Urban.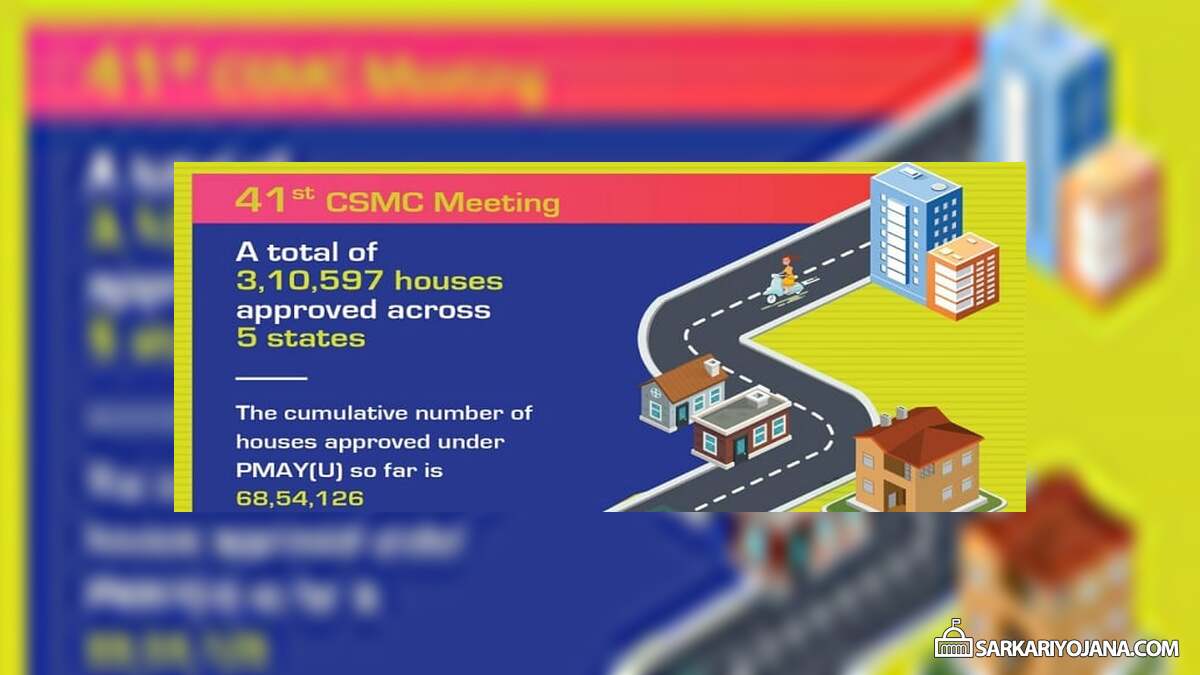 SAVE AS PDF