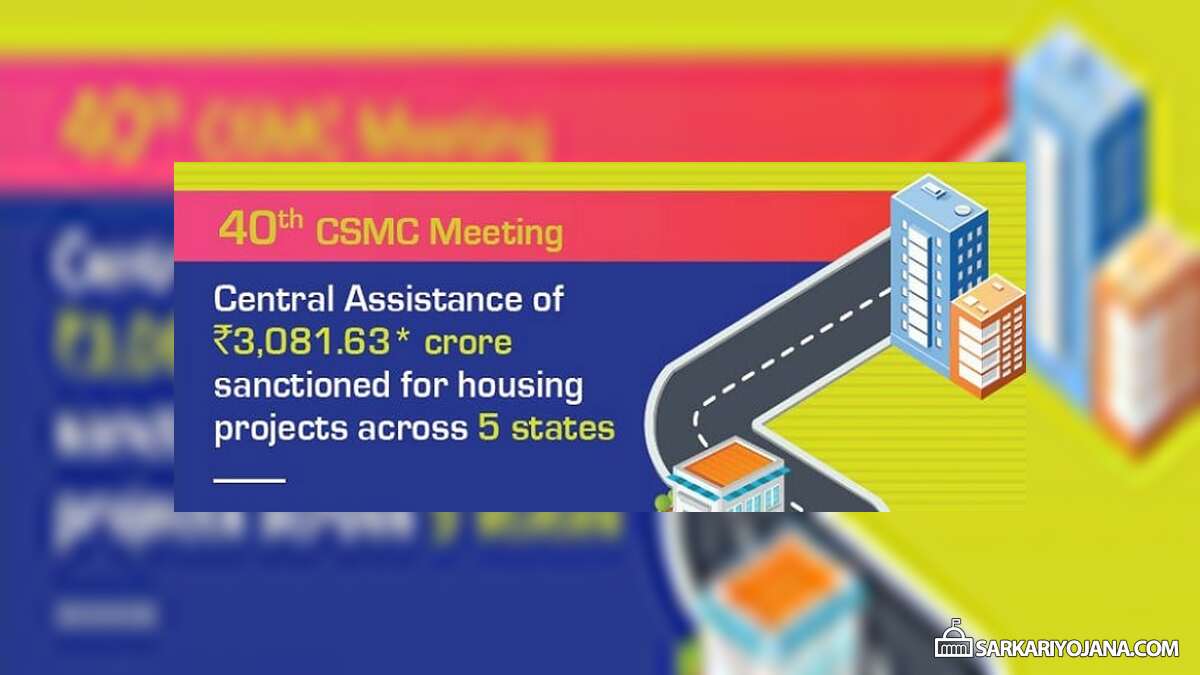 Ministry of Housing & Urban Affairs (MoHUA) sanctions 2.05 lakh more affordable houses under Pradhan Mantri Awas Yojana Urban (PMAY-U). Central govt. is going to provide affordable homes under PM Awas Yojana housing scheme to the urban poor who does not possess their own homes. Central sanctioning & monitoring committee has taken this decision in CSMC 40th meeting held on 29 November 2018.
In CSMC 40th meeting, a total number of 392 projects with a project cost of Rs 7,391 crore and central assistance of Rs 3,086 crore has been approved. The approvals under the Beneficiary led construction (BLC) vertical is 85,227 while it is 1,20,215 under Affordable Housing in Partnership (AHP)vertical.
The total number of pucca houses sanctioned by the govt. now reaches over 65,04,037 lakh till date under PMAY urban housing scheme. Central govt. will construct these new houses in 5 states namely Jammu & Kashmir, Maharashtra, Tamilnadu, Karnataka & Bihar.
CSMC 40th Meeting – 2.05 Lakh More Houses under PMAY Urban Housing Scheme
To boost PMAY urban housing scheme, central govt. has recently reduced the GST from 12% to 8% GST under CLSS Component of PM Awas Yojana – Urban. The important features and highlights of decisions taken in 40th CSMC meeting are as follows:-
| Name of State | Number of Houses under PMAY Urban (U) | Central Assistance | Total central assistance under PMAY U | Investment Approved in CSMC 40th meeting | Cumulative Investment Approved for the state so far | Projects under BLC vertical | Cumulative number of projects under PMAY U |
| --- | --- | --- | --- | --- | --- | --- | --- |
| Jammu & Kashmir | 15,334 | Rs. 230.01 crore | Rs. 572.12 crore | Rs. 817.43 crore | Rs. 1840.95 crore | 94 (15,334 houses) | 209 (34,439 houses) |
| Tamil Nadu | 15,529 | Rs. 232.94 crore | Rs. 8128.15 crore | Rs. 678.94 crore | Rs. 23,648.39 crore | 55 (15,529 houses) | 2,166 (5,33,641 houses) |
| Maharashtra | 1,16,042 | Rs. 1740.63 crore | Rs. 10,755.29 crore | Rs. 3053.19 crore | Rs. 42,787.17 crore | 61 (1,16,042 houses) | 461 (7,50,966 houses) |
| Karnataka | 31,657 | Rs. 474.86 crore | Rs. 6,487.56 crore | Rs. 1296.90 crore | Rs. 21,658.89 crore | 158 (31,657 houses) | 1,256 (4,08,822 houses) |
| Bihar | 26,880 | Rs. 403.20 crore | Rs. 3,609.52 crore | Rs. 1544.39 crore | Rs. 11,518.92 crore | 24 (26,880 houses) | 341 (2,31,692 houses) |
Poor people belonging to various sections of the society can now apply online and fill PMAY Urban housing scheme online application form – Pradhan Mantri Awas Yojana Online Application Form. Central govt. has sanctioned 2,05,442 more affordable houses in 40th CSMC meeting held on 28 November 2018.
All the people belonging to economically weaker sections (EWS), lower income group (LIG), medium income group (MIG) and higher income groups (HIG) can apply online for PMAY U to avail a new house or getting subsidy for house construction. More than 2 lakh houses have been approved across 5 states in the 40th meeting. PMAY housing for all (PMAY-HFA) is a flagship scheme of Narendra Modi govt. to provide affordable houses to poor people.
More than 2.05 lakh houses worth almost ₹7,400 crore were approved during the 40th CSMC meeting.

With this, the total number of sanctioned affordable homes under #PMAYUrban has crossed 65 lakh. #HousingForAll #TransformingIndia pic.twitter.com/BgkARyUG2B

— Housing For All (@PMAYUrban) November 28, 2018
A total number of 392 projects approved across 5 states under BLC and AHP verticals in the CSMC 40th meeting. The cumulative number of projects approved under PMAY U housing scheme so far is 13,571. Central assistance of Rs. 3,081.63 crore sanctioned for housing projects across 5 states and the total central assistance sanctioned under PMAY U so far Rs. 99,367.20 crore. Investment of Rs. 7390.84 crore approved for 5 states and the total investment approved under PMAY U so far is Rs. 3,48,625.63 crore. After adding projects of Rajiv Awas Yojana (RAY) Scheme, the total number of houses sanctioned under PM Awas Yojana Urban (PMAY-U) has now reached more than 65,04,037.
Approved Houses under PM Awas Yojana Urban Housing in Previous CSMC Meetings
The details of the total number of affordable houses sanctioned under PMAY-U in the previous meetings of central sanctioning and monitoring committee (CSMC) can be checked through the links below:-
— Visit the official website https://pmaymis.gov.in/ to get more details on Pradhan Mantri Awas Yojana Urban.
SAVE AS PDF
Karan Chhabra
at
सरकारी योजना
Related Content
Disclaimer and Notice: This is not the official website for any government scheme nor associated with any Govt. body. Please do not treat this as official website and do not leave your contact / personal such as Aadhar Number or Mobile No. information in the comment below. It is not possible for us to reply to each comment/query, neither we can address the complaints regarding any scheme. We request all our visitors to visit the official website of the concerned department / authority for any complaint, query about the scheme / information published on this website.