Rajasthan govt. is going to launch Mukhyamantri Yuva Rojgar Yojana 2019 as an employment scheme for jobless youths. Under this CM Rozgar Yojana, the state govt. will provide 1 lakh jobs to unemployed candidates in the next 5 years. CM Ashok Gehlot has announced this employment generation programme in Rajasthan Budget 2019-20.
In Mukhyamantri Yuva Rojgar Yojana in Rajasthan, govt. will provide loans upto Rs. 1 lakh for self employment. The main aim is to tackle the menace of unemployment which is at its highest level since independence. The main theme for this yuva swarojgar yojana is "Hunar Ka Har Haath, Rahe Rojgar Ke Saath".
All the educated youths in the state can now start their own business from these loans and can become job creators rather than job seekers.
Mukhyamantri Yuva Rojgar Yojana Rajasthan
The state govt. of Rajasthan has announced Mukhyamantri Yuva Rojgar Yojana in Budget 2019-20. The important features and highlights of CM Yuva Rojgar Scheme are as follows:-
Under this scheme, govt. will provide loans upto Rs. 1 lakh to unemployed candidates to start their own business.
Around 1 lakh jobless youths in Rajasthan can avail these loans.
RIICO, RFC, SC / ST / OBC / Minorities Finance Corporation will provide loans under Rajasthan Mukhyamantri Yuva Rozgar Yojana.
In the next 5 years, a total amount of 1,000 crore loans would be provided for creation of employment opportunities.
In the current fiscal year 2019, around 25,000 youths to get loans as beneficiaries under CM Yuva Swarojgar Scheme.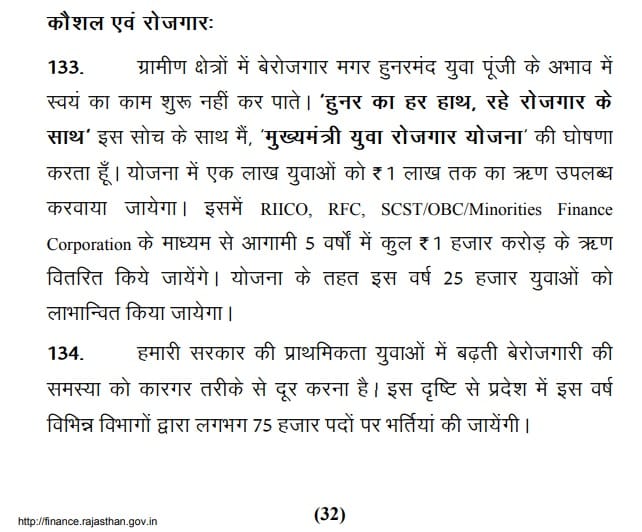 In rural areas, youths are unable to start their business due to lack of money. So to enable them to become entrepreneurs and create jobs, govt. will now provide loans under Mukhyamantri Yuva Rozgar Yojana.
The state govt. will also start a Youth Motivation Program for skill development of youths. Furthermore in the current financial year, govt. will fill up around 75,000 vacant government posts in various departments.
युवाओं को रोज़गार के लिए मुख्यमंत्री रोज़गार योजना में रखा 1 लाख रूपये तक के ऋण का प्रावधान| #RajasthanBudget2019 pic.twitter.com/UYOu7QoYMC

— CMO Rajasthan (@RajCMO) July 12, 2019

Rajasthan Government Schemes 2021राजस्थान सरकारी योजना हिन्दीPopular Schemes in Rajasthan:जन सूचना पोर्टलRajasthan Ration Card ListRTE Rajasthan Admission 2021-22
For more details on schemes launched in budget, click the link – Rajasthan Budget 2019-20