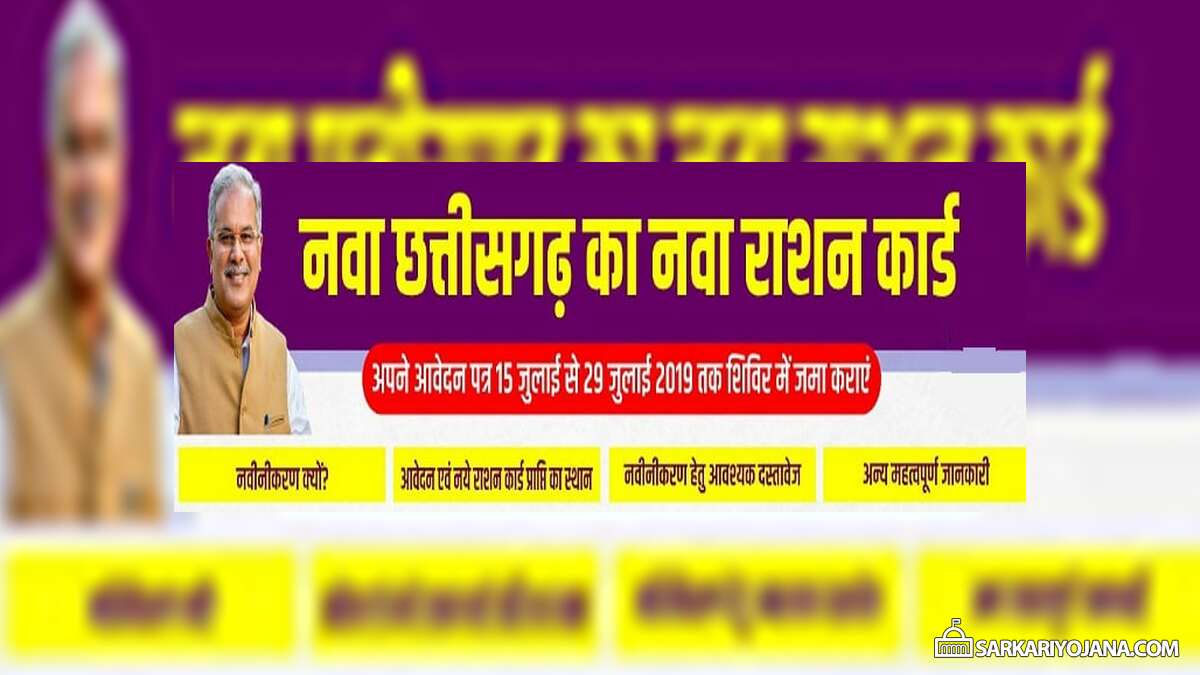 Chhattisgarh govt. invites application forms for New Ration Card in the state from 15 July to 29 July 2019 under Nava Rashan Card Abhiyan. All the people who wants to get a new or renewal of rashan card and wants to add their name in CG Ration Card List needs to fill CG New Ration Card Apply Form. The completed CG Ration Card Application Form is required to be submitted at the camps or shivirs in the state.
Here candidates can check the process of filling of Chhattisgarh new ration card apply form, why new rashan card is necessary, documents required for new / renewal of RCs and other details.
All the new ration cards would be distributed to the people between 1 to 8 September 2019. Around 58.54 lakh ration cards would get renewed in this current process.
CG New / Renewal Ration Card Apply Form
Here is how the applicants will get forms for new / renewal of ration card and how they can submit the CG rashan card renewal form to obtain a new one:-
All the applicants are required to obtain and submit the CG Ration Card New / Renewal Application Form at the camps (shivirs) organized in wards of gram panchayat or civic bodies (nagar nikaay). The start date to get application form is 15 July 2019 while last date for submission of CG Ration Card Apply Form is 29 July 2019.
New ration cards would be distributed in RC Vitaran Shivirs (Distribution Camps) in wards of gram panchayat and nagar nikay. The CG Rashan card distribution camps to be organized from 1st to 8th September 2019.
Is Renewal of CG Ration Card Necessary?
The state govt. has specified following reasons to convince people to renew their existing ration cards in Chhattisgarh. Here are some of the reasons:-
It is very long duration since the old ration cards were issued (more than 5 years). All the old ration cards in CG state have been filled and there is no space left in them.
So, all the old ration card holders in CG state are requested to perform renewal of their old ration cards and get a new one.
In this abhiyan, the state govt. aims to complete renewal of around 58.54 lakh old CG ration cards.
Documents for CG Renewal Ration Card Application Form Submission
— The state govt. has simplified the complete application process to apply for renewal of ration card in Chhattisgarh.
— All the applicants are required to submit their complete details for applying new CG ration card in only one page.
— Along with the completed CG Renewal Ration Card Application Form, people will have to submit 2 passport size photographs of head of family, aadhar card and bank account copy. All the completed application forms are required to be submitted at the respective wards of gram panchayat or nagar nikay.
आज से नवा राशन कार्ड अभियान प्रारम्भ हो रहा है।

राशन कार्डों के नवीनीकरण के लिए राज्य के सभी ग्राम पंचायतों एवं नगरीय निकायों के वार्ड में आवेदन शिविरों का आयोजन किया जा रहा है, जिससे सम्बंधित महत्वपूर्ण जानकारी आप सभी के साथ साझा कर रहा हूँ।

"नवा छत्तीसगढ़ का नवा राशन कार्ड" pic.twitter.com/rFwtzXwDQv

— Bhupesh Baghel (@bhupeshbaghel) July 15, 2019
Chhattisgarh Renewal Rashan Card Application Fees
The other important details to be kept in mind while filling the renewal rashan card application form are as follows:-
– The application form as well as the new CG ration card would remain available absolutely free of cost.
– Till the time, the applicants does not gets new ration, they can avail rashan at subsidized rates from the previously existing old ration cards.
– Only at the time of receiving new ration card, applicants are required to submit their CG old ration card. Till that time, you are not supposed to submit your ration card to anyone.
For more details, visit the gram panchayat / ward office or call at the free call center number at 1967 and 1800-233-3663.
SAVE AS PDF
Sarkari Yojana App - Download Now
Source / Reference Link: https://twitter.com/bhupeshbaghel
Karan Chhabra
at
Sarkari Yojana
Related Content
Disclaimer and Notice: This is not the official website for any government scheme nor associated with any Govt. body. Please do not treat this as official website and do not leave your contact / personal such as Aadhar Number or Mobile No. information in the comment below. It is not possible for us to reply to each comment/query, neither we can address the complaints regarding any scheme. We request all our visitors to visit the official website of the concerned department / authority for any complaint, query about the scheme / information published on this website.