Bihar School Examination Board (BSEB), Patna will invite OFSS Bihar Admission 2020 Intermediate Online Application Form at ofssbihar.in. Now students who have passed their matric examination would be able to apply online for Class 11th admissions through OFSS Bihar website. There is now a single Common Application Form (CAF) for inter admission in schools which is available at a new Online Facilitation System for Students (OFSS). This portal facilitates students who have completed their 10th standard through BSEB or CBSE or ICSE or any other board to take admission in class 11th / 12th in reputed schools for session 2020-22.
Interested candidates of Bihar who wants to seek intermediate admission can now fill Bihar Intermediate Schools Admission 2020 online application form at OFSS Bihar website. Now candidates would also be able to fill Common Application Form through Sahaj Vasudha Kendras and District Registration cum Counselling Centers (DRCC). Candidates can now apply online for admission in Inter schools for +1 or +2 standard through bseb new official website or Vasudha Kendras or DRCC.
Now each 10th pass student can apply online for any preferred school from their home rather than making unnecessary visits to the school itself. The apply online process for OFSS Bihar Inter Admission will start from 8th July 2020. Previously, BSEB Board had also launched portal.ofssbihar.in to conduct an exam online for all Matric (Class 10th) pass candidates to get admissions in class 11th or 12th in reputed schools.
OFSS Bihar Admission 2020 Intermediate Online Application Form
All the students who have passed their Matric (class 10th) from Bihar School Examination Board (BSEB), Central Board for Secondary education(CBSE), Indian Certificate of Secondary Education (ICSE) or any other State board are eligible to apply online for OFSS Bihar Intermediate Admission 2020-22. This year application process for BSEB apply online process has not been started at official website ofssbihar.in. This process will start from 8 July 2020. Till then, applicants can check the previous year BSEB OFSS Bihar Inter online application form filling process through the link here – OFSS Bihar Intermediate Colleges / Schools Admission 2019 Application Form. Please read the important Information for 2020 Inter Admissions at OFSS Bihar Portal:-
BSEB students who had cleared their Matriculation exams could apply for admission to Class 11th by registering themselves on www.ofssbihar.in between July 8 and 17.
BSEB Students will have to provide information like roll code, roll number, mobile number and e-mail ID.
For students of other boards whose results have not yet been published, BSEB will issue fresh dates for online registration.
Those with no internet access can get themselves registered at 4,089 Vasudha Centres across the state.
Altogether 615 higher secondary schools and Intermediate colleges are affiliated with the BSEB. A list of such institutes, number of seats in each stream and fee structure have been uploaded to the OFSS.
According to BSEB officials, candidates can select 20 Inter colleges or higher secondary schools in their application forms.
While getting themselves registered on OFSS is free of cost, they have to pay Rs 300 for each form.
Student's selection will be done on the basis of cut-off marks.
There is also a provision for reservation for different students – SC (16%), ST (1%), extremely backward class (18%), backward class (12%), girl belonging to BC (3%) and underprivileged groups (10%). The BSEB had announced the Class X results on May 26.
BSEB OFSS Bihar Inter (11th) Admission 2020-22 Application Form for Sahaj Vasudha Kendra & DRCC
All the candidates can also apply online for OFSS Bihar Intermediate (Class 11th) Admissions through the Vasudha Kendras or through District Registration cum Counselling Centers (DRCC). For this all the students have to download the application forms number Form 5, Form 6, Form 7 and Form 8. Description of these forms is given below:-
Candidates can even check the complete list of Sahaj Vasudha Kendras through the official OFSS Bihar website.
References
— In case of any query, colleges can call on the Helpline Number – 0612-2230051, 0612-2232239, 0612-2232227, 0612-2232257, 0612-2232074 and students can call on the Helpline Number – 0612-2230009.
— To download Common Prospectus in Hindi for Admission in Intermediate Colleges & Schools, directly click the link – OFSS Bihar Inter School Admission Prospectus
— For complete details on OFSS Bihar Admission 2020 Intermediate Online Application Form, visit official website – http://www.ofssbihar.in/Higher-Education/index.aspx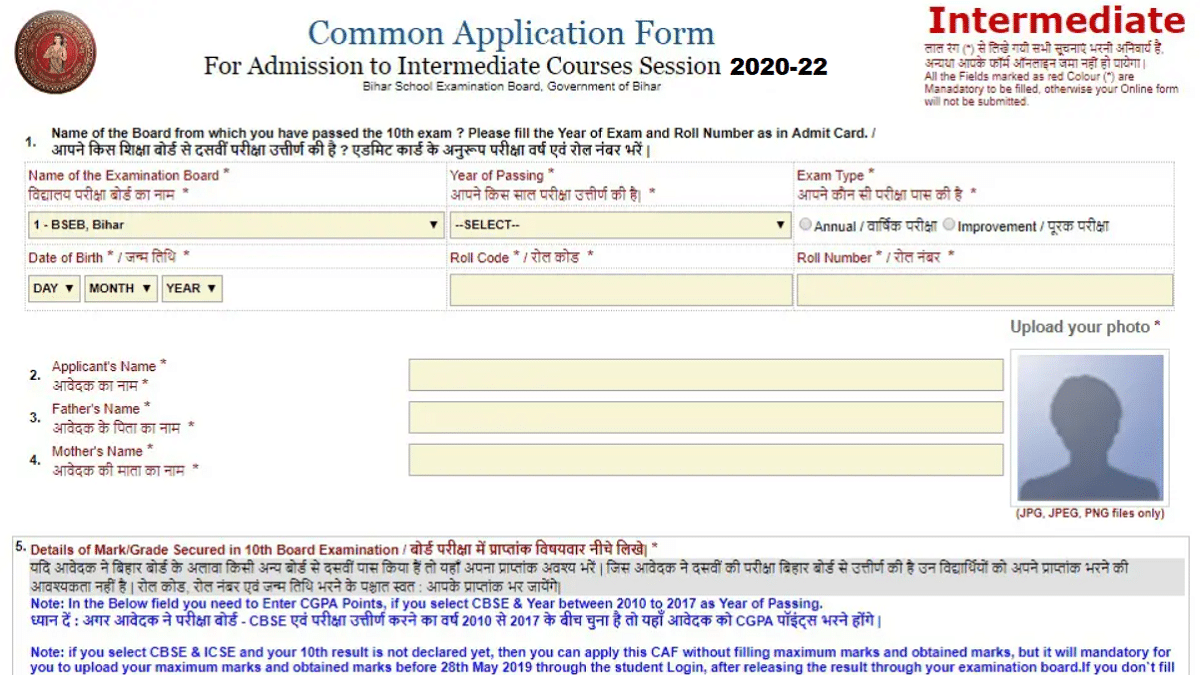 Content Source / Reference Link: https://ofssbihar.in/Higher-Education/index.aspx, https://timesofindia.indiatimes.com/city/patna/admission-to-class-xi-online-registration-to-begin-on-july-8/articleshow/76736125.cms
SAVE AS PDF