A new Free Online Course "ATL App Development Module" has been launched by NITI Aayog in collaboration with Indian homegrown startup Plezmo. The central govt. is inviting registration & login for this free online app development course at appcourse.plezmo.com under Atal Innovation Mission (AIM). Through this free online course under AIM's flagship Atal Tinkering Labs initiative, the skills of school students will be transformed from being App users to App makers.
PM Narendra Modi has been encouraging the citizens to use technology and innovate for an Aatmanirbhar Bharat (Self Reliant India). It is crucial for the young Indians to learn skills at a young age and to enable them to become the next generation of technology leaders. So under the Atal Tinkering Lab initiative, AIM, NITI Aayog has started ATL App Development module. It would be a boon for India's young minds to innovate and create new apps.
The module comprises of 6 project-based learning modules and online mentoring sessions. Young innovators can learn to build mobile Apps in various Indian languages and showcase their talent. School teachers will be given periodic Teacher Training sessions for the conduct of the course.
ATL App Development Free Online Course Registration 2022 / Login
This free online app development course is based on Project Based Learning as students can learn through fun and engaging projects of your liking. There is no requirement of any coding background for any person. The ATL App development module is designed for absolute beginners as well as experienced coders. Moreover at the completion of this course, students will get certified as app developer. They will get points and certificates on completing this course. Below is the complete process of how to join the free online ATL app development course:-
STEP 1: Visit Official Website – Firstly visit the official ATL App Development Module by NITI Aayog & AIM website at https://appcourse.plezmo.com/
STEP 2: Click Login / Register – Create a New Account or Login with an existing account. You will need an email address to create an account. Fill in all details correctly when creating an account as this information will be printed on your certificates.
STEP 3: Complete courses in sequence – Go to "My Account" page after logging in. Start with Course 1 and work your way through all the courses till Course 6. You can complete courses at your own speed. Your progress is stored in the system even if you logout. You can pause and resume as per your convenience.
Central Government Schemes 2022केंद्र सरकारी योजना हिन्दीPopular Schemes in Central:प्रधानमंत्री आवास योजना 2022PM Awas Yojana Gramin (PMAY-G)Pradhan Mantri Awas Yojana
STEP 4: Earn Badges & Get Certificates – You win a badge for every completed course. Earned and Pending badges can be seen on "My Account" page. You will receive certificates for "Mobile App Development" after completing course 4 and "Web App Development" after after completing course 6 ! Certificates can be downloaded from "My Account" page.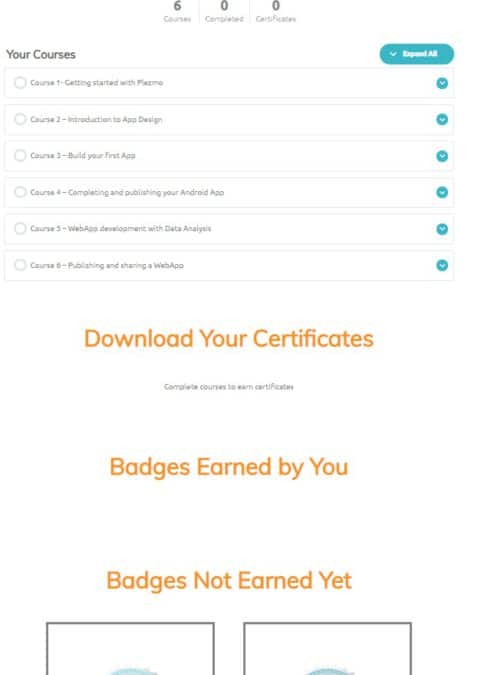 STEP 5: Help & Support – In case of any questions, click the "Need Help" option at bottom of the screen to search for answers to common problems. Else, click "Help" option in the menu to get more support.
List of Courses in Free Online App Development Course by Niti Aayog / AIM
After completing the first course, keep getting better by taking intermediate and advanced level courses. Here is the complete list of courses in Free Online App Development Course by Niti Aayog and Atal Innovation Mission (AIM).
Course 1 (Getting started with Plezmo) – Download and setup Plezmo and get ready for building exciting Applications.
Course 2 (Introduction to App Design) – Learn about the basics of App design in this course.
Course 3 (Build your first App) – Learn to build your first app with an exciting Clicker game.
Course 4 (Completing and publishing your Android App) – Publish and install your first Android App and share it with others.
Course 5 (WebApp development with Data Analysis) – Let us build a real-world web application for a community survey about the Future of Work.
Course 6 (Publishing and sharing a WebApp) – Complete and publish a WebApp to conduct a community survey and analyse the data.
Prepare yourself for App Development Jobs of the future
85% of the jobs that will exist in 2030 have not even been invented yet. Advent of AI, IoT, ML, AR/VR is transforming job landscapes from medical to architecture, design to sports. Learning essential 21st Century skills will ensure you are ready for jobs of the future in any career path you chose!
Objectives of ATL App Development Module Free Online Course by Niti Aayog / AIM
Express Yourself through Technology – Develop apps, games and creations in your area of liking. From Music to Sports, Arts to Storytelling, Games to Real-World solutions – everything is possible!
Share your creations with the whole world – The Apps built with the courses can be shared with the whole world through Plezmo Community. Start building your app portfolio today!
Learn by Doing – Use apps to solve real-world challenges. Develop critical thinking and problem solving skills!
More than 5100 ATLs are established in more than 600 districts across the country by Atal Innovation Mission with more than 2 million students having access to the Tinkering Labs.