Andhra Pradesh govt. had introduced the AP Adarana 2 Scheme and was inviting online application forms at adarana.ap.gov.in from the artisans of backward class (BC) category. Under the Adarana scheme 2, the state govt. provided modern tools to artisans with 90% subsidy (70% subsidy in Adarana 1st phase) and had allocated Rs. 750 crore towards its implementation back in the year 2018. Backward Classes Finance Corporation (BCFC) provided modern tools to 4.25 lakh artisans at heavily subsidized price.
Adarana Scheme II was the flagship scheme for backward classes which aims to modernize their tools and technology. AP Adarana 2 Scheme was to empower the poor artisans in rural areas by creating additional income, raising their living standards and by increasing their productivity. This scheme minimizes drudgery, improve product / service quality with modern operation process.
Adarana 2 scheme was providing financial assistance on tools in 3 slabs i.e Rs. 30,000, Rs. 20,000 and Rs. 10,000/- as unit cost with 70% subsidy component, 20% NBCFDC loan and 10% beneficiary contribution for procurement of model tools and gadgets. Interested candidates were also able to check their application status at the official website.
AP Adarana 2 Scheme Online Application Form
Below is the complete procedure to apply online for Adarana Scheme 2 for subsidy on modern tools to practising artisans which was earlier followed to apply for the scheme benefits:-
Firstly, applicants had to visit the official website http://adarana.ap.gov.in/ADARANA
At the homepage, applicants were to click at the "Apply Online" tab present in the header as shown in the figure below:-
Then the AP Adarana scheme online application got displayed on the screen as shown below:-
Then applicants were required to validate OTP and Proceed to apply online for Adarana scheme beneficiary registration as shown in the figure below:-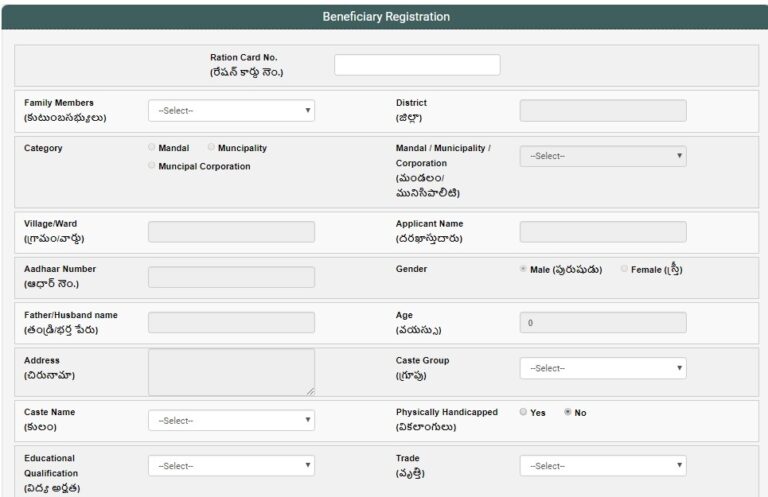 Here candidates were required to fill their ration card number, personal details, aadhaar number and click at the "Submit" button to complete the registration process.
In case the applicants of BC category found it difficult to understand the application filling process for adarana scheme, then they had to click at "How to Apply" link to know more about Adarana Scheme online apply process in detail.
Adarana 2 Scheme Application Status
Former CM Nara Chandrababu Naidu distributed over 1 lakh tools among the artisans at Vijayawada Municipal Stadium on 12 November 2018. Till that date, around 5.37 lakh applications were received to avail the Adarana 2 Scheme benefits. Out of these received applications, 2.78 lakh applications were selected, 1.20 lakh applications were in progress for approval and 1.11 lakh were approved. Candidates were required to follow the below given method to check their application status online:-
Candidates had to visit the same official website http://adarana.ap.gov.in
Click at the "Application Status" tab on the homepage.
Then the Adarana 2 Scheme application status checking page got displayed as shown below:-

Finally, candidates were required to enter their 'Application / Ration Card Number' and click at the "Get Application details" options to check the online application status of Adarana 2 scheme.
AP Adarana 2 Scheme was started to provide financial assistance to the practising artisans belonging to the backward classes to acquire new and improved modern tools and gadgets. Adarana Scheme 2nd Phase enabled them for sustainable income generating activity and economic development. The main focus was on empowerment of BC category people by providing necessary training to improve their productivity with minimum drudgery and enhance their service quality as per the market needs.
Andhra Pradesh Government Schemes 2021Popular Schemes in Andhra Pradesh:Mukhyamantri YuvanesthamAP Ration Card Application Forms PDF DownloadAP YSR Rythu Bharosa Scheme
Adarana 2 Scheme Eligibility Criteria & Type of Assistance
All the artisans were required to fulfill the following eligibility criteria to become eligible to get modern tools at subsidized prices:-
All the BC category applicants must belong to the age group of 18 to 50 years.
Beneficiaries had to be registered under Praja Sadhikarika Survey (Smart Pulse Survey).
However, AP govt. was focusing on providing high-end mechanized tools to the practicing artisans of BC communities over and above the ceiling limit of Rs. 30,000 under Adarana Plus scheme and separate guidelines were issued for this scheme.