Tamil Nadu govt. is going to introduce 750 ml Amma Water Bottles and double its daily production. These smaller water bottles would be made of glass instead of plastic. Currently, around 80,000 one litre bottles which costs Rs. 10 each are sold to bus commuters & others on daily basis. Many people leave behind half to full bottles without completely consuming water. So to reduce wastage, govt. will bring up 750 ml Amma Water Bottles Scheme.
Amma Water Bottles were launched by late CM J Jayalalithaa to minimize the usage of single use plastic. Now the Tamilnadu state govt. wants to double the production of smaller glass water bottles.
The cost of the 750 ml water bottles would be around Rs. 5 to Rs. 7. The production of Amma Water Bottles will be around 2 lakh units in a single day.
Tamilnadu 750 ml Amma Water Bottles Scheme
People on bus stands and railway stations purchase 1 litre water bottles but are unable to consume it. So to reduce the wastage of water and eliminate the use of single use plastic, TN govt. will start production of 750 ml Amma Water Bottles. These bottles are to be made with glass with each bottle cost is around Rs. 7. Institute of Road Transport (IRT), an agency under Tamil Nadu state transport department has already floated the tenders for Amma Water Bottles.
The tenders are to install necessary machines to manufacture 1 litre & 750 ml packaged drinking water at 2.4 acres Gummdipoondi campus for next 5 years. Previously installed machines were found defected and so production of Amma Water Bottles was affected. Now, the outdated machines would be replaced with high end drinking water treatment plant, bottling plant and testing labs.
This installation of new Amma Water Bottles machines will ensure that there is no compromise on hygiene and estimate it for Rs. 250 crore. On revamp, production unit will be able to produce at-least 2 lakh one litre and 750 ml bottles. These glass water bottles are to be distributed across 310 recognized selling points and to AC bus passengers run by State Express Transport Corporation (SETC). The last date to submit bids is 15 November 2019.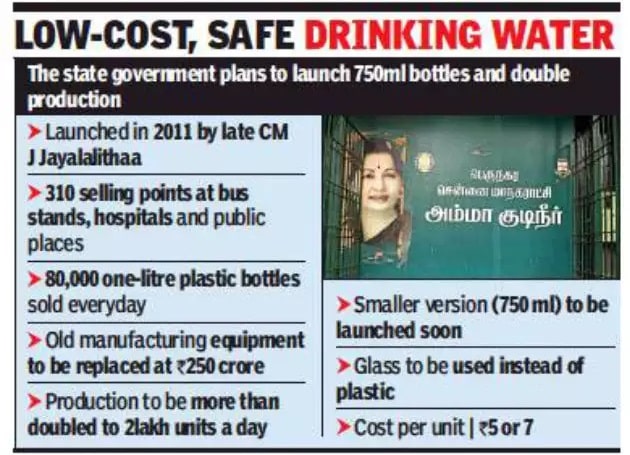 Regular bus passengers in Tamil Nadu are quite impressed by 750 ml Amma Water Bottles Scheme. This is because of smaller size of water bottles, lower cost and even glass bottles can be reused in home. The production company may appoint employees to sell Amma Water Bottles inside buses or trains just like private companies. Moreover, these companies may also provide water refilling stations which will further cut bottle cost to Rs. 2 to Rs. 3.
The low cost mineral water scheme was earlier launched in 2013 by late CM J Jayalalithaa. This scheme was later expanded to some government hospitals for patients.
Tamil Nadu Government Schemes 2020Popular Schemes in Tamil Nadu:RTE Tamil Nadu Admission 2020 Online Application FormTNSAND Tamilnadu Online Sand BookingTNSAND Online Sand Booking Status
Content Source / Reference Link: https://timesofindia.indiatimes.com/city/chennai/soon-state-govt-to-launch-750ml-amma-water-bottles-made-of-glass/articleshow/71962697.cms
SAVE AS PDF