GST Council, Central government has finally set 8% GST on Affordable Housing for the homes purchased under Credit Linked Subsidy Scheme (CLSS) component of Pradhan Mantri Awas Yojana – Urban. Subsequently, people will now have to pay 8% GST instead of 12% for under-construction homes in CLSS. Accordingly, new GST rates are going to be applicable from 25 January 2018.
However, this cut-off of 4 percent is applicable only to the people eligible for CLSS. Others still have have to pay 12% GST. This move of the GST council will boost the progress of the housing sector to achieve the Mission of "Housing For All by 2022".
The effective rate of 8% GST (after deducting the value of land) is applicable for all the houses constructed or acquired under PMAY (CLSS).
New Rates of GST on Affordable Housing – PMAY U (CLSS)
Previously, the GST rate for Homebuyers on Affordable Housing was 18 percent (12% effective after deducting one-third of the cost of land). Now, the GST rate has been reduced to 12 percent (8% effective after deducting the cost of land). This rate is applicable to houses constructed or acquired under Credit Linked Subsidy Scheme for the following groups / categories of people:-
Economically Weaker Sections (EWS)
Lower Income Group (LIG)
Middle Income Group – First (MlG-1)
Middle Income Group – Second (MIG-2)
These GST rates are specified by the GST Council under the Pradhan Mantri Awas Yojana -Urban (PMAY-HFA U). Moreover, central govt. will provide interest subsidy under CLSS for acquiring or construction purposes to EWS / LIG / MIG-I / MIG-II category people.
People can also check whether they are eligible for CLSS or not using the link – Click Here
GST framework does not includes the Real State as it only refers to the land value and not the construction activities necessary for house building process. Accordingly, GST rates only accounts for the cost of construction of houses which a builder incurs. It does not includes homes which are previously constructed.
Thus, process to move in an already constructed houses is cheaper than the under construction projects. Moreover as per the CBEC reports, Selling of buildings or houses is neither a supply of goods nor supply of services. Thus, people prefer to opt for the ready to move in properties rather than the under-construction homes.
Central Government Schemes 2021केंद्र सरकारी योजना हिन्दीPopular Schemes in Central:Narendra Modi Schemes ListNREGA Job Card Listसरकारी योजनाओं की सूची हिंदी में
Existing GST on Affordable Housing under PMAY-U (CLSS)
Before 25 January 2018, GST rates were 18% (effective 12%). However, the concessional rates were applicable for the following 3 categories of houses under PMAY (Urban)
Redevelopment purposes of existing slums which uses land as resource component.
Affordable Housing in Partnership
Beneficiary led Construction of Individual houses.
From today onward, this exemption now extends to the CLSS component also. Subsequently, Home-buyers can now avail interest subsidy in addition to lower GST rate of 8% (effective).
Impact of Low GST Rates
All the materials, inputs and capital goods essential for building houses comes under GST slab of 18% or 28%. In Contrast, housing projects under PMAY (U) will now attract 8 per cent (effective) GST rates making it more affordable.
Now this move of the GST council will lower the burden on the construction of houses on the builders and developers. Subsequently, builders can now pay output GST through his ITC (Input Tax Credits). Accordingly, builders will not recover this amount from the Home-buyers.
In simple words, lowering of GST will incentivize buiders and thus will reduce the burden of tax on the buyer.
References
— For more details on rates of GST on Affordable Housing – Click Here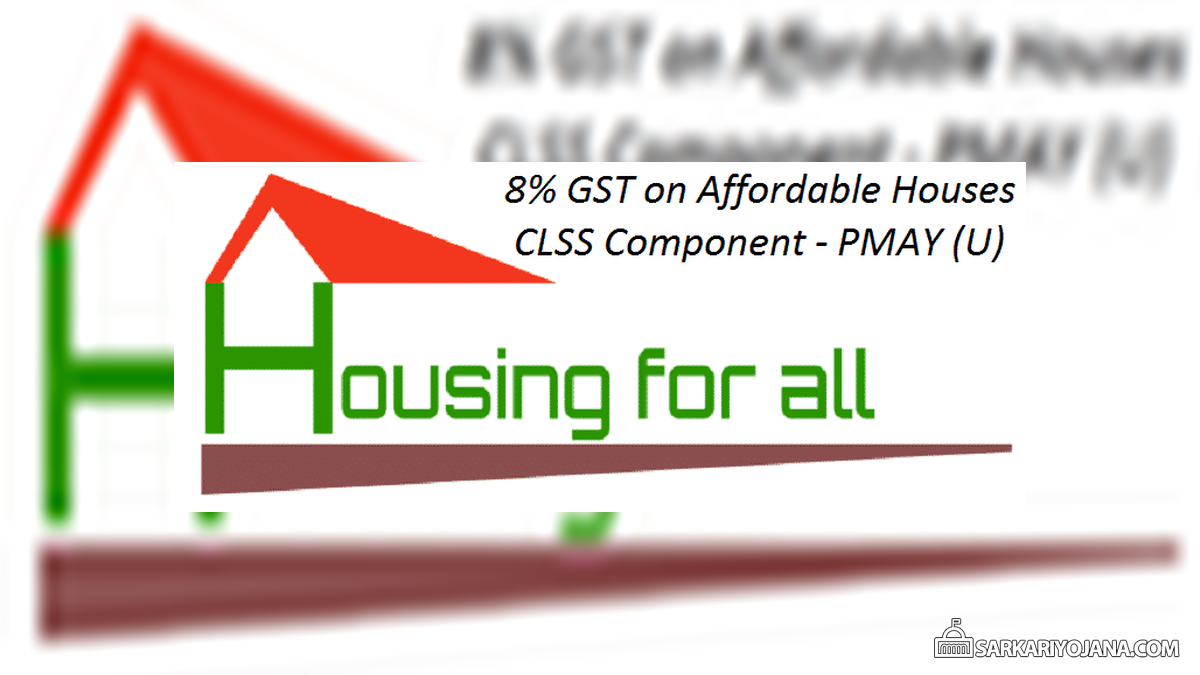 SAVE AS PDF